PUTTING SOIL HEALTH FIRST
AT 42 YEARS of age, it's hard to believe that Blake Vince has never touched a mouldboard plow in his life. But he hasn't. His farming philosophy, as he puts it, is simple: roots not iron. He firmly believes that soil health can be built through sound agronomy — the use of cover crops and no-till practices, rather than conventional tillage. In fact, the 2013 Nuffield scholar has made it his focus.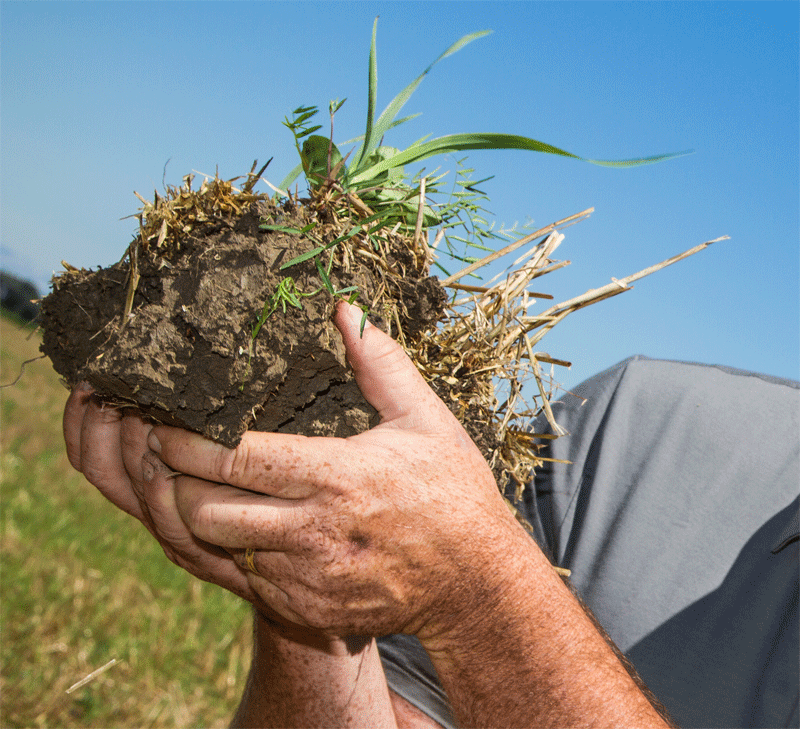 A fifth generation grain farmer from Merlin, Ontario, Vince is passionate about agronomy, and in particular, soil health. He's been farming — growing soybeans, corn, winter wheat, and cover crops — fulltime since 1995. Over the years, Vince says he has seen a change in grain farming as an increase in capital expenditures coupled with a decrease in income has forced farmers to find ways to maximize yield.
CHANGING PRACTICES
"When Karen [his wife] and I bought our farm in 1999, corn was trading at a similar price per bushel as it is today, but the input cost just on a bag of corn has pretty much doubled in the same time period. Fertilizer is up, machinery depreciation costs are up, cost of land is up — so we have all of these escalating costs and decreasing margins and the mentality is we've got to achieve economy of scale."
Over the past decade, Vince believes the need to maximize yields has driven some farmers to adopt practices that lead to poor soil health without necessarily leading to an increase on their bottom line.
"They've gone away from astute practices that pertain to soil health – they've reverted away from no-till practices, back to full-surface tillage, trying to chase physical bushels with tillage."
Vince also points to the beliefs held by some farmers that excess residue reduces high- yielding crops or that technology has created crops that are harder to decompose, like Bt corn stalk. "A lot of it is a perpetual problem because you've disrupted healthy soils and so you're just trying to constantly mask the problem with tillage."

CONSERVATION LESSONS
As a 2013 Nuffield scholar, Vince has focused on conserving farmland through the use of cover crops and promoting the importance of biodiversity.
"I'm looking at the ability to utilize plants to produce their own nitrogen to conserve soil, to decrease my capital expenditures for annual crop production," he says. "In North America, we don't have a sense of urgency about the need for biodiversity because corn is king."
Through his scholarship, Vince visited Australia, New Zealand, Mexico, Brazil, England, France, Brazil, Chile, Argentina, and Paraguay. He also visited farms across the U.S.
Along the way, he met many influential farmers who have changed the way that he looks at crop production and soil health. In Chile, for instance, Vince met Carlos Crovetto who grows corn, soybeans, and wheat and raises chickens. Crovetto, he says, wrote a book that has since been published in five different languages. Vince refers to him as a no-till farming guru. "He's my Dalai Llama," he says. "I followed him around his farm for four days learning."
In Carroll, Ohio, Vince met cash crop farmer David Brandt, who offered him a new perspective on no-till and cover crops. "Plants are able to fix nitrogen rather than using synthetic fertilizers," he says. "And also he's been able to suppress weeds with cover crops."
In France, he met Frederic Thomas who is leading the no-till cover crop movement there using mixed species. Through careful management, he has been able to take his sandy soil and make it into a more productive sandy loam, says Vince.
"These are the people that I get enamored with," says Vince. "Because he's not having all this tillage he's also been able to reduce his capital expenditures on machinery and fuel."
FUTURE PLANS
With regards to the future of agriculture in Ontario, Vince believes that we are in a precarious time. "We've got declining revenue with an eroded commodity market with escalating input costs. When you have those things going against you, the margins are going to be slim to non-existent," he says. "It's going to be a lean and mean time ahead, unfortunately, for people in that sector. And people that have more of a diversified farming operation, I think, are in the driver's seat because they can sort of deflect risk."
Through his Nuffield scholarship, Vince says he's learned a lot of lessons that can be applied on Ontario farms.
"In order to be successful in any business, you need to have one key ingredient to be ultimately successful — passion. Whether it was an oyster farmer I visited in Australia or a champagne producer that I met in France, the commonality was passion for what it is they're doing."
"The other thing that goes a long way in Ontario," he continues, "is the realization that the only constant is change. If we're afraid of change, that's a big barrier to progress." •