2015 Faces of Farming calendar
MIDDLESEX GRAIN FARMER IS 'OCTOBER'
WHEN YOU COMPARE her to the age of the average farmer in Ontario, Krista Patterson is decades younger, but she already has a wealth of experience under her belt.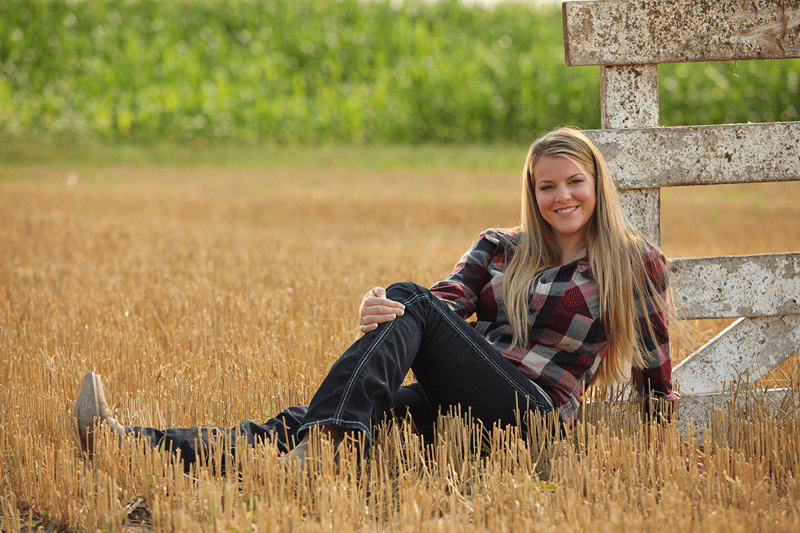 Krista is a fourth generation farmer who, along with her mother Lenore, is carrying on the family business built by her father and grandfather. The farm itself is comprised of approximately 1,050 acres of owned and rented land, which are used to produce corn, soybeans, and wheat.
In 2015, Krista appears in the tenth anniversary edition of the Faces of Farming calendar, published by Farm & Food Care Ontario. Her page is sponsored by Grain Farmers of Ontario and the Good in Every Grain campaign. She is featured for the month of October.
Krista and Lenore work as "one family unit" alongside Krista's grandmother Evelyn and uncle Dave. They help each other with all aspects of the farm. Dave manages the seed drying processor, while Lenore aids in shipping grain and is responsible for spreading fertilizer on the fields each year. Evelyn helps with a multitude of tasks – including ensuring that the family takes time to eat when they're busy on the farm. Cousin Matt and family friend John also help out in the spring with the planting.
Recently married to her high school sweetheart, Gary, the two are also proud owners of a 150 acre farm of their own. Gary works full-time off the farm as a welder, but enjoys farming alongside Krista when they need an extra hand during the busier times of the year. He is also a great mechanic who helps with the farm's equipment maintenance and repairs.
Farming wasn't a direct path for Krista. She joined the local 4-H sheep club at the age of 14 and says that taught her responsibility and a work ethic and showed her the pride one can take in raising something on your own. But she didn't originally decide to study farming at university. Her career path back home to her family farm took a twist when she realized that she was in the wrong program of study in her postsecondary schooling. She had started at the University of Waterloo in the geomatics program and did a co-op placement with Health Canada's Pest Management Regulatory Agency, but didn't feel like the program was a good fit.
She transferred to the University of Guelph Ridgetown Campus for its agriculture program and completed the two-year program in 2011. The college was a better choice for her as the program was more hands-on and practical. Some of her favourite courses were crop production and insect and disease management.
Krista also gained a lot of experience during summers when she worked off-farm for local agribusinesses. She spent one summer in Chatham with a seed company working on cross-breeding soybean plants. She spent another summer working on a crew that managed corn plots, and during one summer, she worked for the Ontario Ministry of Agriculture, Food and Rural Affairs, where she monitored JB rain collectors in Caledonia and St. Thomas, among other responsibilities.
All of these summer jobs gave Krista hands- on experience and confirmed to her that her family farm was the right place for her to be.
Krista loves the diversity of the work, and of course, being outside every day is a major positive. She is confident that she will spend the rest of her life farming, and credits her late father, Scott Patterson, with nurturing her love for agriculture.
"My dad truly loved every aspect of farming," says Krista. "He made farming seem like such an attractive, exciting career, and one day something just clicked and I realized I had this great opportunity in front of me."
The Faces of Farming calendar, featuring the theme of Home Grown and Hand Made, is designed to introduce the public to a few of Ontario's passionate and hardworking farmers — the people who produce food in this province. Copies can be ordered online at www.farmfoodcare.org.  A list of retailers selling the calendar is also located on that website. •