POSITIVE RESPONSE TO OTTAWA TOUR
FARM &?FOOD Care Ontario partnered with Foodland Ontario and Grain Farmers of Ontario to host another successful food writers' tour this past October. Fifty Ottawa-area journalists, authors, culinary instructors, chefs, bloggers and professional home economists participated in the tour.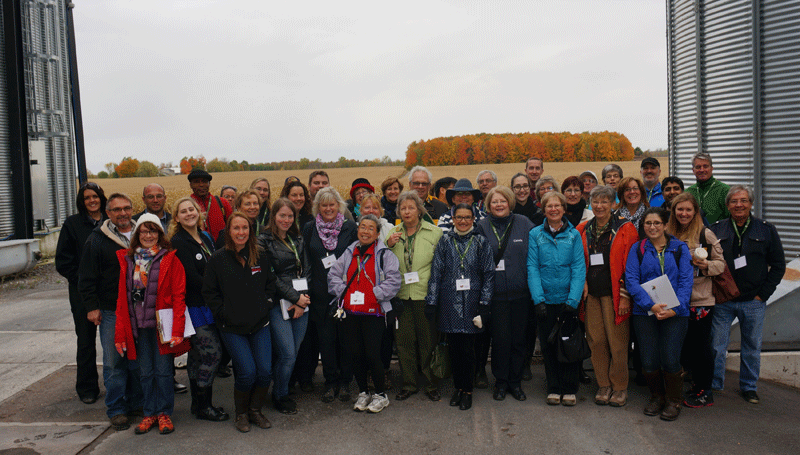 Their visit to an Eastern Ontario cash crop farm, in particular, generated a lot of positive feedback in regards to how farmers work with such a complex business. Hosting the tour was the Leduc family of Wanna Make It Farm — Alain, Sue, Erin, and Patrick Leduc. While touring the business, attendees learned about how the family manages over 1,000 acres of cropland, a seed dealership, two grain drying facilities, a trucking and marketing service, and a small excavation business.
The attendees were suitably impressed. "I am respectful of the high investment and high level of risk these farmers are dealing with," noted one attendee.
"I was fascinated by the depth and diversity of their operation and gobsmacked by the dollars they have invested," said another.
Participants also learned about the family's environmental stewardship, specifically their use of no-till practices and cover crops to help prevent soil erosion and maintain soil structure.
Meghan Burke, communications manager for Grain Farmers of Ontario, also spoke to participants about Ontario's grain sector while en route to the Moose Creek location. Joining the group at the farm to help answer questions was Grain Farmers of Ontario District 14 (Prescott, Russell, Stormont, Dundas, and Glengarry) director Markus Haerle.
"We have been putting on these tours for about nine years, and the number of participants increases each time," says Kelly Daynard, communications manager for Farm & Food Care Ontario. "We always receive a lot of positive feedback."
The tour coincided with Ontario Agriculture Week celebrations and is part of Farm & Food Care's wider efforts to connect urban audiences with Ontario farmers. The event also included a gourmet Taste of Ontario lunch and a visit to an Osgoode-area sheep farm. •