Weight and dimension guidelines
UNDERSTANDING ONTARIO'S NEW VEHICLE REGULATIONS
BETWEEN 2000 AND 2010, Ontario's Ministry of Transportation introduced a four-phase overhaul of the vehicle weight and dimensions regulations. The changes, now included in the amended Ontario Regulation 413/05 of the Highway Traffic Act, were made to address excessive damage to roadways and bridges and are expected to reduce tractor-trailer collisions. According to the ministry, the purpose of the reforms is to move to vehicles that are designated as safe, productive, and infrastructure-friendly (SPIF).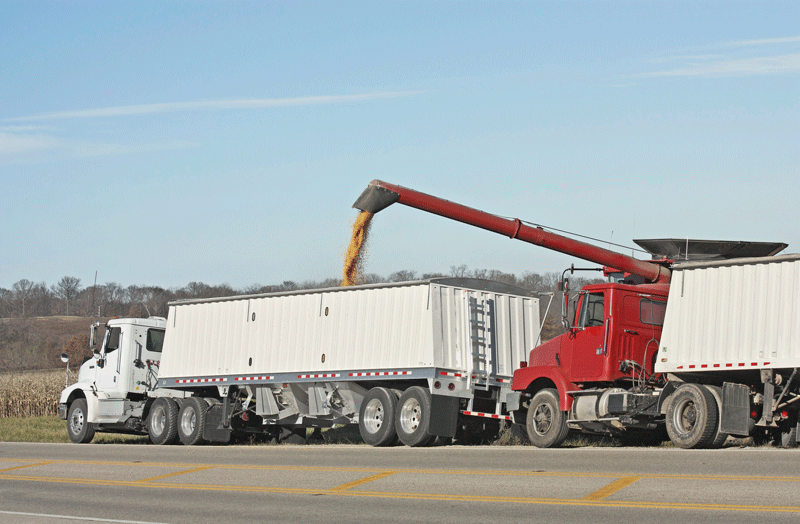 AM I IN COMPLIANCE WITH THE NEW SPIF WEIGHT AND DIMENSION LIMITS?
To learn more about the new reforms, read the Vehicle Weight and Dimension Limits in Ontario FAQ at http://www.mto.gov.on.ca/english/trucks/vwd/ questions-and-answers.shtml.
Vehicle owners can arrange to have MTO representatives measure up their trucks and trailers, free of charge, at your closest inspection station. Vehicle owners will receive the measurements of their vehicle, outlining the lengths and weights allowed under the new SPIF regulations. To schedule an inspection at your closest inspection station, call 416-246-7166.
Visit www.gfo.ca/safety to download a Guide to Vehicle Weight and Dimension Limits in Ontario. This searchable resource includes tables, examples, and worksheets to properly calculate allowable SPIF vehicle weights and dimensions.
The new SPIF regulations apply to both farm plated and commercial trucks and trailers. Many trucks and trailers used on Ontario farms have been, or will be, affected by the new vehicle weight and dimension reforms for SPIF vehicles. Joe Lynch, team leader of vehicle weights and dimensions with the Ministry of Transportation, helps us understand these new regulations by answering some common questions farmers have been asking.
WHAT IS A SPIF VEHICLE?
Safe, productive, and infrastructure-friendly (SPIF) vehicles are equipped with fixed axels, or a combination of fixed and self-steering axles, that do not need to be raised for cornering. They are able to automatically distribute weight over all axles to minimize infrastructure wear and are tested against national performance targets to ensure satisfactory stability and control and reduced risk of roll-overs and jack-knifes.
WHAT ARE THE PHASES OF THE NEW REFORMS?
The new vehicle weight and dimension reforms for SPIF vehicles are grouped into four categories of compliance and implementation dates:
January 2001 — non-dump light semi-trailers, including walking floor and self- unloading trailers (three axles or less)
January 2003 — all dump semi-trailers, including end-dump and open-top hopper semi-trailers
January 2006 — heavy semi-trailers (four axles or more) and double trailers
July 2011 — trucks, truck-trailers, buses, and remaining vehicles
WHAT DO THE NEW REGULATIONS MEAN TO MY OPERATION?
The new weight and vehicle dimension regulations were based on extensive technical research and analysis of the performance of a wide range of vehicles, such as how a vehicle handles when being driven. SPIF vehicles require self-steering lift axles that load equalize with the fixed axles of the vehicle. SPIF vehicles comply with strict design standards, assuring better vehicle stability and controllability, improving overall operational safety. In general, regulation changes will either maintain or increase weight allowances, and in many cases, improve vehicle productivity.
Most of the new regulations have already been phased in, so it is important owners find out if they're in compliance with the new regulations and know their weight allowance before going out on the road. If vehicles are pre-SPIF compliant there are grandfathering allowances and extended grandfathering permits available, based on vehicle type and age. Special extension grandfathering permits are purchased on a one-time basis per vehicle and registered to the trailer, using the VIN number, at a cost of $400. The permit will stay with the vehicle, regardless of a change in ownership.
DO I NEED TO COMPLY WITH THE NEW SPIF STANDARDS?
Vehicle owners have four options, depending on the type of tractor semi-trailer, truck, or truck and trailer combination and their SPIF implementation dates. The first is to continue operating the pre-SPIF vehicle under the initial grandfathering period, if applicable. Once grandfathering has ended, continue operating the now non-SPIF vehicle (if grandfathering period has ended), complying with the reduced load weight regulations. Owners can also upgrade the combination to become a SPIF compliant vehicle or obtain a special one-time vehicle permit for extended vehicle grandfathering.
CAN I UPGRADE MY VEHICLE TO MEET SPIF STANDARDS?
Owners can upgrade their vehicle to become SPIF compliant. Designated dealers or upfitter shops, authorized under the Motor Vehicle Safety Act (Canada) to apply a National Safety Mark (NSM) can refurbish trailers to increase load weights under the new SPIF regulations. Refurbished trailers will be designated with the National Safety Mark label. Vehicle owners can upfit, or refurbish, trucks and trailers at any time, even after the grandfathering period or special permit has ended, depending on the age of the vehicle. 
IMPORTANT THINGS TO REMEMBER
All grandfathered vehicles operate under Ontario's Highway Traffic Act laws.
Once the SPIF grandfathering period ends, vehicles are deemed non-SPIF compliant and are subject to reduced load weights as determined by the number of axles and vehicle dimensions under the Highway Traffic Act.
End-dump semi-trailer is defined in the amended Ontario Regulation 413/05 of the Highway Traffic Act as a semi-trailer permanently attached to a body or box, that is hinged and can be raised to dump from the rear of the semi-trailer.
Open-top hopper dump semi-trailer is defined in the amended Ontario Regulation 413/05 of the Highway Traffic Act as a semi-trailer permanently attached to an open-top body, or box with bottom hoppers that can be opened to dump from the bottom of the semi-trailer.
IMPORTANT ENFORCEMENT  AND GRANDFATHERING DATES FOR NON-SPIF VEHICLES
Dump semi-trailer, including end-dump and open hopper semi-trailers, manufactured before 2003 (any number of axles)
•    Does not include walking floor or self-unloading trailer
•    SPIF regulation implemented January 2003
•    Grandfathering protection ended December 31, 2010
•    Extension grandfathering permits available beyond 2010
•    Open-top hopper trailers built between 1991-2002 until 20 years of vehicle age
•    End-dump trailers built between 1996-2002 until 15 years of vehicle age
Non-dump semi-trailer, manufactured before 2006 (four or more axles)
•    SPIF regulation implemented January 2006
•    Grandfathering protection to December 31, 2015
•    Extension grandfathering permit available up to 20 years of vehicle age
Double-trailer combination, if both trailers are manufactured before 2006
•    SPIF regulation implemented January 2006
•    Grandfathering protection to December 31, 2015
•    Extension grandfathering permit available up to 20 years of vehicle age
Truck and trailer combination, if both manufactured before July 1, 2011 or either was manufactured before July 1, 2011 and the other is SPIF compliant
•    SPIF regulation implemented July 2011
•    Grandfathering protection to December 31, 2020
•    Extension grandfathering permit available up to 15 years of vehicle age
Truck, bus or motor home (RV), manufactured before July 1, 2011
•    SPIF regulation implemented July 2011
•    Grandfathering protection to December 31, 2020
•    Extension grandfathering permit available up to 15 years of vehicle age
Specialized tank semi-trailer, (three axles or less)
•    SPIF regulation implemented January 2001
•    Grandfathering protection to December 31, 2020
•    No extension grandfathering permits available
Other bulk tank semi-trailers (three axles or less)
•    SPIF regulation implemented January 2001
•    Grandfathering protection to December 31, 2020 (a 3,000 kg reduction allowable gross weight applies)
•    No extension grandfathering permits available •