ONTARIO'S ADVANTAGE
THERE ARE TWO fundamental realities in the commodities business. The first is that you need to have a product that somebody wants, and the second is that you have to have some means of delivering it to them. Everything else pertaining to price will fall out of these two factors. Ontario has earned a good reputation in the world market as a consistent, quality, reliable supplier of both corn and soybeans; but our greatest single advantage, compared to other production regions in North America, is our access to low-cost efficient transportation.
PHOTO: P&H GRAIN TERMINAL AT PORT OF HAMILTON.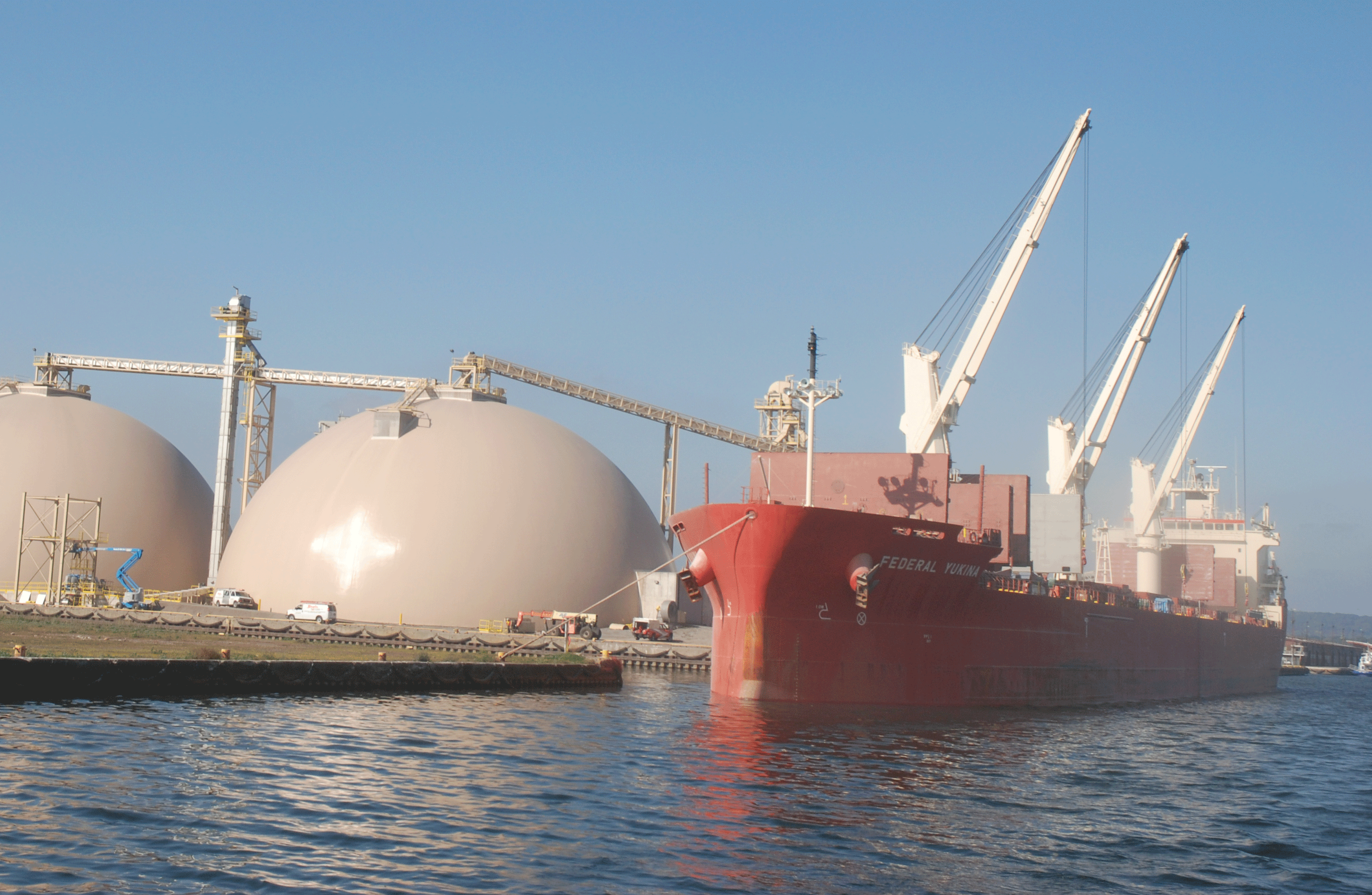 Since all of the North American soybean markets use the same futures contract, local basis levels are the way in which price expresses and measures localized demand. For example: South Dakota Soybean Processors $ -0.80, West Central Co-operative in Iowa $ -0.46, and in Ontario, the Hamilton crush plant $ +0.05 U.S. basis. The price difference is entirely the result of the Great Lakes Basin's access to eight potential marine export terminals, and the competitive pressure created by a marketplace with a larger group of competitive bidders.
The difference between soybeans being worth $ -0.80 in South Dakota, $ -0.46 in central Iowa, and $ +0.05 on the shore of the St. Lawrence Seaway is primarily the cost of the friction of distance, but it puts an enormous amount of money into the hands of grain growers in this province. Based on Ontario's three million acres of soybeans in 2014, if we average only 45 bushels per acre, the province's 135 million bushels of soybeans are worth $100 million more here than if they were grown in the Upper Mid-West. Our location provides a huge cash injection to our agricultural economy.
GLOBAL OPPORTUNITY
Access to global markets also provides opportunities. In 2008, with a large Ontario wheat crop and serious production shortfalls in Australia due to drought, Ontario exported a million tonnes of wheat between harvest and the winter close of navigation. For a relatively short period of time, Ontario growers were able to capitalize on a short term event in global markets which we would not typically be able to access. Effectively, the opportunities, which are created by having access to marine terminals and freight, created a situation where Ontario could opportunistically trade into a specific world event.
Being positioned in an area of significant export demand is extremely useful to price because it alleviates our region of potentially burdensome grain inventories. Too often we view market statistics as if North America were a uniform surface; but when a USDA Supply and Demand Report suggests that the stocks to use ratio in corn is 8.6%, it does not mean that ending stocks are at 8.6% everywhere. As witnessed by the lower basis levels nearer the center of the continent, grain stocks are much higher in the areas with less access to transportation and much lower in areas with access to global markets.
In mid-September, when we should have been very close to the lowest inventory of 2013 crop corn, basis levels in South Dakota elevators where posted at $ -1.40, when on the same day the basis in the Ottawa Valley was $ 1.75 over. The $ 3.15 per bushel basis spread indicated that there were still tremendous corn inventories in high plains, and the St. Lawrence valley was essentially cleaned out of old crop stocks. The aggregate effect of good domestic demand and export sales of 2013 crop Ontario corn to the British Isles, Caribbean, and Continental Europe is that our corn carryout between crop years is extremely low. Ontario's corn ending stocks are a fraction of the continental average which creates the circumstance for significant price runs for producers, much like the rallies in cash prices in late-September through mid-October of 2014. 
Ontario's unique access to marine transportation is the advantage which sets our markets apart from those in other parts of the world and creates the price premiums and inventory liquidity which is the envy of essentially every other production region on the continent. •
Stephen Kell is a grain merchant for Parrish & Heimbecker. He has over 20 years of experience in the Ontario grain industry.