OPPORTUNITY FOR ONTARIO GRAIN INDUSTRY
IN 2007, FARMER and independent crop advisor Steve Larocque was awarded a Nuffield Scholarship. He wanted to achieve his goal of finding new precision technologies that would help Western Canadian farmers generate higher yields and improve profitability.
PHOTO: CROSBY DEVITT WITH SEVEN AUSTRALIAN FARMERS IN NEW ZEALAND, FEBRUARY 2012. THE GROUP SPENT A WEEK IN NEW ZEALAND DURING ONE SEGMENT OF THE GLOBAL FOCUS PROGRAM.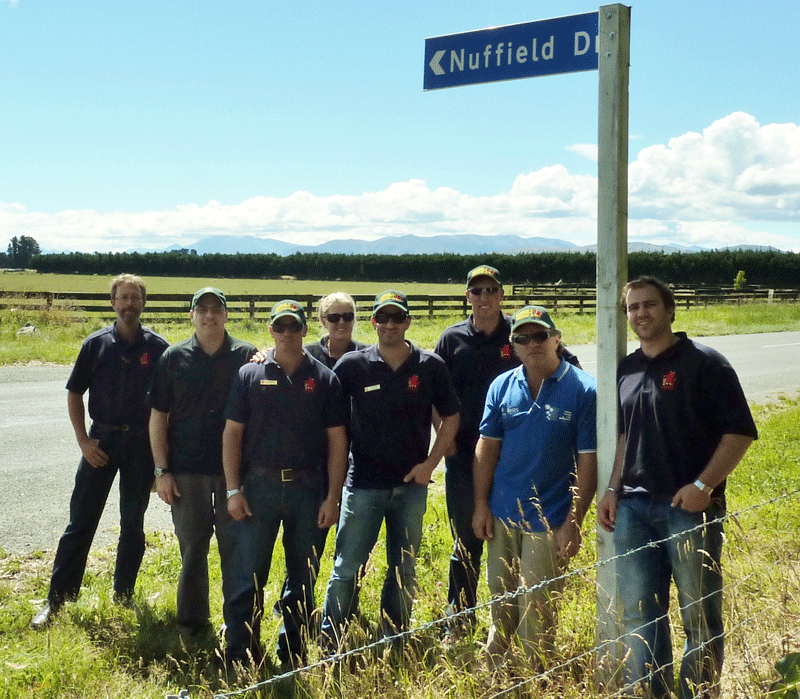 Through his travels to Australia, New Zealand, Brazil, Mexico, the United States, Eastern Canada, and the United Kingdom he found one of the most revolutionary farming systems since no-till. Larocque's research allowed him to realize that controlled traffic farming offers the potential to generate higher returns to Western Canadian grain farmers on less land with less risk. Once he returned home, he became one of the first to implement a full controlled traffic farming and inter-row seeding system in Western Canada.

FOSTERING INNOVATION
It's that kind of innovation and applied research that Grain Farmers of Ontario is hoping to foster by offering a 2015 Nuffield Scholarship. The Scholarship will be awarded to an Ontario grain farmer, or Ontario grain industry representative, to explore an area of study that will provide direct benefit back to the grain industry. The decision to fund this particular Scholarship program was made by Grain Farmers of Ontario's Board of Directors.
"We already lead or support a number of programs that focus on developing leadership amongst young farmers and we felt it was important to find a way to provide an advanced learning opportunity for those that were midway through their careers," explains Henry Van Ankum, chair of Grain Farmers of Ontario. "This program will provide that opportunity for an individual to foster personal development and also complete a report on a research study that will benefit our industry as a whole."
The Nuffield Agricultural Scholarship Program develops leaders that are often at the forefront of the agricultural industry. Their scholars tend to be on the cutting edge of advancement, applying best practices, developing effective business management and marketing systems, and eagerly sharing knowledge and information with the rest of the industry. The scholarship process accelerates skills and leadership abilities, and increases the scope of a scholars  potential impact on both their own businesses and their sector as a whole.
The successful applicant will receive $15,000 to support their travel and study. Applications will be reviewed by the Nuffield selection committee who will select a Scholarship recipient based on how their project idea aligns with Grain Farmers of Ontario's goal of benefiting the grain industry in our province.
"We want to encourage people to apply for this Scholarship opportunity," says Van Ankum. "Nuffield scholars return from their travels with a global vision, unbeatable networks, and new ideas. This enables them to be better farmers, business managers, and leaders and we feel it will also allow them to make a significant contribution to the future of Ontario agriculture."
INTERNATIONAL VIEWPOINT
The recipient will have two years to complete the Scholarship which includes 10 weeks of international study, six of which need to be consecutive so that they can become immersed in their selected study. Canadian scholars are also encouraged to participate in the Australia Sponsored Global Focus Tour, a six-week program of intense travel to up to 10 countries with seven or eight other scholars.
This time commitment is one of the reasons farmers may be hesitant to apply for the Scholarship — however, Nuffield Canada does offer support for those considering whether or not to apply. They encourage potential applicants to speak with past scholars to gain a better understanding of the program. Crosby Devitt, Grain Farmers of Ontario's vice president of strategic development, is one of the past scholars willing to share his experience with the program and discuss the process with interested applicants.
"As a recent graduate of the Nuffield program, I can easily recall my decision-making process when I was considering applying," says Devitt. "I strongly encourage grain farmers or grain industry representatives to consider this scholarship and I welcome questions and discussion with interested candidates about my Nuffield experience – for me, this was a life-changing educational opportunity."
Applications for the Grain Farmers of Ontario Nuffield Scholarship must
be submitted to Nuffield Canada by April 30, 2015. More information and
an application form can be found online at www.nuffield.ca.
LIFELONG LEARNING
"Nuffield provides the unique opportunity to drive your own growth through an individualized study plan. I'm eager to explore models of agriculture career education which have the potential to benefit Canadian agriculture. It's exciting to learn about a topic I find important while developing skills and networks to share the knowledge acquired." Becky Parker, current Nuffield Scholar, collaborative models of agriculture career education.
"My Nuffield experience broadened my perspective on agriculture around the world. I developed friends and acquaintances whose ideas and passion continue to shape and influence my every day work. My travels took me to Australia, New Zealand, the Netherlands, the UK, the U.S., Mexico, and Brazil. I studied farm organizations and research partnerships to improve grain production." Crosby Devitt, 2012 Nuffield Scholar, maximizing productivity growth through partnerships.
"The opportunity for travel and to learn from the farming community in the UK was the draw that caused me to apply. I had no idea at the time what the advantages were to participate in this program. My topic in the beginning was to be hog production. As I met with my fellow farmers over there, it became very clear to me that there was much more to absorb from their industry than simply pork. Being a Nuffield Scholar helped me to look at the big picture of agriculture which may have caused my interest and attendance on our Ontario marketing boards and government agriculture supervisory boards." Jim Rickard, 1973 Nuffield Scholar, hog production. •