Improving phosphorus management
SMALL CHANGES FOR A BETTER ENVIRONMENT
EVERY GRAM COUNTS when it comes to reducing water pollution. Ontario growers know that phosphorus losses from run-off can contribute to the harm of waterways and now researchers are working to find out what preventative actions can be taken.
PHOTO: THE LDERTON SITE IN WINTER. TILE MONITORING SHED (IN BACKGROUND) AND SURVACE WATER MONITORING SHED (FRONT). IN BOTH OF THESE SHEDS THE TILE WATER FLOW AND DEPTH IS CONSTANTLY MONITORED AND WHEN AN EVENT OCCURS THE AUTOMATIC WATER SAMPLER IS TRIGGERED TO COLLECT WATER SAMPLES. THE TILE MONITORING SHED ALSO HAS A WIRELESS COMMUNICATION SYSTEM THAT CONSTANTLY DOWNLOADS COLLECTED DATA AND CONTACTS THE RESEARCHERS WHEN THE AUTOMATIC WATER SAMPLER IS TRIGGERED.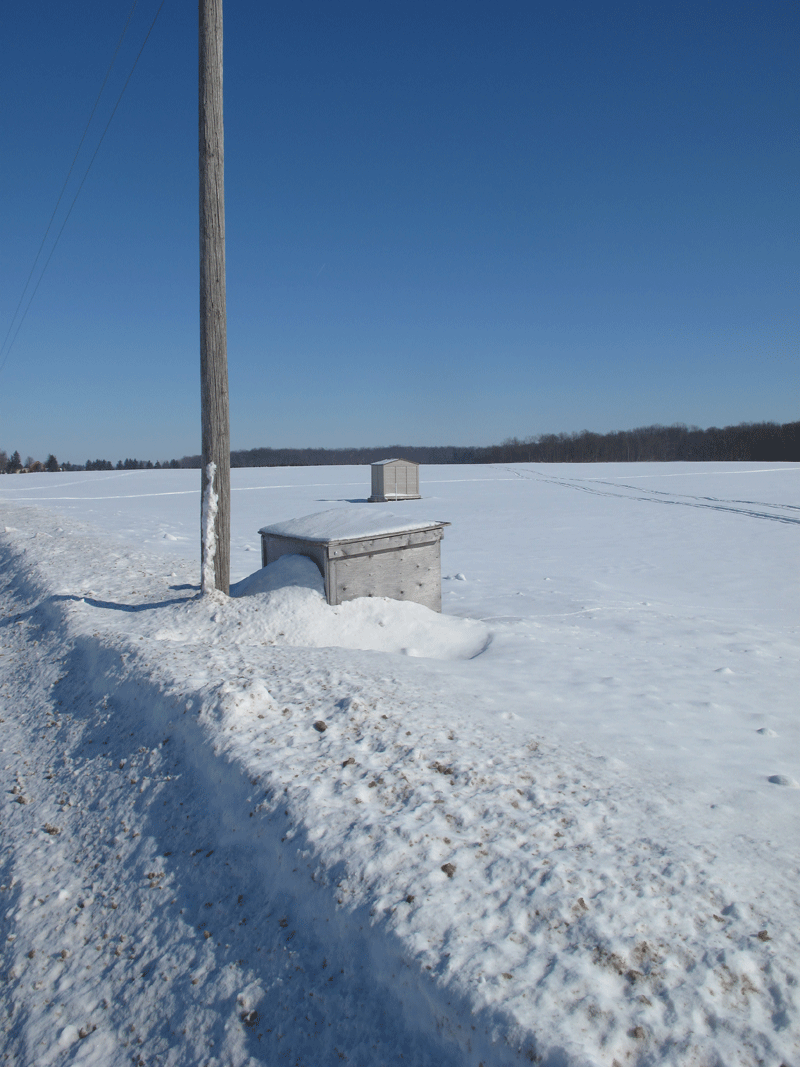 Dr. Merrin Macrae, associate professor at the University of Waterloo, Kevin McKague, Ontario Ministry of Agriculture, Food and Rural Affairs (OMAFRA) engineer, and Richard Brunke, OMAFRA engineer, are leading extensive research spurred by the rise of lake algae blooms in recent years.
"What happens on the farm does not always stay on the farm; and knowing what is leaving, when, and how will help us design better management practices," says Macrae.
ALGAE BLOOMS
Four years ago, the largest algae bloom in history was located in Lake Erie, covering an area of 500,000 hectares (approximately 1,235,500 acres). This type of pollution also made news in the 1970s when sewage treatment plants were blamed; but in 2011, the bloom was three times larger than ever seen before and the spotlight shone on agricultural practices.
"Today, non-point urban and rural run-off is the dominant source of phosphorus flowing into the lake, which contributes to the growth of algae," says McKague. 
The International Joint Commission (IJC) established the Lake Erie Ecosystem Priority (LEEP) in 2012 as a response to the growing challenges of phosphorus enrichment, climate change, and aquatic invasive species — challenges that have increasingly impaired water quality.
In August 2014, an algae bloom at the southwestern point of Lake Erie caused a ban on drinking water in Toledo, Ohio and forced water treatment plants to close.
McKague says that a study conducted in 2010 by Ohio's Environmental Protection Agency revealed that 52 per cent of the phosphorus in Lake Erie comes from Michigan, 34 per cent from Ohio, and eight per cent from Ontario. Work is underway on both sides of the border to confirm and update these estimates.
FIELD TRIALS
With the goal of determining how agriculture's impact could be reduced, Macrae and McKague first studied how much phosphorus is actually coming from workable land.
McKague says Ontario watersheds surrounding Lake Erie represent 2.3 million hectares, and of that, over 1.8 million hectares is classified as cropland. Their research determining the contributions of the western, central, and eastern basins has so far shown that, on average, 330 grams per hectare, per year is the average total phosphorus load from cropland.
"This seems like a small amount but if we could reduce it even slightly, the decrease would collectively have a major positive impact," he says.
The natural response to this concern would be for growers to reduce the amount of phosphorus fertilizer applied to cropland, but both researchers say that the solution is not that simple.
Macrae has been conducting edge-of-field phosphorus loss research at three sites in Maitland, Thames Centre, and Essex. The sites are home to well-managed, working fields and are monitored year round to measure surface and sub-surface losses.
"Hydrology drives the loss because when water is on the move, so is phosphorus," explains Macrae. "Weather stations and field instruments to measure hydrology are used so we can look at weather, overland flow, and tile flow throughout the year."
The research team's findings indicate that there is limited summer run-off and that the flow of phosphorus is most significant during the non-growing months of November through April. Master's student Chris Van Esbroeck (now with Maitland Valley Conservation Authority) studied this as part of his master's thesis while working with the research team for a year.
While tile drainage is used extensively in Ontario, research on their related impact on phosphorus losses is controversial.
"Research in the United States suggests that tile connects land and this increased connection may be adding more phosphorus to the lakes," says Macrae. "But we have found that while most water movement leaving the field happens below the ground, tile flow accounts for a smaller fraction of phosphorus losses."
She notes that overland movement, when it happens, is a much more efficient passageway for phosphorus. She adds, however, that soil type could be a significant factor in these findings.
KEY RECOMMENDATIONS
Macrae has been monitoring the test sites for three years and is continuing to take measurements in 2015. From her experience thus far, she advises growers to use soil tests but not to aim for high phosphorus levels.
"Consider increasing crop diversity by including winter wheat, cover crops, and forages," she recommends.
Protecting soil from erosion as much as possible, encouraging infiltration, and a spring application of fertilizer in bands into the sub- surface are also on Macrae's list of tips.
McKague says making it more difficult for water to move from the field can be accomplished by using buffer strips or water basins in concentrated flow areas. "There are probably more agronomic-based solutions so we need to start looking at this more closely," he says.
These changes could help restore the water quality in the Great Lakes and reduce the likelihood of significant algae blooms.
"A minor loss in the field can have a big impact downstream," says Macrae. "But if small improvements are made, we believe significant benefits may be seen."
The researchers wish to thank the producers who have provided their fields and time for this study, the students and researchers at the University of Waterloo who have supported OMAFRA staff in the collection, analysis, and interpretation of the data, and LICO who has provided in-kind resources for selecting and instrumenting the research sites.
UNDERSTANDING LAKE ALGAE GROWTH
In nature, nitrogen and phosphorus affect plant growth much the same as they do in a farm field. According to William Taylor, interim chair of Earth and Environmental Science at the University of Waterloo, phosphorus is usually the nutrient that most limits algal growth in lakes, even though it only makes up about one per cent of algae's dry mass.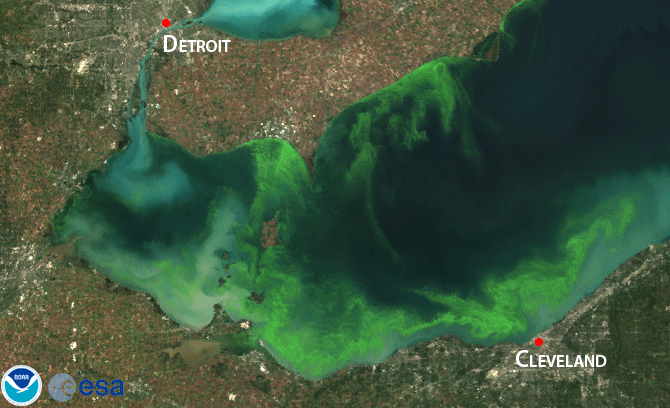 "A lake with less than 10 micrograms per litre (ug/L) of phosphorus will have nice, clear water as we would like to drink or swim in," explains Taylor. "Lakes with more than 30 ug/L of phosphorus will likely be turbid with algae and can generate algal blooms which may be toxic. Lakes with 100 ug/L will have virtually constant blooms and be a hazard." 
Algae are usually quantified by their green pigment, chlorophyll, and there is an approximately 1:1 relationship between phosphorus added and chlorophyll produced. 
"Algae can double their biomass daily, so a bloom can develop from an influx of phosphate in about a week," says Taylor.
Photo:?Satellite image of 2011 bloom, the worst bloom in recent years, which impacted over half of the lake shore of western Lake Erie. (Credit: MERIS/ESA, processed by NOAA/NOS/NCCOS) •