Western bean cutworm and mycotoxins
THE POTENTIAL LINK
A GROWING CONCERN for corn producers in Ontario is the increasing infestation of western bean cutworms (WBC). Their  numbers have been gradually rising and the insect has been spreading across the province since their first appearance in 2008. Paired with that is the continued concern of mycotoxin accumulation in corn, and researchers believe there may be a link between the two.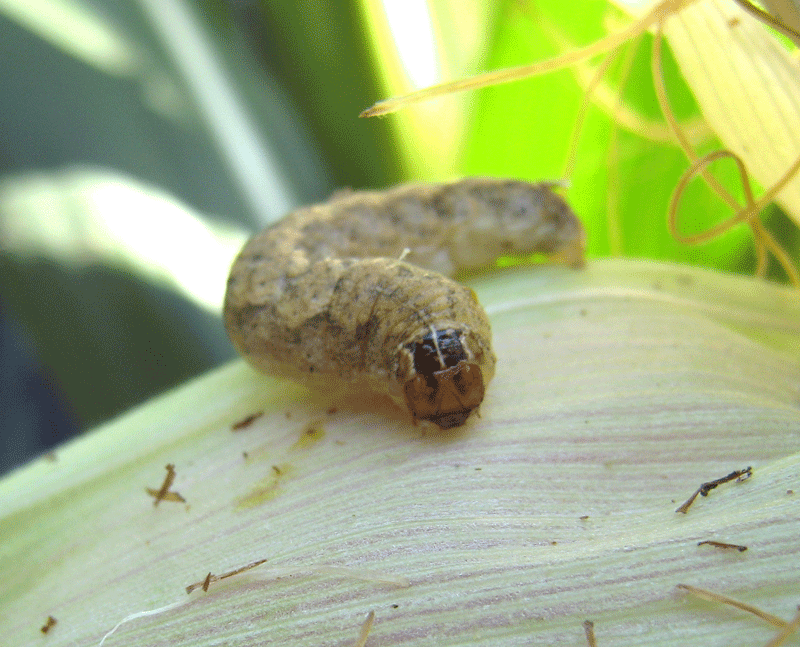 Mycotoxins are dangerous for both human and animal consumption and develop from different fungal pathogens. WBC feeding on corn ears may increase the susceptibility of plants to fungal infection, which in turn can lead to increased mycotoxin levels. The relationship between the western bean cutworm and mycotoxin accumulation had not been significantly studied, until a research project was conducted through the University of Guelph.
Over the past three years, Jocelyn Smith and Dr. Victor Limay-Rios, research associates in field crop pest management at the University of Guelph Ridgetown Campus, have been investigating the link between WBC and mycotoxins, as well as best management practices for controlling the pest. Her team, under Dr. Art Schaafsma's supervision, has been running field trials at locations with natural WBC infestations, as well as artificially infesting crops for trials at the Ridgetown Campus. They are testing the effectiveness of Bt traits, fungicide, and insecticide combinations for WBC and mycotoxin control.
"The ultimate goal is to look at the most economic management strategy for this complex pest," says Smith.
Preliminary observations showed a link between WBC damage and increased mycotoxin accumulation, specifically with fumonisins and deoxynivalenol (DON). Using this initial information, Smith and Limay-Rios began further research with financial assistance from the Canadian Agricultural Adaptation Programs (CAAP), Grain Farmers of Ontario, and a variety of crop protection and seed companies.

ESTABLISHED PEST
"Western bean cutworm is an established pest in some parts of Ontario now and we do see a possible relationship where you have a lot of western bean cutworm injury, there are more mycotoxins, we just haven't quantified that yet," says Smith.
WBC is native to the United States Great Plains and has steadily made its way across the Corn Belt over the last 50 years. With estimated yield losses of 3.7 bushels per acre with one larva per ear, WBC has the potential to do significant damage to crops. WBC has been considered a secondary pest in North America, but it has become an important pest in southwestern Ontario where it has been found to overwinter.
Since 1996, corn producers in Ontario have been using Bacillus thuringiensis (Bt) corn to ward off a variety of pests, but in many cases, it does not have the same effect on WBC. For example, WBC has varying levels of tolerance to some Bt events, such as Cry 1F.
A preliminary analysis of the research by Smith and her team shows Vip 3A Bt seems to be the most effective at controlling WBC.
CONTROL OPTIONS
In 2013, when mycotoxin levels were significant, research results showed a blend of insecticides and fungicides (Voliam Express + Proline 480 SC or Coragen + Proline 480 SC) sprayed at the R1 stage resulted in a significant decrease in mycotoxin levels.
At this point, farmers need to be aware of WBC as a very real and potential threat to their corn crop.
"You can monitor the moth flights using the Canadian Corn Pest Coalition website (www.cornpest.ca) during the summer. Increasing moth flights is an indication of when you should be scouting the field for egg masses and potentially spraying if threshold levels are met, which is five per cent of plants with an egg mass," says Smith.
Spraying can be difficult to time correctly. There is a small window of time when the eggs are hatching, but at the vegetative stage the larvae will starve so spraying would not be beneficial. A developing tassel must be present for them to feed on and survive. There is also the challenge of a long egg-laying period with the WBC resulting in various egg and larval stages at the same time, making spray timing decisions more complicated.
2014 was the third and final year of the study. "Now we're pulling all the data together for analysis. We've been evaluating the final WBC damage to corn harvested in 2014 and will then analyze it for mycotoxins," says Smith.
"We're hoping this project will answer some of our questions about mycotoxins and western bean cutworm and with our further research we hope to investigate resistance management with Bt traits." •