The California drought
IMPACT ON ONTARIO AGRICULTURE
POLITICIANS ARE FINALLY taking action to improve water conservation efforts in California. In April, Governor Jerry Brown announced a 25 per cent reduction in water use by residences, businesses, and farms, as the Sierra Nevada snowpack disappears and reservoirs throughout California dwindle to record lows.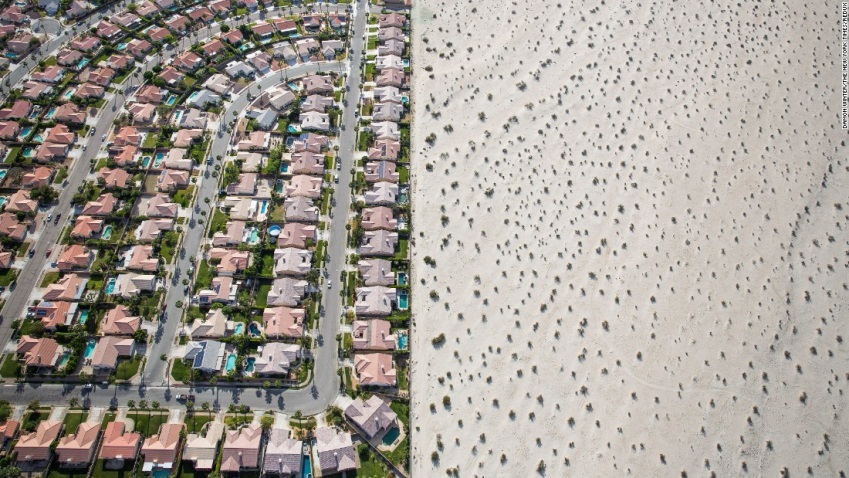 What do these issues in California have to do with Ontario agriculture? On the surface, it would seem that Ontario has plenty of water for use in agriculture, though with changing demand and climate conditions, it means Ontario's farmers will need to carefully manage their water resources.
Canada currently imports $2.1 billion worth of food from the Sunshine State. Common imports to Canada from California, such as broccoli, cauliflower, fresh strawberries, lettuce, and root vegetables, could see steep price hikes and supply issues as the drought continues into its fifth year.
As cost structures change, there is an opportunity to grow more of some of these traditionally-imported commodities (such as strawberries, lettuce, tomatoes, and broccoli) in Ontario, but our climate limits our ability to supply these in the winter unless we can move some production indoors.
Our harsh winter weather means Ontario agriculture would require significant investment in infrastructure to replace winter produce currently supplied from California. This is not feasible in the short- term and not without burning some carbon.
Ontario agriculture can learn from California. Growing more crops to meet greater demand in Ontario and the United States can only be sustainable if farmers monitor their water usage and use sustainably sourced water as efficiently as possible.
The Natural Resources Defense Council, a U.S. environmental group, has suggested some agricultural water efficiency tools for California producers to better cope with the drought.
They include:
•    use smart irrigation to ensure crops are watered when they most need to be;
•    use deficit irrigation to limit water use at drought-tolerant growth stages;
•    expand efficient drip and sprinkler irrigation technology;
•    use recycled water to irrigate crops.
THE GRAIN CONNECTION
On its own, California would be the world's ninth-largest agricultural economy, according to a University of California at Davis study. Shifts in its production reverberate globally. That may mean less farmland in production as growers abandon corn and cotton because of the high cost of water. Corn acreage in California has dropped 34 per cent from last year and wheat is down 53 per cent, according to the United States Department of Agriculture (USDA).
Brian Medeiros, a 26-year-old dairyman near Hanford, about 30 miles south of Fresno, is replacing the fields of corn and wheat he grows to feed his cows with sorghum and triticale, a heartier wheat and rye hybrid better suited for drought.
Recent headlines have pointed the finger at almonds, rice, and vegetables as unsustainable water users; surprisingly forages and alfalfa for dairy production are the top two irrigation water users. California is the largest milk-producing state in the U.S., well ahead of Wisconsin.
WHO CAN REPLACE CALIFORNIA?
Due to the drought, some Canadian produce importers are looking elsewhere such as Argentina, South Africa, and even Australia to meet the demand that may not be supplied by California because of a lack of water. Sobeys is one such grocer that is feeling the pinch and has begun to search for new suppliers due to their concern the drought may have a severe impact on price and supply. However, some fresh vegetables do not store well, and there are cost and time limits on just how far it is practical to ship many vegetables such as lettuce. The agriculture infrastructure present in California (especially the Central Valley) coupled with its unique micro-climates make it the ideal place to grow commodities such as nuts, lettuce, tomatoes, broccoli, and strawberries.
In many ways, our food system was much more efficient when Canadians relied on fresh-frozen local peas, corn, carrots, and broccoli. We had a more vibrant local processing sector and both food waste and carbon footprints where much lower.
Our food choices, including a desire for fresh imported vegetables year-round, has severe implications for the environment. As we start to look at carbon and how we use it, we are going to have to ask ourselves: should we really be burning carbon to haul lettuce across the continent?
The impacts of water restrictions on California agriculture will cause a fundamental shift in the pricing structure of food across North America. As prices are underpinned by California's low cost base, the competitive structure will change offering market opportunities to other regions that have the potential to fill the void, such as Ontario.
The drought in California has moved beyond shocking headlines to an economic and social force with the potential to shift the production dynamics of North American food production and consumption.
About the author: Bruce Kelly is the environmental program manager at Farm & Food Care. •