MAKING A DIFFERENCE IN ZAMBIA
THE ACTUAL SEEDS of the One Seed Project started in the fall of 2012 with a very small half-acre test plot in a small African village. Mark Lumley, a Lambton County farmer, was accompanying a friend, Jon Milos, from Lambton College, who was leading a team of students on an Enactus project in rural Zambia.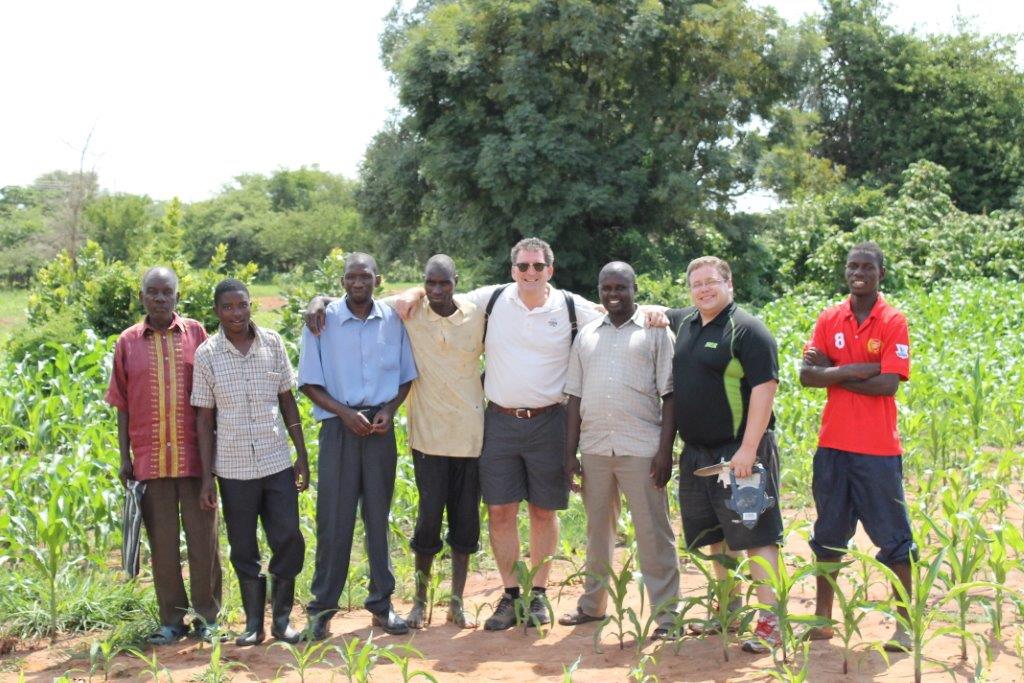 Enactus is an international, non-profit student organization that works in collaboration with academic and business leaders and is committed to using the power of entrepreneurial action to transform lives and shape a better, more sustainable world through various projects in 36 countries around the world. 
The Lambton College team had been focusing their efforts on a school in the village of Kasaka, and quickly learned that poverty and lack of nutrition were the primary contributors to the poor education situation. With 80% of Zambian's living below the poverty line on an average income of less than $1 U.S. per day, most families were not able to meet basic nutritional needs and many children went to school hungry, if they went at all. There was no surplus money available to improve the school facilities. The Enactus team realized that food and nutrition were problems that required attention if they wanted to improve education and the quality of life for individuals in Kasaka. 
Lumley and Milos helped plant the first small plot in the Zambian spring of October 2012 and the results that first year proved that yields, traditionally averaging five to 10 bushels per acre, could be significantly improved with even marginal changes to their farming practices.
As a farmer, Lumley knew that there were many more yield-impacting changes that could be incorporated and so he encouraged Milos to approach South West Ag Partners, a Chatham- based crop input company, to become involved in the project. Almost two years and two crops later, the impact of the One Seed Project on the people of Kasaka is both remarkable and inspiring.
TWO YEARS LATER
What began as one small half-acre plot with one farmer has flourished into a program that involves 700 farmers and a second neighbouring village. South West Ag Partners and their agronomy staff developed a crop production plan for the conditions of Kasaka and trained 138 Kasaka farmers in the first year on basic practices like planting seeds into rows in the soil, rather than broadcasting them on top of the soil. Fertilizer and weed control were also used and minimum tillage was employed to conserve soil moisture during the dry-season.  
In the second year of the program, the crop that is currently being harvested is expected to deliver an average yield that is three to five times higher than previous norms. Aaron Breimer, an agronomist with South West Ag, comments that, "one farmer, on whose crop we did a yield projection, refused to believe that he could grow 140 bags per hectare when the previous best he had ever grown was 50 bags".
Breimer adds that this farmer was an exception, being one of the better farmers in the village, but after year one of the project, overall corn production in the Kasaka farm district in 2014 was twice the previous record.  With the district comprising many more farms and farmers than are on the One Seed program, it's fair to say that One Seed farmers were responsible for much of the increase and that their own increases were far higher than the average.
The One Seed Project was set up to provide $500 U.S. micro-loans to participating farmers to pay for the crop inputs of seed, fertilizer, and weed control on one hectare of land. Profits from the farm were to be used for three purposes — to repay the loan, to pay for the next year's inputs, and to help the Kasaka community. A collateral benefit of the program was that farm families would feed themselves better. Jason VanMaanen, another South West Ag agronomist participating in the program, notes farm families often sustain themselves through the dry 'hunger' season by picking and eating the immature cobs.
"They call it finger blight and it makes it very difficult to really get a handle on the actual corn yields because it is so prevalent due to chronic food shortages, especially during the dry 'hunger' season," says VanMaanen.
Other members of the Enactus team were surprised to see children come to school with dry corn kernels that they would soak in rain- water that they caught off the roof of the school in empty plastic pop bottles, and eat for their daily meal. 
PROJECT CHANGES
The One Seed Project has not only grown in size, it has evolved in the way it is delivered and operated. After the first year, a steering committee was created between South West Ag, Enactus, and the most productive farmers in the Kasaka community, and that group modified the crop management plan into one that incorporates some traditional practices into the more modern input system. 
Steps were also taken to accommodate the substantial increase in farmers wanting to be part of the program. While there were not enough micro-loans to support every farmer, there were no limits to those who could participate in and benefit from the crop production training. Three local project leaders were chosen and 20 new team leaders became qualified under a "train-the-trainer" system to instruct other farmers on growing corn. A more selective process was also employed to determine who would receive micro-loans. The community appointed their best farmers, knowing that the sustainability of the program was reliant upon growing good crops and repaying the micro-loans.  
For the third year of the project in 2015, a requirement being considered is for the best farmers who are extended micro-loans to mentor and assist another nearby farmer that is identified as showing great potential to become a good farmer. All of these steps were taken to maximize the efficiency of the funds and to increase the likelihood of success in the field. 
Enactus also initiated a financial literacy training program to compliment the micro-loan farming program. Farm families are taught the basics of money management to assist them in dealing with the larger income they were generating from the higher-yielding crops they were producing. It also equipped them with a better understanding of  their options for financing after their first year on the micro- loan program, which is designed to get farmers started in year one and be available to new users each year.   
BENEFITS
As the third year of the project begins, Jim Hazzard, One Seed Project coordinator for South West Ag Partners, and Jon Milos, Lambton College faculty advisor for Enactus, both feel that tremendous strides have been made in rural Zambia.  
In Kasaka and Gaali, 4,900 farm family members are better nourished and the communities are benefitting from investments made by farmers. Kindergarten classes have been added for the first time in Kasaka and the teacher is being paid by the community. People in Gaali are building a new three-room school with 50% of the project being funded by the community and virtually all of Gaali's micro-loan farmers participating. Health clinic improvements are also planned in Gaali as a direct result of the One Seed Project.
Hazzard would like to remind farmers and interested parties of the opportunity to participate in the One Seed Project by financing one or more micro-loans to Zambian farmers.
"There may even be an opportunity for others to accompany us on future trips to Zambia and to actively participate in the One Seed Project under the right circumstances," says Hazzard. 
Donations are tax deductible and will be channeled through the Lambton College Foundation. Persons or groups interested in learning more about the One Seed Project, or, in  having a presentation made to their organization or group, can contact Jim Hazzard at jim.hazzard@southwestag.ca or Jon Milos at jon.milos@lambtoncollege.ca. 
South West Ag and Enactus representatives plan to re-visit Zambia again in August.  
About the author: Rick Youlton is the marketing manager, fertilizer, for South West Ag Partners Inc. •