Fuelling your fleet
THE COMPRESSED NATURAL GAS OPTION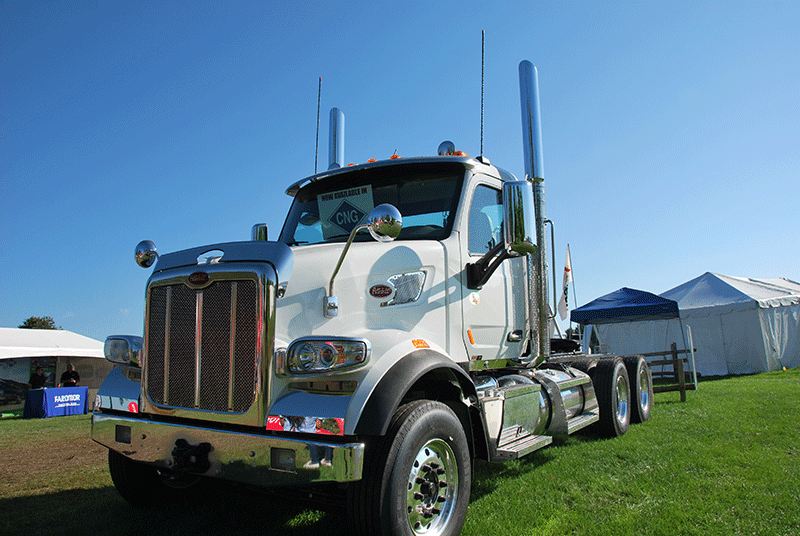 ADVANCEMENTS IN TECHNOLOGY  have increased the availability of alternative fuel sources, such as compressed natural gas, and at a competitive price they are becoming a more attractive option for farmers.
Murray Logan, manager of renewable energy development for Canada's Outdoor Farm Show (COFS), says showcasing these new innovations has been the goal of the New Fuels/New Trucks Expo for the past six years.
"This year we focused on new opportunities for fleet owners to save money on their fuel consumption. With the adoption of natural gas as a vehicle fuel we see that as a good way for operators to successfully do that."
"Natural gas pricing hasn't changed a whole lot in five years compared to the volatility of the other fossil fuels," explains Mark Shulman, territory sales manager for Cervus Equipment Peterbilt in Ontario.
It's one of the advantages he was promoting to farmers at COFS along with the environmental benefits of a natural gas powered fleet.
ENVIRONMENT
"Emissions wise it's more environmentally friendly than the current fossil fuels that are offered. It also eliminates a lot of the emission products that are on engines which is an area that a lot of people aren't aware of. If you look at some of the engines today there is probably $15,000 worth of emissions equipment that is not required on a natural gas unit."
Peterbilt has the largest offering of natural gas powered models in the industry and is looking at expanding the products currently available in their line.
"There are some conversion kits available that will allow truck owners to burn diesel fuel and natural gas on their existing product, and we also do have through our Peterbilt product line, which consists of different models, the ability to offer units which are strictly 100 per cent natural gas powered," says Shulman.
The adoption of natural gas as a vehicle fuel has been slow in Ontario, due in part to its limited availability. Logan says he expects the technology to be more widely adopted over the next five years based on the momentum that has already been seen in the U.S. Our market typically trails the U.S.
"Here in Ontario we are just working on creating the interest in natural gas and building the infrastructure that is needed to fuel that type of equipment," says Logan who is also a project manager with Faromor Energy Solutions. "We have a lot of good questions from farmers here at the farm show. Every year we see an increased interest with smaller fleets buying into it, building their own compression stations, and making conversions on their fleet vehicles."
AVAILABILITY
Faromor is building a compressed natural gas fueling station near Woodstock that is expected to be in operation next year. It's just one step in making natural gas an easier alternative in rural Ontario.
"The whole process of natural gas is chicken and egg. We need the egg — which is the filling station — and we need the chicken — which is the truck that uses natural gas. So it's been a fight to maintain that type of balance," says Shulman.
Currently, farmers interested in buying a Peterbilt natural gas powered truck have a three-month waiting period. But it's an investment that will pay off quickly.
"Depending on your usage and application, the potential for savings is tremendous — especially those who are already plumbed into a grain system that is fired by natural gas and they have that convenience in their back yard," says Shulman. "Everybody is concerned about their bottom line and proven profitability and I think there is the potential for natural gas to be a real asset to that goal."
Because the technology is still relatively new, a resale market hasn't been established yet. However, natural gas powered vehicles have the potential to remain in your fleet for a number of years.
"Under proper maintenance, the life expectancy of a natural gas powered engine could be longer than a regular diesel truck because it burns so much cleaner," Shulman says, while acknowledging there is slightly more maintenance required because it is a spark ignited engine.
In the future, natural gas could be used beyond your vehicle fleet in your farm equipment. Logan points out that in Europe there is already a New Holland dual fuel tractor that can run on biogas or diesel and it's only a matter of time before it makes its way into the North American market.
"We are already doing a lot of work with farm equipment manufacturers here to adapt tractor engines — looking at using either natural gas or bio methane," says Logan. "The conversion kits we have on trucks here today can be used for adapting engines on farm tractors, depending on the technology used by specific manufacturers. Improving this is our next step after we get our trucks perfected. Farm equipment — particularly equipment that is used for the longest number of hours in the day — is the best bet for future cost savings with natural gas." •