LATEST FIELD OFFERINGS
THROUGHOUT THE SUMMER and fall, equipment manufacturers launched their latest offerings at farm shows and special events across North America. For grain farmers, there are several new tractor, combine, and technology offerings to take a look at.
PHOTO: AGCO'S 3300 COMMAND™ SERIES CORN HEAD.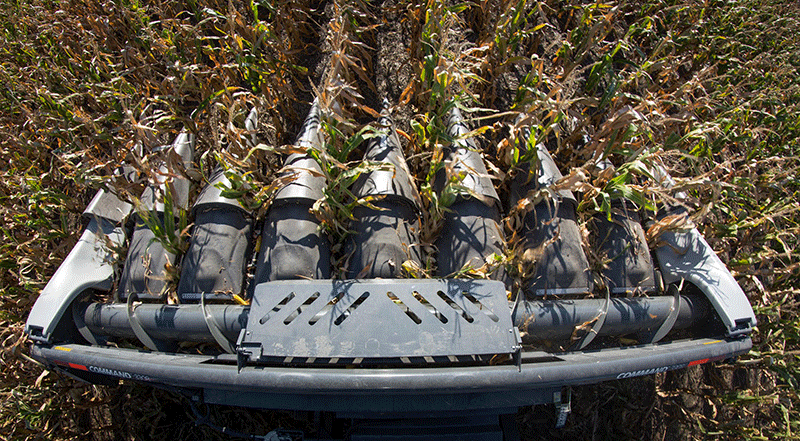 AGCO
AGCO is offering new 3300 Command™ Series corn heads designed to handle larger capacity and faster harvesting rates. The corn heads are available in both eight and 12 row, as well as non-chopping or chopping. The corn heads can chop both stalk and residue allowing for faster breakdown in the field for easier fall or spring tillage.
Sunflower®, AGCO's tillage line, has introduced the new SF6830 high speed rotary finisher and the SF4630-09 disk ripper to be used in combination to complete multiple tasks in a one pass system. The design of the SF6830 Series is completely void of sweeps, combining four types of rolling-ground engaging tools which reduce the possibility of the machine plugging-up. It includes two intermeshed gangs of Sunflower's rotary spider tines which level the seedbed floor while blending the soil with crop residue.
AGCO has also introduced a new utility tractor for a wide range of farm uses with the Massey Ferguson 4600M Series. Models range from 70 to 99 engine horsepower (HP). This series replaces the 4600 Series. Two transmission options – a standard 12 X 12 power shuttle and an 18 X 18 with the optional creeper gear package — are available.
PHOTO: CASE IH'S NEW PATRIOT® 2250 SPRAYER.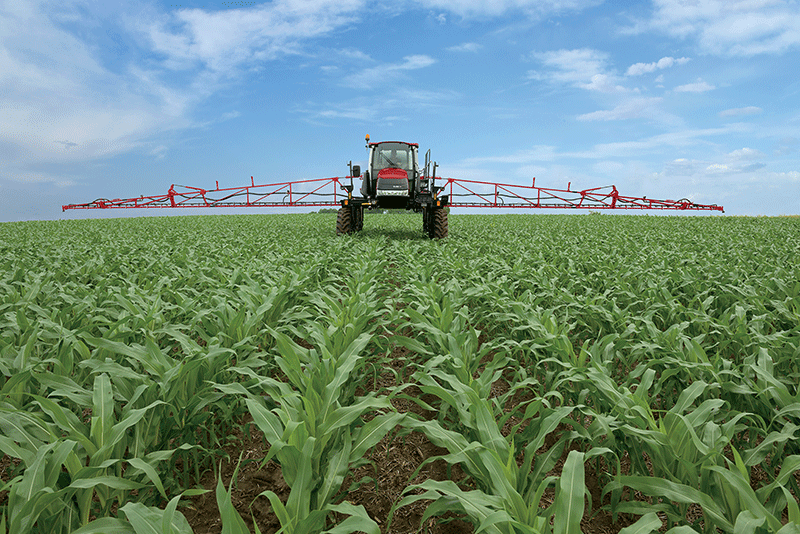 CASE IH
Operator comfort and greater productivity are some of the benefits Case IH is promising farmers with their redesigned Axial-Fow® 140 series combines and Steiger® tractor updates. Key Axial Flow 140 series enhancements include an improved, two-speed electronic shift transmission for quick, seamless control, higher speed ranges, and greater traction; an enhanced CrossFlow™ cleaning system which automatically detects when the combine is on uneven terrain; higher capacity grain handling; better  residue management ; and an intuitive user-friendly interface.
2016 Steiger tractor enhancements include a more efficient transmission; LED lighting; an advanced steering system and automatic differential lock for greater control with less input; optional advanced line acquisition adds to the guidance system for precise end of row turns with less overlap; and split-image wide electric mirrors for improved rear visibility. Upgrades have also been made to the AFS Connect™ fleet management and machine monitoring system.
Case IH has also introduced the new Patriot® 2250 sprayer which features increased power, fuel efficiency, and a larger capacity tank. Boom choices include 60/80 feet or 60/90 feet and feature a parallel link attachment for a wide range of heights.
PHOTO: JOHN DEERE'S FOLDING 12-ROW CORN HEAD (612FC MODEL).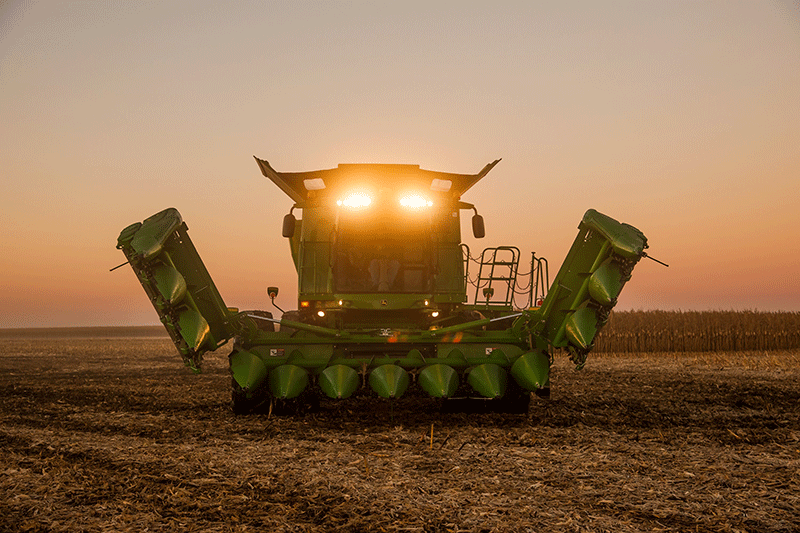 JOHN DEERE
For the first time, John Deere is offering a folding 12-row corn head (612FC model) as part of its expanded lineup of 600C Series corn heads and updated 600F HyraFlex Draper Platforms. The company claims the 612FC can increase productivity up to 30 acres more per day versus harvesting with a traditional eight-row corn head and six more acres per day versus a traditional 12-row while reducing operating costs by 15 per cent.
John Deere has also introduced the 2510H high speed applicator with dry nutrient attachment. It can now apply nitrogen, phosphorus, and potassium below the soil surface at the same time. The attachment gives operators the flexibility to apply dry nutrients while simultaneously injecting anhydrous.
A four-track option has been added to John Deere's line of high horsepower tractors. The four new 9RX tractor models range from 470 to 620 engine HP. They feature either a John Deere Power Tech™ PSS 13.5L engine or a Cummins QSX15 engine. They are equipped with puncture resistant Camso Duradrive® rubber tracks. The track belts are designed for increased life and durability and are available in 30-inch and 36-inch widths.
PHOTO: NEW HOLLAND'S CX8 SERIES COMBINE.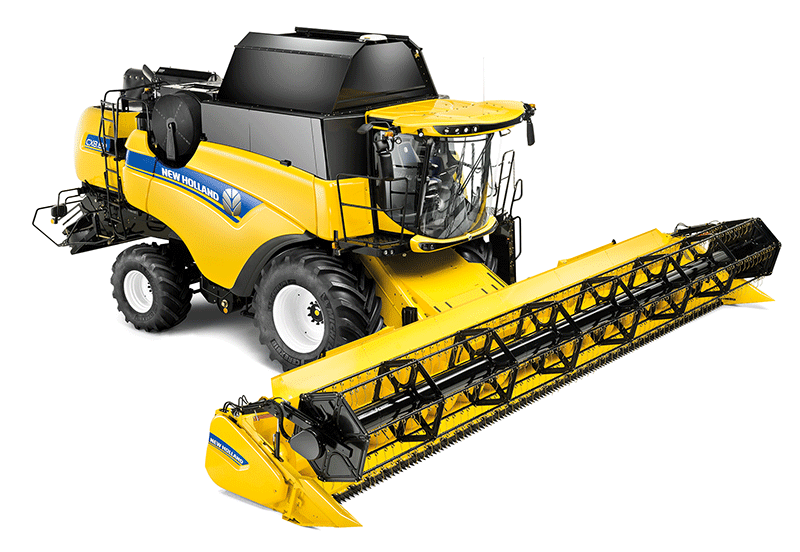 NEW HOLLAND
New Holland Agriculture has launched the new generation of its CX8 series combines. The company claims its CX8.90 is the highest capacity conventional combine in the world with its 490 horsepower, 355 bushel grain tank, and new cleaning systems. The conventional threshing and separation design allows operators to change between a variety of crops and field conditions with little adjustment. With Opti-Speed™ strawwalkers the speed is automatically set to match maximum throughput of the crop being harvested. The OptiClean™ system improves cleaning performance by up to 20 per cent and the OptiFan™ system further increases the efficiency of the cleaning system by automatically adjusting the fan speed according to the incline. The combine also features a new residue management system, cab design, and LED lighting.
New Holland has also expanded its tractor offering with the new T7 Series models T7.290 and T7.315 designed for a wide range of jobs including row crop work. They feature the company's Auto Command™ continuously variable transmission (CVT) with four direct drive points. These points match the most frequently used speeds during high-speed field work such as transport or heavy draft work. The new models can mount larger tires with the option of rear and front dual wheels. Tire pressure can be monitored on the in-cab display. •