Ontario farmers good stewards
VITUCCI FAMILY WINS CLEANFARMS CHALLENGE
CLEANFARMS ISSUED A challenge to all commercial farmers in Ontario this April to share their stories of environmentally friendly farming practices. The winners they announced in the fall represent the best Ontario has to offer.
PHOTO: BILL AND CATHY VITUCCI AND THEIR FAMILY.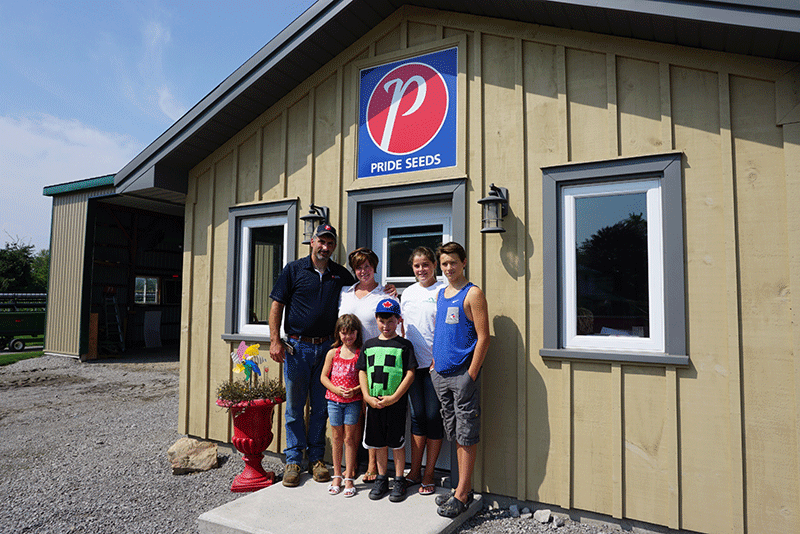 Winning the Great Ontario Clean Farms Challenge grand prize of $5,000 was Cathy and Bill Vitucci of Wellandport, followed by second place winner Julie Simpson of Pain Court, and third place winners Harold and Shelley McPhail of Almonte. As an industry stewardship organization committed to environmental responsibility, CleanFARMS already knew farmers are committed to good stewardship practices from their own high program participation rates. But the organizations' stakeholder relations manager, Kim Timmer, says it's a good news story best told by farmers themselves.
"Those of us who are in supporting roles in agriculture, we can share that story, but farmers can do that so much better," she says, "and sometimes when you get these really good stories out there, it can motivate others to implement similar practices."
Timmer says anyone who works with farmers knows they just don't have a lot of time on their hands — which is why CleanFARMS made the challenge easy and convenient for farmers to participate, keeping the submission form to fewer than 10 questions. After the July 30 submission deadline, the entries were evaluated by an industry panel that included Tracey Forrester of the Ontario Agri Business Association, Bruce Kelly of Farm and Food Care Ontario, and Deborah Brooker of the Ontario Ministry of Agriculture, Food and Rural Affairs. The finalists that were selected showed great commitment to best practices, innovation, and participation in recycling programs.
"All of our winning farmers have systems in place for their farm, but they also look beyond the farm gate and benefit others in the community," Timmer says. "For all of these folks, it's just one additional thing they do to take care of their land and they just go above and beyond."
FIRST PLACE: CATHY AND BILL VITUCCI
Grand prize winners Cathy and Bill Vitucci, from Wellandport, were already known to the CleanFARMS organization even before they won this year's challenge. One year before their seed bag pilot program came to the Niagara region, Cathy Vitucci had already called in to find out how they could get involved. "I guess I was a little bit ahead on that one," she laughs.
Taking that initiative must have made a lasting impression though, because she says someone thought to make sure she got an application form. And she says it was a good thing it was simple to fill out. With four young kids, the farm, a seed dealership, and some custom work that they do on the side, there isn't a lot of spare time in the spring. Still, Cathy Vitucci says they try to make time for good practices their children will benefit from, both inside the home and around the farm.
"Because we get to start from scratch as a first generation farm, I think it's easier for us," she says. "Bill's always been really good at keeping things neat and tidy."
The Vituccis order fertilizer in bulk, herbicides in reusable totes, and seeds in either reusable containers or tote bags. As seed dealers, they also try to deliver seed in bulk too, collecting seed bags and totes in addition to seed pallets, and they will even take back competitor seed bags. Whether doing custom work or farming their own land, used herbicide jugs are triple-rinsed into the sprayer and returned to their local supplier every spring and unused crop protection materials are returned for refund. Reducing soil compaction by cutting down on passes over the field, which results in less fuel, fewer oil changes, and even less machinery on the farm, is another important way they care for the environment.
"But we're not unique; hundreds would have qualified for the top prize," Cathy Vitucci says. "There are so many people out there that are conscious of environmental stewardship."
She also says they really think any one of this year's top three finalists could have won the challenge; so they think it's fitting that they give away the prize money they were surprised with.
"As my husband says, it wasn't our money to begin with, so we're trying to think of ways to donate it, maybe to multiple charities."
SECOND PLACE: JULIE SIMPSON
Julie Simpson from Laprise Farms, a family cash crop and plug plant greenhouse business owned by Jean- Marie and Lucille Laprise in Pain Court, stood out for her comprehensive, company-wide waste minimization program. She tries to adopt one new stewardship practice every year on the farm.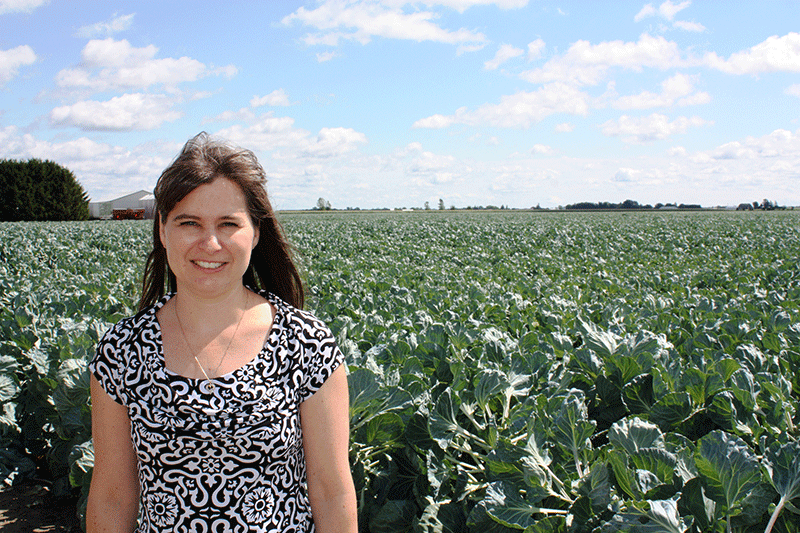 This year, her focus was on recycling used tires — but Laprise Farms actually recycles a great deal more already, including used motor oil, oil filters, anti-freeze, cardboard, greenhouse trays, and used pesticide containers. Plant waste goes back on the field and produce that doesn't make it to market is available for staff to take home, the Salvation Army, or the Christian Gleaners. Everyone on the farm is encouraged to reduce waste, both at work and at home. Employees are even welcome to bring anything from home that they want to recycle through the farm's bin program.
"We want to show that we care about nature and the environment and to promote having that respect," Simpson explains. "We're not doing large, extravagant things, just a lot of little things and we work hard to promote that little things do count."
THIRD PLACE: HAROLD AND SHELLEY MCPHAIL
Keeping a clean farm is also important to Harold and Shelley McPhail, of Harshell Enterprises, in the Ottawa Valley. They work with an agronomist to use inputs efficiently, return containers and seed bags for recycling, buy in bulk, recycle waste oil, and keep a scrap metal bin that anyone in the neighbourhood is welcome to use.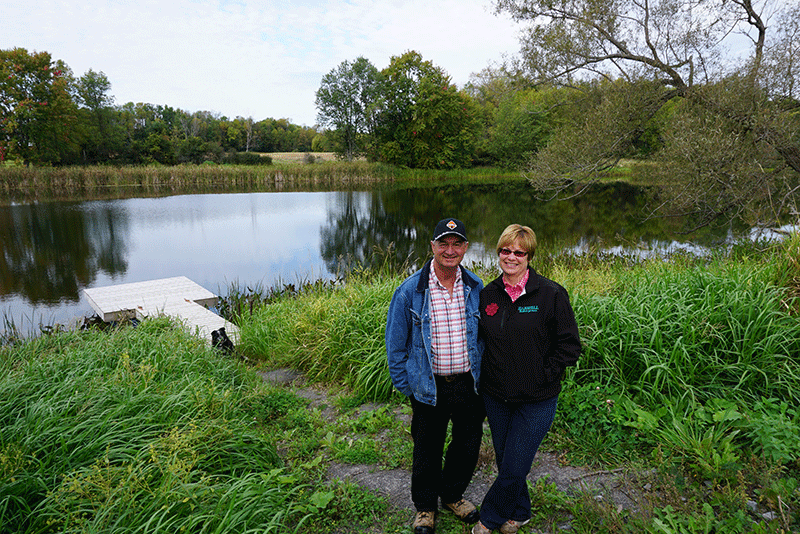 But they are also willing to try a lot of other new things. They grow nine different cash crops on 400 acres, in addition to offering custom work and running a trucking operation. They were early adopters of on-farm environmental projects like building covered manure storage, fencing cattle out of water courses, and switching to no-till planting. 
"You want to do what you can to make money, but first and foremost, you want to feel good about it," Shelley McPhail says. "We are just custodians of the land, looking after it until the next generation takes over." •