Originally posted: March 1, 2016
Updated: June 29, 2021
TOP TIPS FOR PROPER INSECT IDENTIFICATION
THERE ARE NUMEROUS pests that can affect grain crops throughout the growing season. Become familiar with early season scouting practices, and also insect identification. Early season pests can affect stand counts.
Do you know what you are looking for? Where to find them? How many do you need to find to meet the regulation requirements? How many do you need to find to meet the regulation requirements? We've got answers.
WHITE GRUBS
White grubs are squishy, "C" shaped white larvae that have an orange/brown head, and a grey posterior (tail end). They feed on roots, resulting in thin stands, reduced seedling vigour, and dead emerged plants. They also feed on cereals and forages, though these crops are not part of the regulation.
White grubs are actually larvae of three different insects: European chafer, Japanese beetle, and June beetle. The only way of identifying which grub you have is by looking at the grubs anal hairs (rasters) with a magnifying glass. It is important to know which white grub(s) you have in your fields as they all have different life cycles.
EUROPEAN CHAFER
European chafers are one of the larger white grubs you will find in your soil. They only produce ONE generation a year. They are the most active in the spring, as soon as the ground starts to thaw until about mid-May. Feeding ends at this point in the year, and the larvae then pupate and become adults. Females lay eggs in cool soils in June, and, once hatched in August, young larvae begin to feed on roots until the ground freezes. At this time, the larvae go below the frost line for the winter. Damage is typically in corn and forage fields in the spring. Chafers prefer the roots of grass species (ie. Corn, grass in forage mixes,etc.).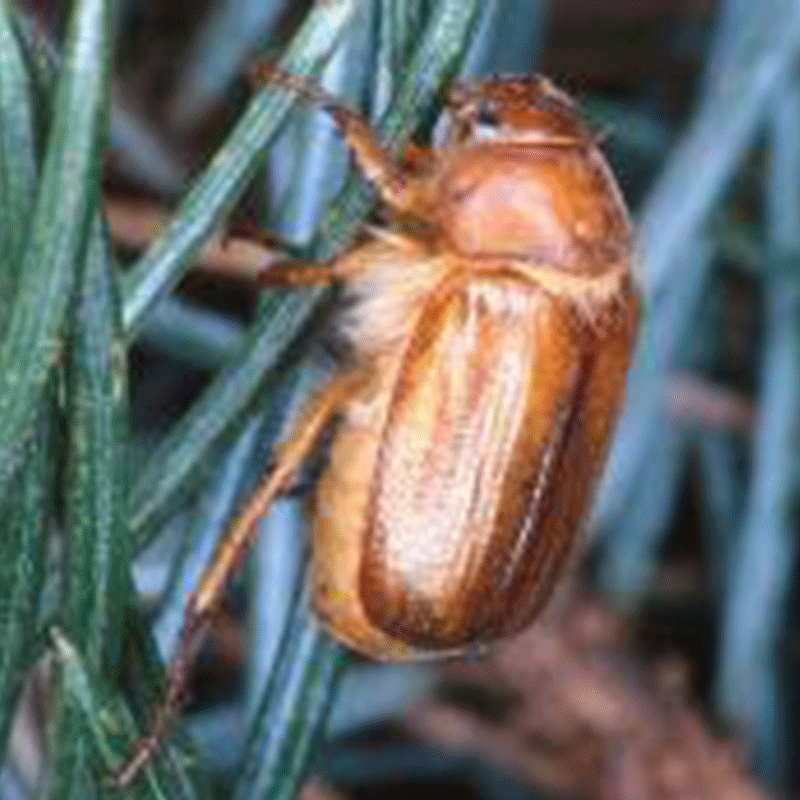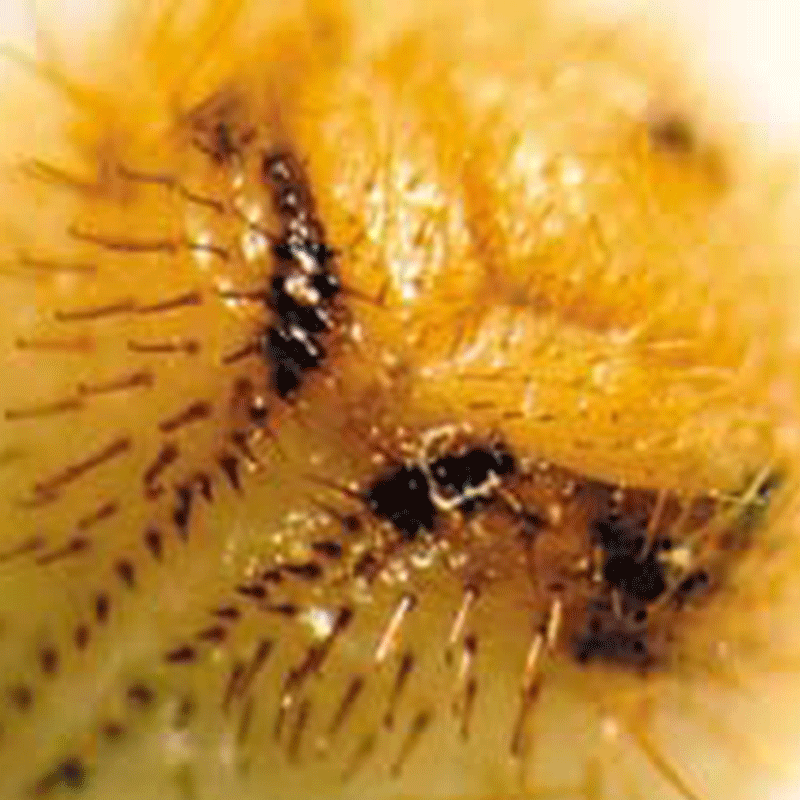 JAPANESE BEETLE
You may have seen clumps of shiny Japanese adults feeding in your soybean fields in the last few years. Japanese beetles are the smallest white grub you will find when digging for grubs. This pest does not like cool temperatures! They don't begin to feed on plant roots until the soil temperature is at least 15 degrees C and continue to feed until mid to late June.
In July and August, females will lay eggs. Once they have hatched, they begin to feed on roots and stop by the beginning of October. This pest is typically feeds on soybean and alfalfa roots.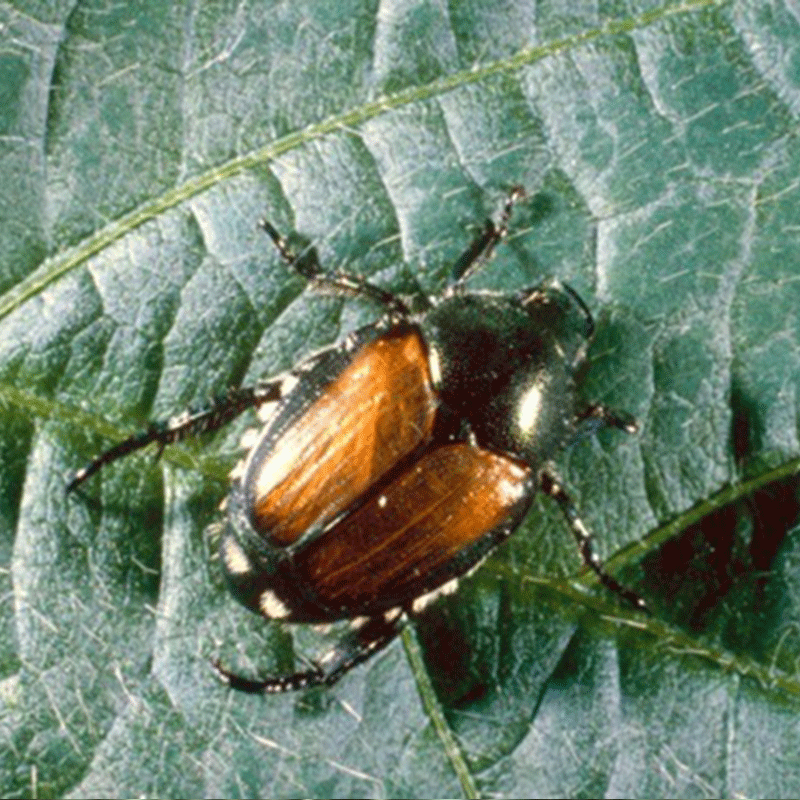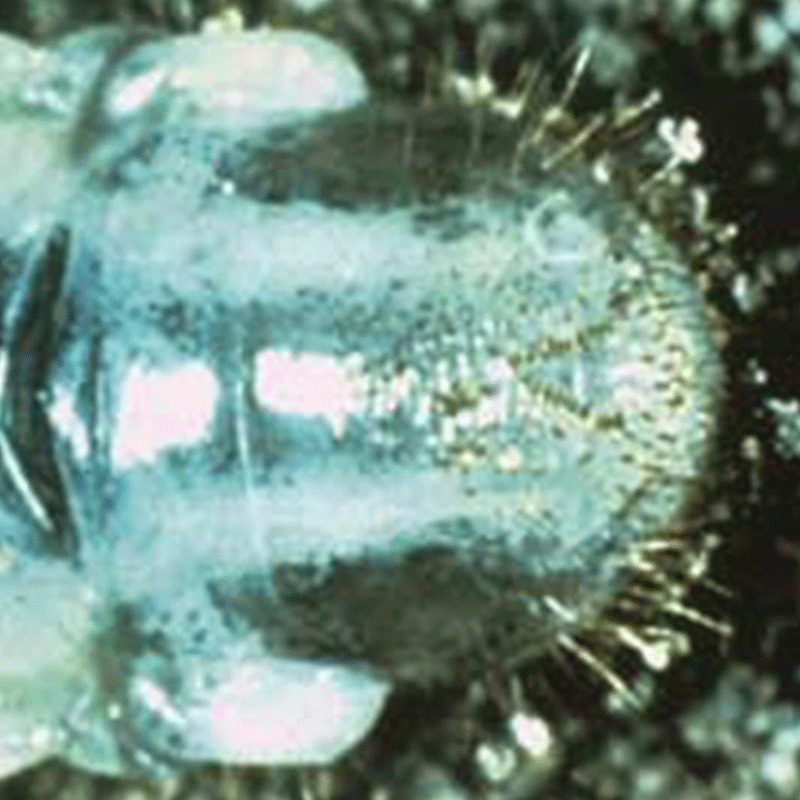 JUNE BEETLE
June beetle larvae are typically similar in size to chafer larvae. June beetles have a three-year life cycle. In year one, adults congregate in trees and mate in June (hence the name), and lay their eggs in moist soils. Eggs then hatch and larvae begin to feed. The second generation then develops in preparation for overwintering. In year two — the most damaging year — larvae will begin to feed on roots from spring until they overwinter in the fall. In the third year of its life cycle, June beetle feeding is minimal as they pupate and become adults in June then remain dormant until the following spring. Typically, this pest feeds on young soybeans and forages.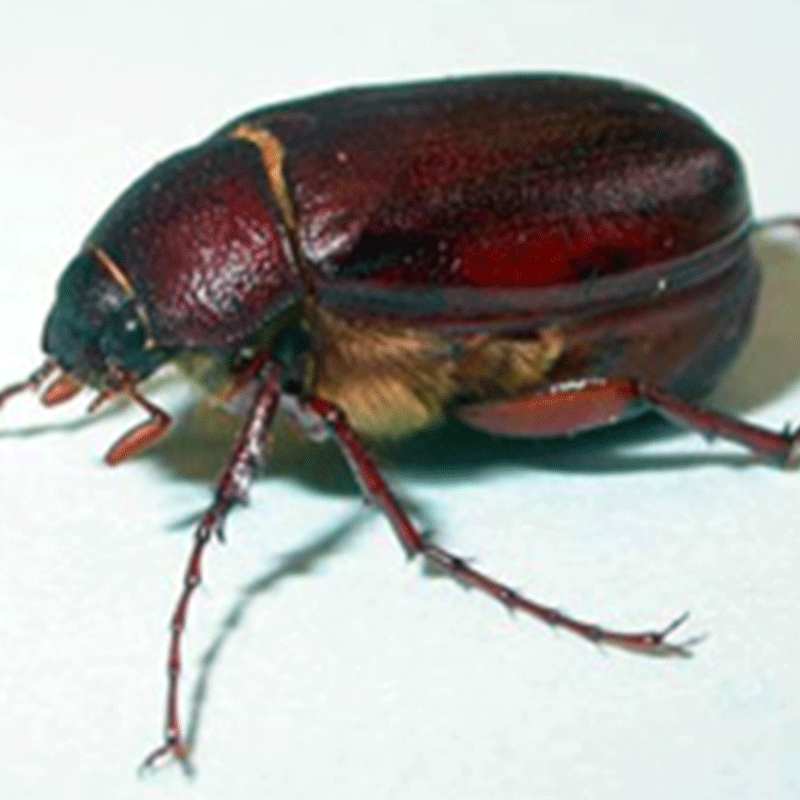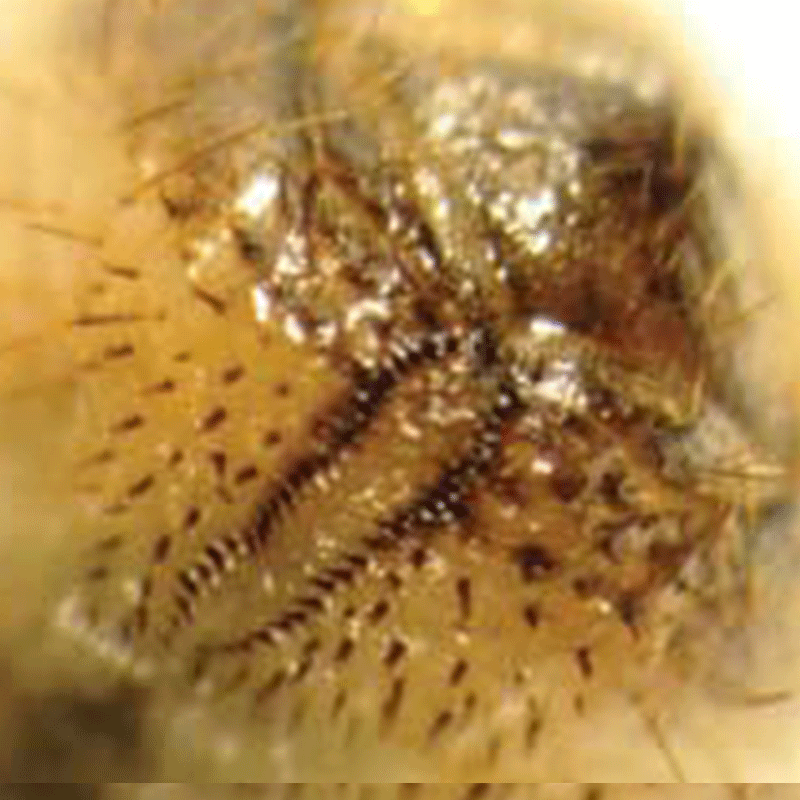 The best place to find white grubs, regardless of species, is in lighter soils and/or sandy knolls in the top three to four inches of soil. The best way to find them is by digging — unlike wireworms, bait traps do not do not attract grubs.
When digging, sift through soil breaking up any clumps, as the grubs have likely burrowed in little holes or are feeding on roots. If you know you have European chafer pressure in your field(s), you can find this pest in the spring and fall. Japanese beetle and June beetle larvae can be found in summer and early fall. The likelihood of you finding June bugs and/or Japanese beetles in early spring are small due to their mid to late spring feeding patterns and their desire for warmer soil temperatures.
There is no established economic threshold for these pests, however to meet the government-mandated restriction for neonic use, you must find a minimum of 10 white grubs (or two per dig site) per 100 acres.
Some alternative ways to manage white grubs is through use of tillage, and by avoiding planting into cold, wet soils — a crop that establishes quickly will be less impacted by insect feeding.
WORM OR WHITE GRUB?
There are several species that can be mistaken for wireworms or white grubs. Only one of these four is a white grub.
PHOTO: EUROPEAN LEATHERBACKS (EUROPEAN CRANEFLY); GREY IN COLOUR AND DO NOT HAVE AN ORANGE HEAD OR A GREYISH POSTERIOR. ALSO HAIRLESS. YOU MAY FIND THESE IN YOUR DIGS IN THE SPRING. CAN DO A LOT OF DAMAGE. PHOTO: BRENDAN ZETTLER.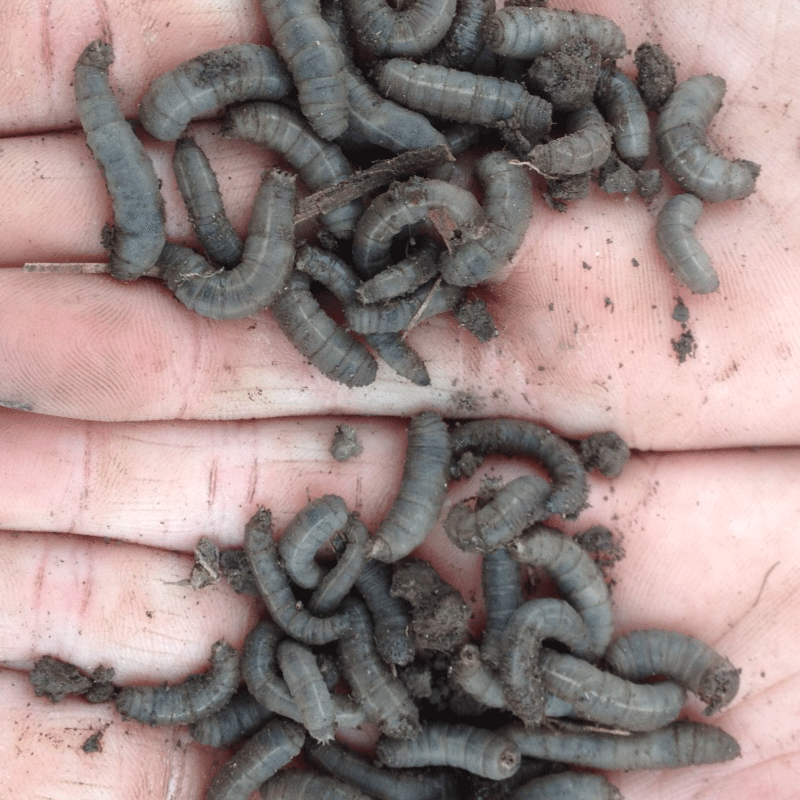 PHOTO: WHITE GRUB. PHOTO: PAUL SULLIVAN.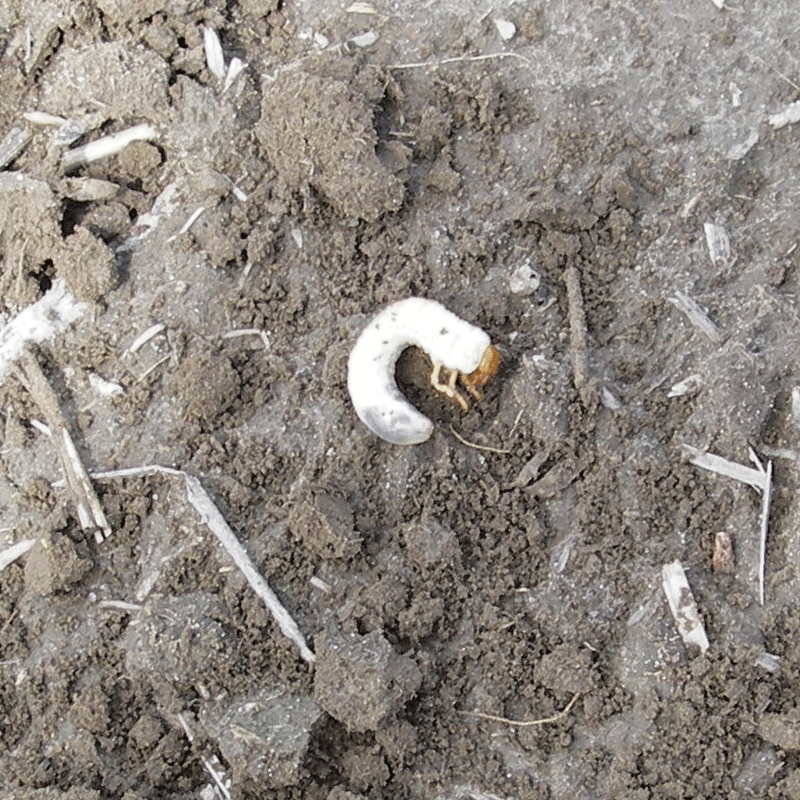 PHOTO: EARTHWORMS.  THE GOOD GUYS!  PHOTO: PLANTCOVERCROPS.COM.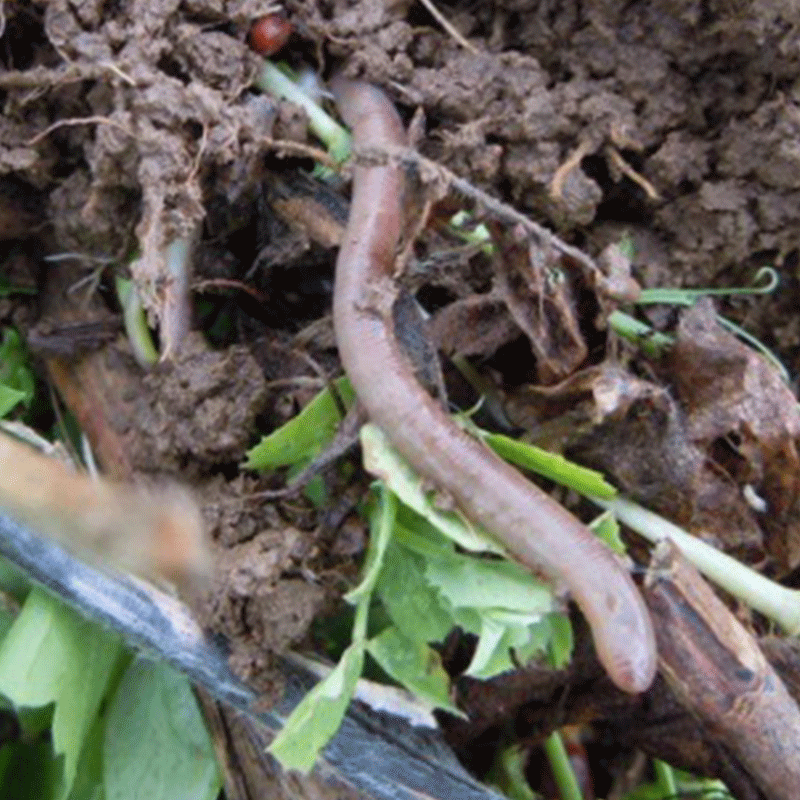 PHOTO: WIREWORMS. NOTICE THE VARIATION IN SIZE? THESE ARE ORANGE AND HARD BODIED. THIS IS THE OTHER PEST THAT IS CONSIDERED FOR THE SOIL ASSESSMENT FOR THE NEONICOTINOID REGULATION. PHOTO: JEFF JAMES. •