TOP TIPS FOR SPOTTING AND DEBUNKING FOOD MYTHS
YVETTE D'ENTREMONT, BETTER  known as the SciBabe, is a popular science blogger who tackles hoaxes and anti-science fads on the Internet. Last year, her feud with another blogger (the similarly-named "Food Babe", Vani Hari) brought a lot of attention to her work dispelling myths and advocating for the use of science in food production. D'Entremont focuses on debunking fads meant to scare consumers away from certain types of foods, whether or not they are "toxic", genetically modified, or contain difficult-to-pronounce chemicals like dihydrogen monoxide (otherwise known as water).
PHOTO: YVETTE D'ENTREMONT (SCIBABE) SPEAKING AT THE 2016 GRAIN FARMERS OF ONTARIO MARCH CLASSIC.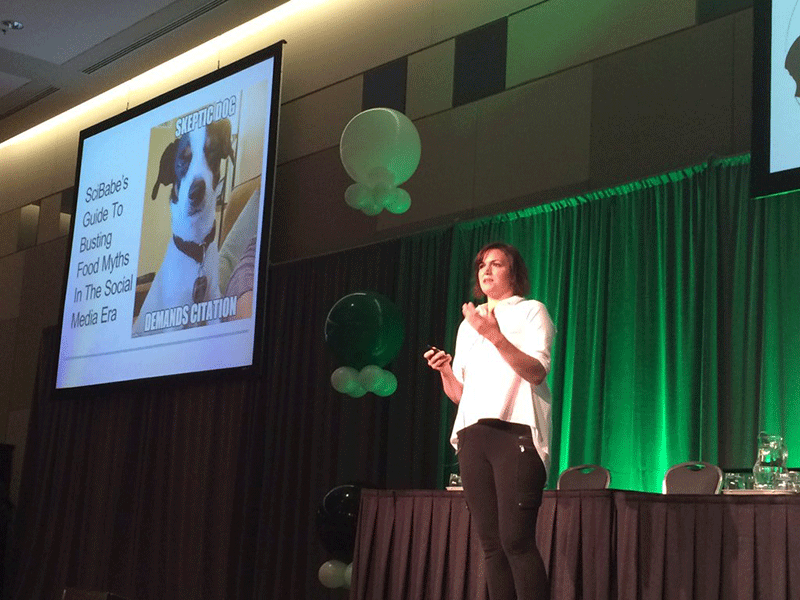 The theme of this year's March Classic was "Cultivating Consumer Relationships", and d'Entremont's unique perspective of scientist and blogger was a great fit for the event. As d'Entremont explained, endemic distrust — distrust of the companies that develop and sell new products, distrust of federal regulators, distrust of production methods, and even distrust of science itself — along with the poisonous discourse surrounding modern agriculture, has wedged itself between producers and consumers.
To counter all the negativity, d'Entremont presented her 'Ten Rules to Bust Food Myths', and shared that anti-science movements are not solely a problem faced by the agri-food industry – consider the strain put on public health by the anti-vaccination movement — but our industry has seen a significant shift in public perception.
From pesticide use to ethanol production and genetically modified crops, the scrutiny is constant and intense. More than ever, farmers (and the rest of the industry) are challenged to prove that their practices are safe and sustainable. Farming is a public concern, and farmers need to work to keep the acceptance of a wider variety of stakeholders than ever: not just government organizations and banks, but neighbours, employees, and the general public. For farmers, economic sustainability will be inextricably tied to their ability to gain and keep the approval of the public; the public needs to trust the system that produces their food.
After her talk, an audience member asked d'Entremont what farmers can do to get away from the fear of genetically modified crops. For producers already engaged in the social license conversation, her answer was not new: "Get on Twitter. Start a blog. Spend ten minutes a day teaching people about what you really do."
WHAT ARE THE SCIBABE'S 10 RULES TO BUST FOOD MYTHS?
IF THEY TELL YOU NEVER TO EAT CERTAIN FOODS


This is one that grain farmers know too well: "never eat x", whether it is gluten or red meat. Unless you have an allergy or certain specific diseases like celiac or Crohn's, these myths just aren't true.

IF THEY PROMOTE "SUPERFOODS"…


These myths are always popular because it's so nice to think that there are certain magic ingredients that "kill disease, promote longevity, and make you sprinkle glitter when you walk". While some foods are clearly healthier for you than others, there's no such thing as a superfood.

IF THEIR DIET USES ARBITRARY FOOD RULES…


The only way to lose weight is to burn more calories than you take in. Counting calories is unpleasant, so gimmick diets trick vulnerable people into thinking they have found an easier way (they haven't).

IF THEY TELL YOU THAT IF YOU CAN'T PRONOUNCE IT SO YOU SHOULDN'T EAT IT…


This falls under the category "chemophobia" — there are chemicals in everything, and just because you haven't heard of it does not mean you shouldn't learn what it is instead of ignoring it.

IF THEY TELL YOU "THEY" ARE MAKING A FORTUNE ON YOU SO YOU CAN'T TRUST THEM…


The government. Corporations. Little green men. Vast, powerful, evil conspirators trading your wellbeing for dollar signs. It's easy to get caught up in a good conspiracy, and a lot less easy to prove one right.

IF THEY TELL YOU TO BUY THEIR ALTERNATIVE, ORGANIC, NATURAL, GMO-FREE (NOW GLUTEN FREE!) PRODUCT FOR 30% MORE…


Organic farms represent an absolutely worthwhile and valuable market, but it is often roped into dismissive, harmful conversations about the "dangers" of conventional agriculture like synthetic pesticides and genetic modification. When consumers don't understand the real difference between conventional and organic farming, disingenuous and anti-science fear takes over the discourse.

IF THEY DEMONIZE PRODUCTS AS HAVING "TOXINS" OR ARE SELLING A CLEANSE…


Says d'Entremont: "Repeat after me: detox is not a thing. In order to be detoxed, you would first have to be "toxed"". The fear of vague "toxins" in food is an extension of chemophobia.

IF IT'S REVOLUTIONARY NUTRITION ADVICE AND THE FIRST TIME YOU'RE HEARING ABOUT IT IS ON AN UNHEARD OF BLOG OR DAYTIME TV…


Don't trust scientific findings that don't come from a scientific process — this is sometimes an extension of the fear that the establishment (doctors, government, "Big Ag") is intentionally hiding facts and hurting consumers (see rule five).

IF CORRELATION IS USED INTERCHANGEABLY WITH CAUSATION…


This is a classic logical fallacy that constantly comes up in the food conspiracy community. The next time you see an article claiming "x is linked to y", realize that the writer couldn't use the word phrase "x causes y" for a reason — because there's no proof that it does.

IF THEY CLAIM FOOD IS A MEDICAL TREATMENT…


Says the SciBabe: "Food is rarely a medical treatment. Again, if you have certain diseases, specific diets are advisable. But no diet has been proven yet to cure cancer, make you live forever, grow taller, or any of the other random things that all these diets are claiming to be. The purveyors of these systems that claim to heal you of everything with their diets never come with proof and offer false hope while fattening their own wallets." Food is food. Medicine is medicine.
Find more from the Sci Babe at www.scibabe.com. •