2017 ASA DUPONT YOUNG LEADER SELECTED
JEFF HARRISON IS an entrepreneur and a problem solver. When he graduated university, he knew his parents' farm wasn't large enough to provide him with a living in addition to them, so he bought his own farm, expanding with additional pieces of land as they became available. His neighbours had questions about which products to use on their farms and needed help getting work done during busy times of the year, so Jeff became a seed dealer and custom operator. When he was elected as a director for Grain Farmers of Ontario in January 2016, Jeff wanted to further improve his leadership skills, so he applied for the American Soybean Association (ASA) DuPont Young Leader program.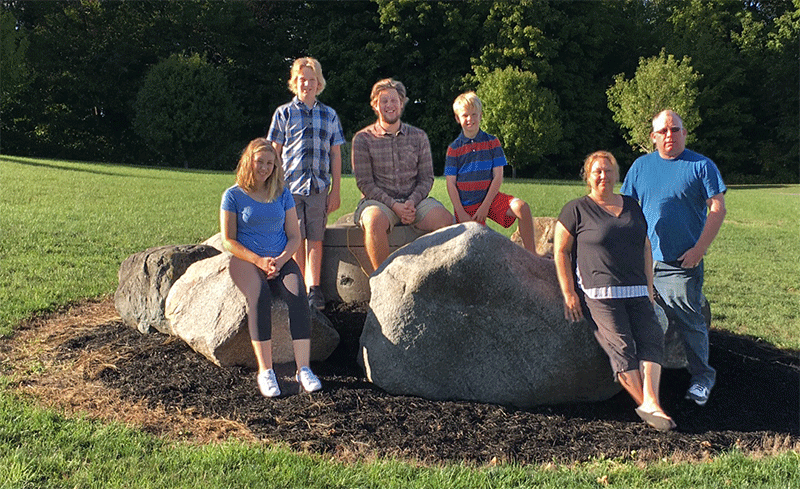 As the Ontario representatives for the Young Leader program, Jeff and his wife Janie Harrison will attend two training sessions where they will have the opportunity to network with other farmers, expand their knowledge about soybean production and industry issues, and enhance their leadership skills. The first session takes place at the DuPont Pioneer headquarters in Johnston, Iowa, November 29 – December 2, 2016. The program continues February 28 – March 3, 2017 in San Antonio, Texas in conjunction with the annual Commodity Classic Convention and Trade Show.
"I'm going to enjoy learning more about industry issues from a North American and global perspective, and learning from others in the grain farming industry across the United States," says Jeff.

A SUSTAINABLE FUTURE
The Harrisons farm 275 acres of soybeans and another 575 acres of corn and wheat in Quinte West in Northumberland County. Jeff, currently the director for District 12 (Durham, Northumberland, Kawartha, Peterborough, Hastings), has been a delegate for Grain Farmers of Ontario since its inception and prior to that he was a delegate for the Ontario Soybean Growers (a legacy organization of Grain Farmers of Ontario).
Jeff says his top priority is the sustainability of his family farm. For him that means implementing best management practices for their crops and land, ensuring profitability of their farm business, and being active in the industry. 
"In business, if you aren't trying to be progressive and move forward, you're going to move backwards," says Jeff. "It's a constantly changing industry and you have to do your best to keep up."
The ASA DuPont Young Leader program specifically looks for participants that have included production management practices which improve efficiency, profitability, and natural resource stewardship on their farm. Jeff practices conservation tillage and narrow row planting for his GM soybeans that are sold to a crush facility. He also utilizes no-till planting to cause minimal impact on his soil and the environment. Jeff is a firm believer in embracing new technology, such as genetic traits that allow him to better manage disease and pest issues with minimal chemical applications.
"Sustainability hasn't always been about simply pleasing our urban neighbours and impressing them," says Jeff. "The most important part of sustainability that is often forgotten is the fact that farmers need to be profitable. It's important to me to be a good steward of the land because I'm expecting the land to provide a return for me."
"One of my goals in business is to be able to continually grow my farm in hopes that one of my children could take it over and do even greater things," adds Jeff, "and if I am going to pass it onto my children, it's important that I be a good steward and leave it better than I got it."
FAMILY
Passing on the farm to their four children is something Janie hopes for as well. She didn't grow up on a farm herself, but appreciates the strong work ethic and important life lessons that it has taught Michael, 17, Rachel, 16, Brian, 11, and Charlie, 10.
Now that the children are older, Janie is looking forward to being more active with the farm. She already helps where she can with deliveries, banking, and bookwork, and now wants to learn more about the industry and the business end of farming to support Jeff in his goal of expanding their farming operation while continuing their sustainability efforts.
"In order to continue to farm and be profitable we have to practice good environmental measures," she says.
Janie is thankful for the opportunities that farming has given her; that's why she sometimes struggles with the negative perception of the farming industry from those outside of it.
"When you take on a leadership role you are able to help shed a light on the positive aspects of farming. It's not all doom and gloom as certain organizations or media might make it seem. I think it's a great way of life and an important way of life."
That's why Janie is particularly interested in the communication skills she will learn through their participation in the ASA DuPont Young Leader program.
"Oftentimes I take a step back and let Jeff do all the talking because he is the farmer, I'm not. I would really like to be able to not only just understand what he is talking about but actively participate in the conversations as well. I'd like to be more knowledgeable about farming so that I can proudly speak about it."
INDUSTRY ISSUES
"The more conversations we have with consumers the more they accept and understand the position of farmers," adds Jeff, while noting this is particularly true for the issue of genetically modified food and the call to label packaging. "The food we are producing is good quality and we need consumers to have confidence in that."
International acceptance of new agricultural technology is also important to Jeff. It's the top soybean industry issue he identified in his application to the program.
"The traits that we use here in North America, I believe, are the main reason that we are able to produce the quantity and quality of crops that we can. And we need those traits to be accepted globally because we need to be able to sell our product. We need our trading partners to accept the technology that we are using as producers in North America."
Jeff believes strong international relationships are the key to earning this acceptance.
"We need to understand the reasons for various decisions and requirements, and work together with those country leaders to achieve balance and fairness. These challenges must be monitored regularly and collaboration must be ongoing. For this reason, a professional, connected, and vocal producer organization is necessary at the international table."
Jeff is striving to be a passionate director with Grain Farmers of Ontario — one that engages growers in his district and encourages the strengthening of our industry for future generations. He is honoured that he and Janie were selected for the ASA DuPont Young Leader program.
"I'm a new director, I'm not the largest farmer, and I also wouldn't claim to be the most progressive farmer. But I truly feel that acres don't measure the passion of a farmer and in the hills of Northumberland County there is a lot of passion for farming." •