Breaking new ground in Alaska
OPPORTUNITY FOR ONE FAMILY'S NEXT GENERATION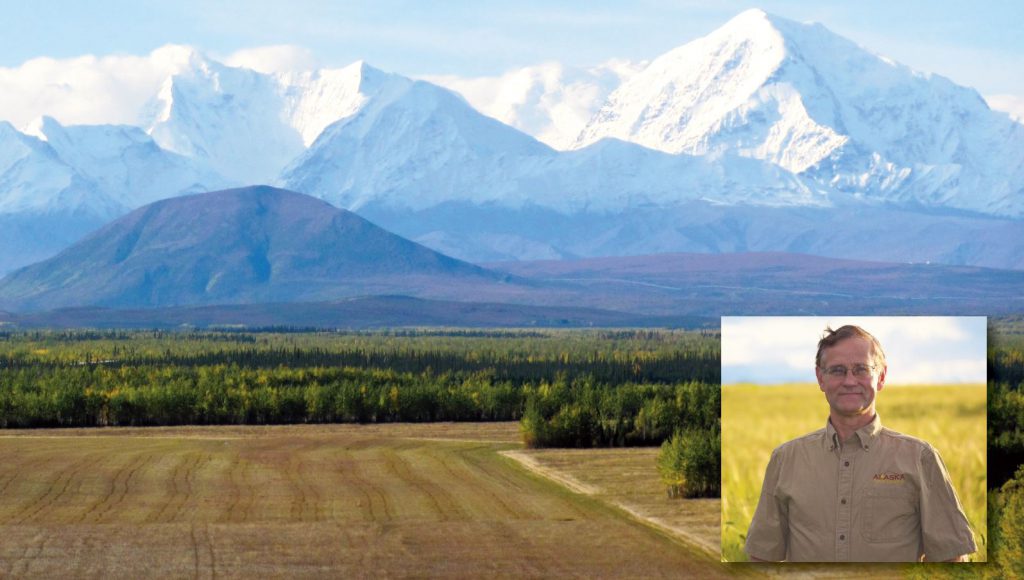 GROWING UP IN southern Idaho, Bryce Wrigley always knew he wanted to continue the family farm tradition. Unfortunately, there just wasn't anywhere for him to go, so he took a leap of faith and headed to Alaska for a new start on life. Today, Wrigley farms 1,700 acres and operates the only flour mill in the state. He is working towards his three most important goals: to address food insecurity in Alaska, to support local farmers, and to create a successful business model for his children.
It was in the early '80s when Wrigley came across an intriguing article in Successful Farming magazine about an initiative to open new farm ground in Alaska. The state was flush with oil money and the governor at the time had decided to invest some of the revenue into renewable resource projects. One of those projects was aimed at developing agriculture in the north. The state had identified land appropriate for farming, which was later released by lottery.
"When I read about it 1982 it was just one of those things that you read about and you just can't seem to get out of your mind," says Wrigley.
MAKING THE MOVE
In the spring of 1983, Wrigley drove up to look at the land. He stayed a week, looking around and asking questions. "On the way home I decided that we would move up," he says. "We took the rest of the crop out. We had sugar beets — it was a diverse farming operation in southern Idaho — so we had crops to get out."
After taking out the crops, Wrigley and his wife and their two children headed for Alaska. They arrived in November 1983. The following spring, they put in their first crop.
"It was a pretty shoestring operation," he says. "I mean we used somebody else's land, and we used their equipment in exchange for a part of the crop."
Over the years, the Wrigleys tried various projects. Although they had gone north to raise barley, the market was saturated at the time. Instead, they went into hogs. That lasted until the hog market went bad about a decade later. At that time, the barley market was more relaxed and Wrigley took it as a sign.
At first they grew barley for animal feed. Later, they decided to build a flour mill and switch to barley for human consumption. The flour mill was made possible by the development of a new barley variety by the University of Alaska Fairbanks called Sunshine Hulless.
"Where we had been raising hulled barley, or covered barley, for animals, now there was this new variety that was suitable for human consumption and it shed the hull," explains Wrigley.
There wasn't much of an infrastructure when the Wrigleys first started. In fact, they still do it all today; plant, harvest, mill, and market barley. Although there's not much of a market for them now, Wrigley also grows yellow peas in rotation.
"I like the advantage of growing peas as a rotation crop because of its benefits to the soil, but I can't afford to do that unless we can also sell the peas," he says. "We're in the process of developing that market."
SETTING GOALS
When the Alaska Flour Company was first formed, the Wrigleys had three goals in mind. The first was to address food security in Alaska. The Wrigley farm is located in Delta Junction at the end of the Alaska Highway, which is about 150 kilometres south of Fairbanks.
"We live at the end of a long transportation chain," Wrigley explains. "It was of interest to us to see if we could stabilize some of our food costs and food availability in times of emergency."
The second reason for forming the company was to create new markets for their farming neighbours by contracting grain directly from them.
They focused much of their energy on developing the local market. After launching an online store using mail order, they quickly realized that there was an opportunity to develop markets in other states, and even in Canada.
"We decided last year that we needed to find a larger market," says Wrigley. "It really boils down to having the capability of milling enough volume in an emergency to be able to take care of that need."
The road to self-sustainability has been difficult, though. "It's taking too long to scale up to that by slowly developing a market in Alaska," he explains. "We really need to find some market that is much more associated with healthy food and has a lot more people."
That market, as it turns out, is in Canada. Currently, Wrigley is in discussions with potential buyers in Vancouver.
Finally, the third goal was to set up a system successful enough that the children could still farm if they wanted to. Wrigley and his wife, Jan, now have five children: Dallen, Logan, Jonathan, Milo, and Mallory. The oldest son has always helped with planting and harvesting. Although he has his own business in town, he would like to be more active on the farm. The youngest son graduated with a degree in international agribusiness and hopes to manage the flour mill in the future. One of his daughters has also expressed interest in working on the farm. Wrigley knows that if he is able to further develop the market for his barley flour, he will be one step closer to being able to make succession a real possibility.
"As the business grows, we're hopeful that if any of our children would like to they could move back and participate in some way on the farm," he says.
To learn more about the Alaska Flour Company, visit: www.alaskaflourcompany.com. •