Uncertainty for U.S. agriculture
THE EARLY IMPACT OF THE TRUMP ADMINISTRATION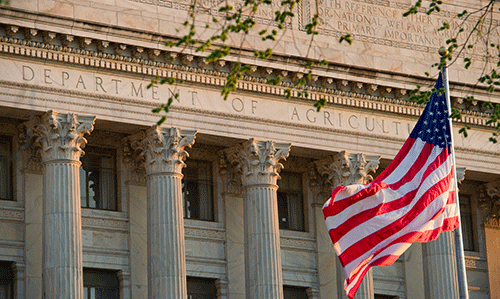 PRESIDENT DONALD TRUMP'S approach to governing and his administration's issues agenda are producing even more uncertainty for U.S. agriculture this year than is typical during a change of president.
There are indications that agriculture is not a top priority for Trump — as evidenced by the fact that secretary of agriculture was the last cabinet position announced, just two days before Trump took office.
Sonny Perdue wasn't confirmed to head the U.S. Department of Agriculture (USDA) by the U.S. Senate until April 24, and as of mid-April no nominees had been proposed for seven essential under secretary positions (including the under secretaries for farm and foreign agricultural services, for food safety, for nutrition and consumer services, or for natural resources and environment).
NEW FARM BILL
Before the confirmation, the administration submitted a proposed 2018 budget, and because of the delay in filling appointments, it was prepared without the participation of the new USDA leadership.
The proposal would cut domestic spending aggressively to offset a major increase in defense spending, with USDA discretionary funds reduced by $4.7 billion (21%), affecting food safety, rural development and conservation funding, research grants, and international food aid.
The cuts would not apply to mandatory programs such as crop subsidies for farmers, but farmers would be affected by provisions to reduce staffing in county-level USDA offices.
That budget may not come to pass — under the complex U.S. budgeting process, a more detailed budget document is submitted in May, but the U.S. Congress may accept some, all, or none of the administration's proposals.
Meanwhile, Congress' agriculture committees started hearings to replace the current U.S. farm bill, due to expire in 2018, again without the involvement of Trump's USDA appointees.
Initial comments indicate considerable support for maintaining the current subsidy approach based on crop insurance. Major farm organizations, including the American Farm Bureau Federation, National Corn Growers Association (NCGA), National Association of Wheat Growers, and American Soybean Association (ASA) are on record backing crop insurance.
Citing continued low market prices, ASA leaders rejected suggestions in Washington that farm program funding should be reduced again (as it was in 2014), saying cuts are "not acceptable to producers".
NCGA officials said U.S. corn farmers consider crop insurance "the most important risk management tool provided by the USDA".
But even if farm groups win the battle to maintain program authorizations in the farm bill debate, they are likely to face further budget battles in the appropriations process, especially if the administration continues its push for aggressive spending cuts.
POLICY CHANGES
As important as farm policy is to U.S. agriculture, the Trump agenda for some non-agricultural issues may be even more critical to farmers this year.
Trade policy, immigration policy, and regulatory reforms could produce serious problems for the U.S. farm economy.
The controversial Trump crackdown on undocumented immigrants has major implications for U.S. agriculture. More than 70% of hired farm workers in the U.S. are immigrants, and as many as half of those are estimated to be undocumented.
While public attention has tended to focus on immigrant labour in the produce industry, foreign workers also dominate the meatpacking sector, and the U.S. dairy industry is heavily dependent on immigrant labour. A study by the National Milk Producers Federation (NMPF) found that 62% of the nation's milk comes from farms using immigrant labour. NMPF estimates that a 50% reduction in foreign-born labour would shut down 2,266 U.S. dairy farms.
Another much-heralded Trump promise is to reduce the burden of government regulation by requiring agencies to get rid of two regulations for every new rule they establish. Depending on the specific regulations involved, this approach could either benefit or harm U.S. agriculture — for example, easing air pollution rules could undercut the market for ethanol, which is expected to use 5.4 billion bushels, or 37% of the 2016 U.S. crop, while ending some water pollution rules might reduce the pressure on farmers to limit fertilizer use.
So far, the administration's budget proposal and staffing actions suggest that energy and environmental regulations may be the prime targets for elimination, but the process is likely to be long, confusing, and uncertain, since many regulations were created under congressionally approved legislation, and rescinding them will require a complex process of public comment, followed almost certainly by challenges in the court system.
REVISED TRADE AGREEMENTS
Finally, trade is critical to U.S. agriculture, and the possibility that President Trump's aggressive attacks on free trade agreements and on China could lead to trade wars is deeply unsettling.
China is the number one international customer for U.S. soybeans, buying 1.1 billion bushels (27%) of the U.S. crop in 2015/16.  It is also a leading market for U.S. exports of distiller's dried grains from the U.S. ethanol industry.
Under the North American Free Trade Agreement (NAFTA), Mexico has now surpassed Japan as the number one export market for U.S. corn. The NCGA points out that together Mexico and Canada buy 26% of U.S. corn exports, making NAFTA "a huge success" for the U.S. corn industry.
The name-calling between the Trump administration and Mexico has already led at least one Mexican official to call for sourcing the nation's corn purchases from Brazil.
With U.S. farmgate prices still depressed, all this is more uncertainty than U.S. farmers need.
NEW U.S. SECRETARY OF AGRICULTURE
Sonny Perdue, approved by the U.S. Senate to be appointed as secretary of the U.S. Department of Agriculture, has extensive agricultural credentials that have won him the support of major farm organizations like the American Farm Bureau Federation.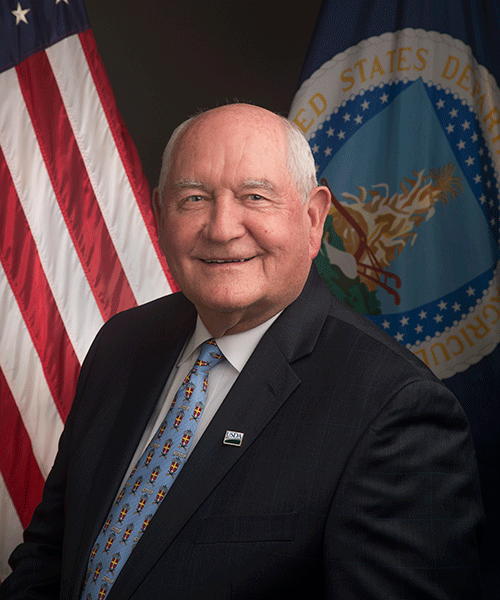 From a farm family, Perdue started his career as a veterinarian, then moved into business in the grain and fertilizer industry. He is not, however, part of the family that runs Perdue Farms (a leading U.S. poultry company).
In the 1980s, Perdue became involved in politics and by 1990 won a seat in the Georgia legislature, eventually leading the Republican Party in the state senate. In 2002, he became the first Republican governor of Georgia in more than 130 years.
A two-term governor, Perdue sued the U.S. Environmental Protection Agency to block a rule on reformulating gasoline and criticized climate change claims.
Perdue campaigned aggressively for Trump's election in the final months of 2016. Perdue says he and the president have talked in detail about agriculture, trade, and the concerns that U.S. producers are at a disadvantage in international agreements.
Perdue is only the second Southerner to head the USDA — USDA secretaries have traditionally come from the Midwest and Great Plains grain belt or from California. •