Market opportunities in China
INCREASED TRADE POTENTIAL EXAMINED IN NEW REPORT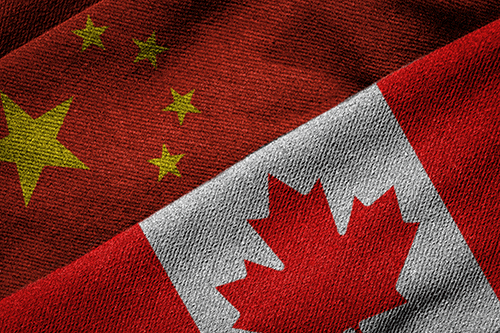 BOTH THE CANADIAN and Ontario grain industries rely heavily on trade. According to the Canadian Agri-Food Trade Alliance (CAFTA), approximately 65% of Canadian soybeans are exported. According to national estimates 70% of wheat production, 25% of barley production (includes malt), and 50% of oat production are exported to foreign markets. Major export markets include China, Japan, the European Union, Mexico, India, and Hong Kong.
Ontario soybean production makes up 57% of the total Canadian production, of which 59% is exported. Major export markets for soybeans include China, the European Union, and the United States.
"Last year, China was the largest soybean market for Canada and Ontario," says Gord Pugh, federal government liaison for Grain Farmers of Ontario. "Exports essentially went from zero to where we are today in three years."
"China presents a large market opportunity for Ontario grains. With the growth in agricultural production, rising living standards, and evolving agricultural policies, China has become one of the most powerful players in global agriculture," says Nicole Mackellar, manager of market development for Grain Farmers of Ontario. "As they are the world's leading agriculture importer, there are many opportunities available for Ontario."
BY THE NUMBERS
Canada was China's fourth largest source of imported agriculture and food products in 2015, with 4.5% market share. China is currently Canada's largest export market for commodity soybeans. In 2016, Canada exported over 1.7 million metric tonnes to China, representing 41% of total Canadian soybean exports, an increase from 28% in 2015. The majority of this growth can be attributed to the increased demand for imported feed ingredients to support the growing livestock sector in the country.
China is a strong, rapidly growing market, according to a recent report by CAFTA entitled 'Chasing China: A Policy Paper on Expanding Canada's Agriculture and Agri-Food Exports to China'. And although China's growing demand for agriculture and food products has benefitted Canadian agriculture, there are also a number of trade barriers that could slow trade growth.
The report says China's domestic policies of food self-sufficiency and its programs aimed at promoting and protecting domestic agriculture continue to restrict the competitiveness of imported agriculture products and limit domestic demand for imported goods. Tariffs and non-tariff barriers also restrict the range of products that can be exported to that country and both raise the risk and uncertainty for exporters. Currently, tariffs are not significant for soybeans or corn; soybean imports are subject to a tariff of three per cent, while corn imports are governed by a quota system that allows for an in-quota tariff rate of one per cent. Corn imported over the limit is subject to a 65% tariff rate.
OBSTACLES TO GROWTH
The majority of soybeans exported to China are crush soybeans, which are not Identity Preserved (IP), therefore allowing some GM traits into the country.
"The biggest obstacle to increase trade with China is the slow approval process for genetically modified traits," says Pugh. "China has a zero-tolerance policy for unapproved GM traits — imports need to be 100% approved or free of unapproved traits. Soy Canada is making some headway in making China more comfortable with Canadian standards, with over 100,000 tonnes of IP soybeans exported in 2016."
"Non-GMO food-grade soybeans is one of the biggest market opportunities for Ontario farmers," says Mackellar. "Chinese consumers are looking for consistent high quality products which Ontario can offer. The challenge is the current regulatory environment and their policy on GMOs. With today's testing technology, it is impossible to meet their zero-tolerance policy. While Canada can guarantee very high standards, it is impossible to meet a zero-tolerance level. This is hindering Ontario's ability to access this market."
According to Mackellar, part of the challenge is the regulatory environment for approvals of biotechnology traits for importation.
"China has one of the most cumbersome approval processes. Often times traits will be approved for commercialization in Canada and the U.S. but farmers are unable to grow them due to key markets like China and the EU not approving traits. This is limiting farmers from being able to access new innovations and technologies."
Overall, however, soybean exports to China have been a success story for Canadian farmers, and could pave the way for expansion to other markets for other Ontario grains as well.
FUTURE OPPORTUNITIES
This could bring forward a market opportunity for Ontario corn as well, says Mackellar. "While Ontario does not currently export any corn into China, as we continue to see production grow year after year, exports are going to play a bigger role. China could become a key market for this."
"Corn production will need to be significantly higher before exporting to China becomes a viable option for producers," says Pugh. "China has traditionally been an importer of distiller's dried grains (DDG), so there is a market for corn as well as DDG. We're hopeful consultations will develop into a free trade negotiation, and we are pushing for an increase in regulations on corn and soybeans to make this market more accessible to Canadian growers."
China presents significant opportunity to Canadian and Ontario growers, but increasing export comes with challenges. There is great potential to increase soybean tonnage to China; not only is the Chinese market significant and increasing, but soybean production has outgrown the domestic market, so export markets are required as both crush and IP soybean production continue to increase.
Enhancing trade with China relies heavily on the approval process by which traits are permitted to enter the country.
Addressing these issues could increase and improve Canadian agri-food exports to China across the industry, and open new doors to new markets. •