G3 at Port of Hamilton
NEW GRAIN HANDLING FACILITY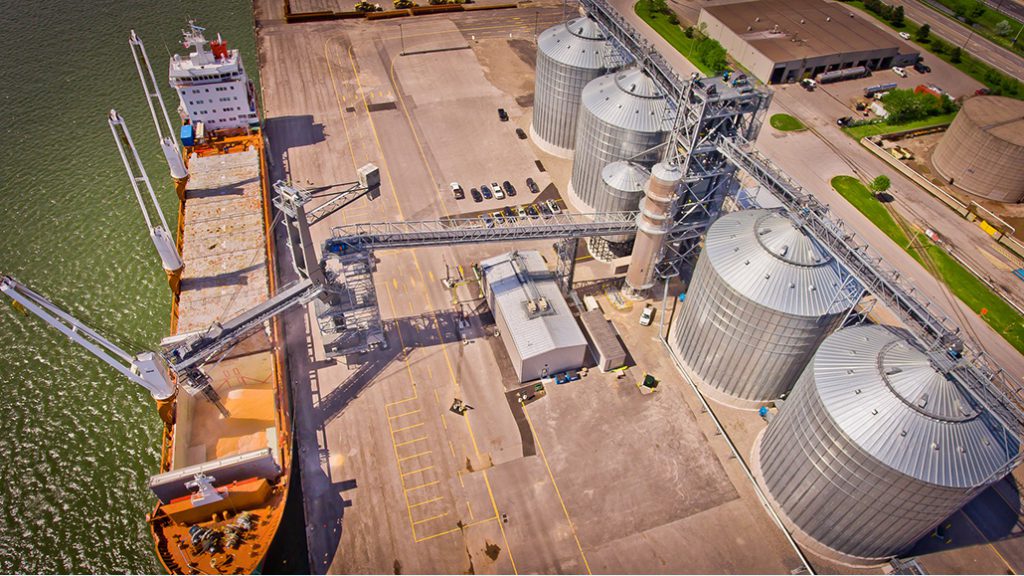 AT PIER 26 on Eastport Boulevard in the Port of Hamilton sits G3's newest 50,000 metric tonne grain handling facility. In the planning stages for a number of years, the facility was completed in April 2017 and successfully loaded its first vessel on June 2.
With existing export terminal operations along the St. Lawrence River in Quebec City and Trois Riviere, G3 Hamilton represents G3's entrance into the southern Ontario grain handling market.
"This plant is totally state-of-the-art," says Brett Malkoske, vice president, Corporate Development and Communications, adding that one of the first things people will notice when they drive onto the property is how automated everything is. "So, if you're a commercial trucker, after you scan in, there are electronic signs telling you where to go, depending on what load you're bringing in. All of the ports and scales are automated. Everything is designed to save everyone a considerable amount of time."
And time, particularly at harvest, is critical to farmers.
Hamilton G3 has a vessel shipping capacity of 1,500 metric tonnes per hour, and can receive up to 400 trucks in a 12-hour day. Malkoske says the new facility can process a super-B trailer in under five minutes. The intent, he explains, is to make sure there's never a line-up at the facility — something he believes is a key differentiator between G3 Hamilton and some of its competition.
ADVANCED DUST CONTROL
The Hamilton facility also features state-of-the-art dust mitigation techniques throughout the site, including with the ship-loading system. Malkoske says one of the dustiest activities at any terminal occurs during the ship loading process. At G3 Hamilton, the ship loading equipment goes right down into the hull of the ship and forms a complete seal between the loading equipment and the ship itself. Not only does this keep the dust contained within the ship, but it also creates an effect whereby the grain itself helps contain some of the dust that would otherwise be released.
"The plant has been built to mitigate the amount of dust produced throughout the facility so we're easy on the environment," explains Malkoske. "Dust may not be a noxious substance, but there certainly is an environmental impact from major dust emissions, and we've taken great care to really minimize that."
AN ATTRACTIVE MARKET
Malkoske says with farming practices and techniques continuing to improve, grain production in Ontario has been on the rise and has made the Ontario market extremely attractive.
We're not the first grain handler to enter the Hamilton market, or the southern Ontario market for that matter, but in recent years Ontario certainly has received more attention," says Malkoske.
Pondering why, Malkoske believes it's recognition that, for the past decade or so, Ontario has been an overlooked market within the Canadian grain handling space, where many tend to instinctively look towards western Canada. But he says as production in Ontario continues to grow, the exportable surplus of corn and soybeans out of southern Ontario grows with it. And that says Malkoske, presents opportunities for grain handlers like G3 to come in and give southern Ontario producers a different competitive option that wasn't there before.
Hamilton was a natural choice and fit to locate G3's newest facility for a number of reasons. Aside from being an excellent port, Hamilton has highway and rail connections, which is extremely attractive to G3 because in the winter when the lakes freeze, they can still move grain around by rail — and not only into Hamilton, but for export as well by moving it up to their existing facilities along the St. Lawrence River.
G3 is looking to become a major player in the southern Ontario grain market and their new facility was built to grow.
G3 Global Grain Group is a joint venture between Bunge Canada (Bunge) and SALIC Canada Ltd., a wholly owned subsidiary of Saudi Agricultural and Livestock Investment Company (SALIC), formed to invest in Canada's agricultural grain industry by establishing a highly efficient coast–to-coast grain enterprise.
Grain Farmers of Ontario's Board of Directors held their annual summer meeting in Hamilton. After the meeting, which was hosted at Tim Horton's Field, directors and senior staff joined Jeff Barlow, director of District 6 (Haldimand, Brant, Hamilton, Niagara), for a tour of his farm and dinner with farm neighbours and local agriculture business representatives. They also toured Collective Arts Brewing in Hamilton and the new G3 Canada Ltd. Grain Terminal. •