Sustainable solutions
COVER CROPPING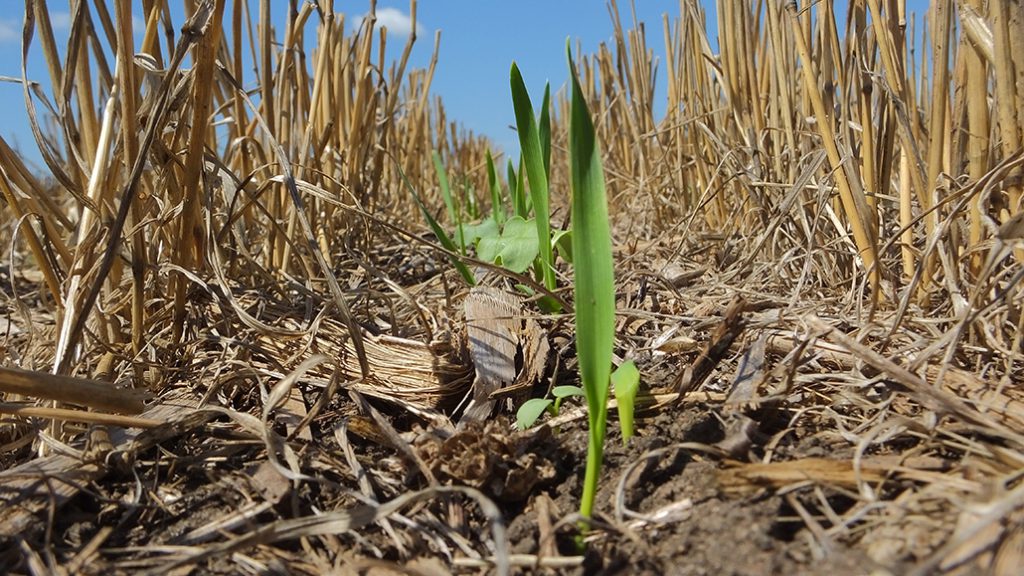 GOING BACK TO the 1900s, cover cropping was a management practice that was widely used in agriculture. It provided a primary means for weed control and was a way to introduce nitrogen into the cropping system.
The practice fell out of favour for a majority of farmers, but recently we have seen cover cropping gaining again in popularity as concerns over soil health have grown. Cover crops are talked about at grower events, on social media, at research days, and even brought to the table with policy makers.
In December 2016, the Ontario Cover Crop Steering Committee was formed through funding from the Ontario Ministry of Agriculture, Food and Rural Affairs (OMAFRA.) This steering committee has representation from a broad spectrum of industry, including Ontario Certified Crop Advisors (CCA), Innovative Farmers Association of Ontario (IFAO), Ontario Agri-Business Association (OABA), Ontario Federation of Agriculture (OFA), Ontario Fruit and Vegetable Growers Association (OFVGA), Ontario Soil and Crop Improvement Association (OSCIA) and the Upper Thames River Conversation Authority (UTRCA). These industry stakeholders have all come together to work towards developing and implementing a long term cover crop strategy.
Led by Grain Farmers of Ontario, the Ontario Cover Crops Steering Committee will implement the Ontario cover crops strategy to encourage widespread adoption of cover crops on farms in Ontario.
To take it back to the basics, cover crops are defined as a crop grown for the protection and enrichment of the soil. The concept of cover cropping is not new to Ontario, but integrating cover crops into row cropping of barley, corn, oats, soybeans, and wheat is a newer concept. Cover crops provide the ability to cover the soil to prevent erosion while also providing other benefits to the health of your soil. In reality, cover crops have been used for hundreds of years in agriculture but in different forms and for different purposes. Clovers, winter peas, and certain hay grasses were once staple 'cover crops' that allowed protection and enrichment of the soil while also providing feedstock for livestock.
WHAT DID OUR SURVEY SAY?
During the winter of 2016, Grain Farmers of Ontario completed a survey of growers to better understand management practices. One area we looked at was understanding cover cropping practices in both wheat and corn crops during the 2015 growing season. This survey was conducted with the help of Stratus Ag Research and survey invitations were distributed by email to a random sample of Stratus Ag Research's database of over 20,000 growers.
A total of 231 corn growers were surveyed, and the results showed that only 10.8% of these growers planted a cover crop on their 2015 corn crop. The survey did not get into details on whether the cover crop was interseeded during early growths stages or whether it was broadcast after harvest. Timing of application appears to be a large barrier to adoption. After corn harvest there is often a limited time window to have a cover crop planted with ample time to catch. The survey did show that of the 10.8% of growers who did plant a cover crop in their corn fields in 2015 they planted it on 43.5% of their corn acres. Overall, adoption of cover cropping in corn is low as it does present a more complex approached to seeding, especially interseeding in crop.
The results from the 164 wheat growers who were surveyed found that 58.5% of growers planted a cover crop into the wheat or shortly after harvest. But the most interesting results came when examining those wheat growers who did plant a cover crop. According to those sampled, cover crops were planted on 92.2% of their wheat acres.
The survey looked a little deeper into cover crops to determine what were the most commonly used cover crops in both corn and wheat. The survey showed that among those wheat growers who planted a cover crop 62.5% planted red clover. Red clover is a widespread choice among cover crop users and the benefits of incorporating red clover into your crop rotation can be seen both economically and environmentally.
WHAT DOES THE RESEARCH SAY?
At the University of Guelph Ridgetown Campus, Dr. David Hooker, field crop agronomist professor, has been leading the long term trials which have been ongoing since 1995. In 2009, these long term trials began to integrate cover crops into the rotations.
"Since 2009, we have consistent information on the benefits of red clover within various long-term cropping systems. Within the trials we have multiple nitrogen (N) rates for corn and wheat, which enables us to produce N response curves with and without underseeded red clover in the previous wheat crop," explains Hooker.
Beyond the benefits of weed suppression and increased ground coverage through the use of red clover, benefits can also be seen in the nitrogen credit for subsequent crops.
"Through our long-term trials, our data shows that underseeding red clover into wheat reduces the optimal N rate in the following corn crop by 70 pounds per acre, which is very close to OMAFRA recommendations," says Hooker. "However, independent of the N credit, corn yields are nine bushels per acre higher in plots undeseeded to red clover into wheat in the previous year compared to no underseeding, averaged across nine years and four replications per year."
GETTING STARTED
When getting started with cover crops, start simple and take into account your crop rotation and where the cover crop may fit within the rotation. It is usually easiest to work with single species or very simple mixtures involving two or three species. Frost seeding red clover into wheat presents the ideal opportunity to incorporate cover crops into your rotation and the positive benefits to this can be seen through the work of Hooker's long term trials.
It is important to develop a plan of how you expect to plant the cover crop and how you expect to terminate the cover crop later. There are certain cover crops that will die over winter such as radish and oats. Understanding what your goals are and selecting the species and methods to execute that goal are essential to getting started in cover crops. For more information on cover crops and how to integrate within your rotation please visit the Midwest Cover Crop Council website at http://mccc.msu.edu/, or talk to your local CCA or agri-retailer.
Michael Buttenham is the sustainability and environment coordinator at Grain Farmers of Ontario. •