Higher production and market demands
THE ONTARIO CORN ECONOMY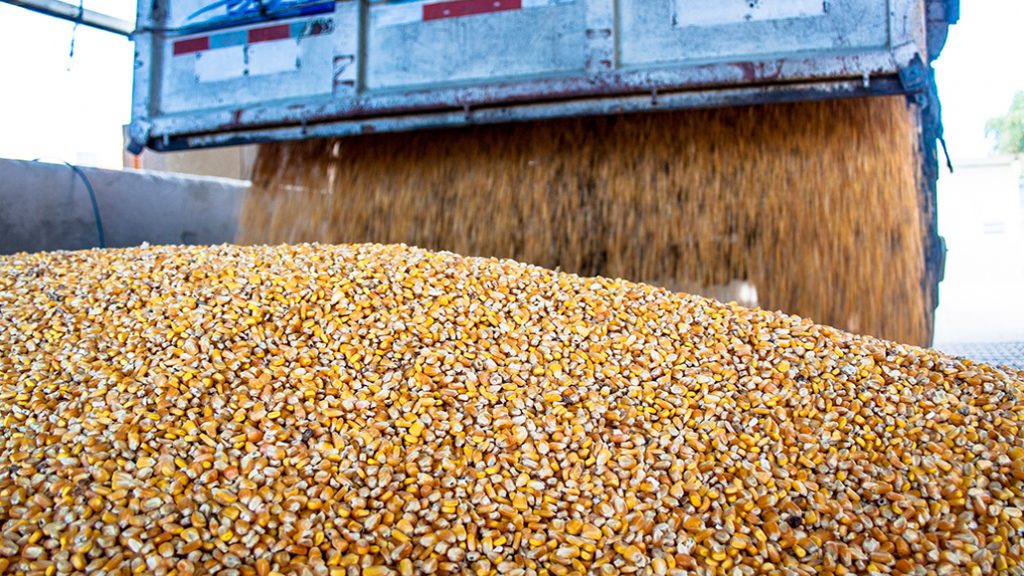 CORN IS AN incredibly important crop to the Ontario economy. From Windsor in the southwest to the Québec border and north to Earlton, cornfields are a predominant default of the rural landscape. Whether it is fed to livestock, processed for ethanol, exported out of the province. or used in distilling spirits, Ontario's corn crop will likely remain a very important part of our greater agricultural economy.
In 2017, the Ontario corn crop had an uneven growing season. Across much of Ontario, a wet spring delayed planting. This was followed by uneven moisture conditions in many parts of the province. However, according to Statistics Canada, Ontario farmers will harvest 2.1 million acres of corn with an expected yield of 167 bushels per acre. This would represent one of the largest corn crops in Ontario history.
STRONG YIELDS
The two million acre mark and the yield are significant with regard to the cash price for corn within Ontario. Historically, Ontario did not produce as much corn as it consumed. This often resulted in corn being exported out of the province at harvest time only to be imported back the following spring or summer as supplies dwindled. Typically, this meant low basis at harvest, but when corn was imported back in the following spring or summer, Ontario would go to an import basis, which was much higher. Generally speaking, if harvested acres fell significantly below the two million mark with yield down, the realization of an import basis in spring was much more real.
As time has gone on and technology has improved, some of this has changed. For instance, with new corn hybrid genetics and better crop management, Ontario corn yields have been improving significantly over the last several years. This has led to the creation of a cash corn market environment, where supply can often be extended to cover end-user needs throughout the year. With an open border to grain movement, corn can come across the border freely if Ontario farmers aren't selling. Increasingly, an import basis is becoming more rare. Big Ontario yields are part of that equation.
Generally speaking, as you go east in Ontario the corn basis gets more positive. Historically, the far east of Ontario has a much stronger basis for corn versus southwestern Ontario. This is because of the lower supplies in the east and the dynamic demand represented from livestock production and a Quebec market often looking to import corn. Access to salt water is also closer. The Comprehensive Economic and Trade Agreement (CETA) agreement, the new trade arrangement between the European Union and Canada, has made Canadian corn tariff free into Europe.
WORLD PRICES
Of course, the Ontario corn economy does not operate in a vacuum and our cash prices are derived here based on local conditions but also reflect the world prices derived at the futures market in Chicago. These prices in 2017 have been affected greatly by the huge corn crop produced in the United States in 2017. According to the United States Department of Agriculture (USDA) November report, they have produced a corn crop in 2017 of 14.578 billion bushels, based on an average yield of 175.4 bu/acre on 83.1 million acres harvested. Ending stocks are projected to be close to 2.5 billion bushels. This has pushed down nearby futures prices to contract lows of $3.36 a bushel. Ontario cash prices range from $4.09 bushel to $4.63 across the province.
These prices are low compared to the last 10 years and are buffered to some extent by a lower Canadian dollar below 80 cents U.S. Demand for corn is still very strong with projected usage this year in the U.S. of 14.435 billion bushels in 2017. Successive good crops over the last five years have been able to cover this demand. It will need to be the same in 2018, although there is already 2.5 billion bushels of corn ending stocks weighing on this market helping to keep corn futures prices mitigated.
Corn productivity may hold the key. It's increasingly obvious that modern corn hybrids are delivering big yield increases. Yes, it is a vicious cycle because that leads to even greater supply. However, demand keeps growing; and with China introducing policy to go to 10% gasoline ethanol blends by 2020, there is some renewed hope in a further corn demand increase if they are successful.
The challenge for Ontario corn farmers in 2018 will be to manage all of these different market factors. A challenge for the Ontario corn complex at the same time would be to create even greater domestic demand for corn akin to the very successful Ontario ethanol sector.
Philip Shaw farms near Dresden, Ontario. He is the author of the Grain Farmers of Ontario Market Trends Report published 14 times per year. He speaks on grain prices across Canada and his commodity commentary can be read regularly in several publications. •