Environmental returns
ALTERNATIVE LAND USE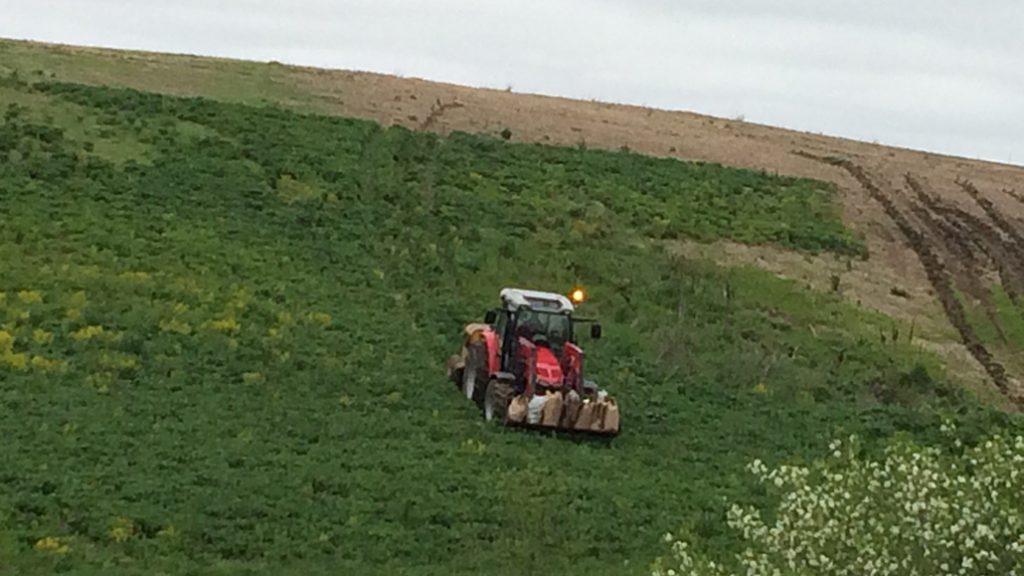 BRUCE COUNTY GRAIN farmer Paul Legge likes to make a profit from all of his land.
Legge, his dad, uncle, and two cousins have 3,000 acres in mostly corn, soybeans, and wheat with some canola, edible beans, spring grains, and oats around Chesley, Ontario. When his yield maps showed a sandy hill near a creek that was not giving him the returns he was getting elsewhere, he decided to take it out of production.
Rather than leaving the land fallow, Legge applied to the Alternative Land Use Services (ALUS) program. It helped finance a project in which trees were planted around the unproductive area, along the banks of the creek, and part way around the farm's perimeter. As a bonus, he's also making a modest annual income from it.
THE PROGRAM
ALUS provides farmers and ranchers with funding to restore wetlands, re-forest, plant windbreaks, install buffers along rivers, manage more sustainable drainage systems, create pollinator habitat, and even retire the land altogether.
The program's mission is to "enable Canadians to provide direct support to a national network of farmers and ranchers delivering ecosystem services in their communities, including clean air, clean water, carbon sequestration, erosion control, flood mitigation, pollinator support, and wildlife habitat."
Additional benefits include changing the attitudes and practices of the farmers who participate.
"People get excited about their projects," says Keith Reid. "Even if they only enrol one acre, the other 99 are treated differently."
Reid is the ALUS co-ordinator in Grey-Bruce. He provided an update to attendees at Crops Day during Farmer's Week in Elmwood, Ontario.
ALUS operates in six provinces. There are eight Ontario communities involved, including Norfolk County, where the program was launched in 2007. It has the longest running program in Canada. Since 2008, 18,000 acres in 21 communities have been included under the program, and the goal is to reach 150,000 acres in 75 communities across Canada by 2025.
ALUS got a big boost in 2016 when the W. Garfield Weston Foundation donated $5 million to the cause. Renamed ALUS Canada — A Weston Family Initiative, the program expanded to additional communities in Alberta, Ontario, and Quebec. It also expanded with the introduction of the New Acre Project, a corporate sponsorship program in which companies can invest in projects in their communities.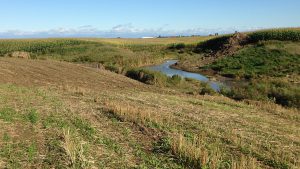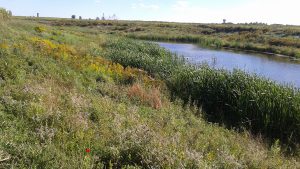 CONSERVATION
Marc Bercier is another participant whose enthusiasm for the program is infectious. Bercier has 3,000 acres and grows mostly soybeans, wheat, and white beans around St. Isidore in eastern Ontario. He also has a seed processing operation, grows hemp for seeds, and conducts genetic research, development, and marketing in hemp.
He is a strong believer in sustainable farming, using crop rotation, cover crops, and buffer zones throughout his property.
"We have a respect for nature and transparency," he says. "We like to share information, encourage innovation and grow."
Seven years ago, Bercier bought his neighbour's farm. Between the two properties was a gully that was workable, and he even got a $30,000 estimate for tiling the land.
"But my heart was more in nature," he says, and he refused to drain the gully. Still, he wanted to do something with it.
Then he talked to Brendan Jacobs, the local ALUS co-ordinator who set him up for a project that involved taking eight acres out of production, digging a four-acre pond, planting 900 trees and 52 varieties of wildflowers.
Remarkably, wildlife — including ducks, songbirds, and insects — returned in the space of only one year, from mid-September 2015 to the same time in 2016. Bercier is understandably proud of the project and offers tours to whoever wants to see the results.
Bercier received $27,000 for digging out the pond, and earns $100 an acre a year from ALUS to maintain the habitat. He also has university researchers documenting the explosion in the number and diversity of inhabitants that has occurred since the project started.
The cost of work done on Legge's farm was $4,655, of which he contributed $877. Trees Ontario assumed most of the cost, and ALUS paid $877. Legge is also receiving $640 a year to keep his project's acres the way they are.
Both Legge and Bercier signed agreements with ALUS, and both said the process was very easy.
ALUS is unique in that it was developed to suit individual community needs and is delivered by farmers. Local Partnership Advisory Councils (PACs) evaluate and approve project proposals for funding and then monitor the progress and results.
"Every community has different environmental needs, so the program is structured differently, depending on where it is," Reid says.
He added that in Grey-Bruce, half the PAC is farmers and the other half is made up of technical support people from several different organizations, including the Ministry of Natural Resources, the Ontario Ministry of Agriculture, Food and Rural Affairs, and Conservation Authorities.
"Farmers are the original environmentalists — we know the areas that are unproductive," Reid says. "With ALUS, producers can receive an income for those areas."
The Ontario communities involved in ALUS are: Chatham-Kent, Middlesex, Peterborough, Grey-Bruce, Lambton, Ontario East, Norfolk, and Elgin. More information about the ALUS program can be found at www.alus.ca. •