A new Bayer
HIGHER EXPECTATIONS AFTER MONSANTO ACQUISITION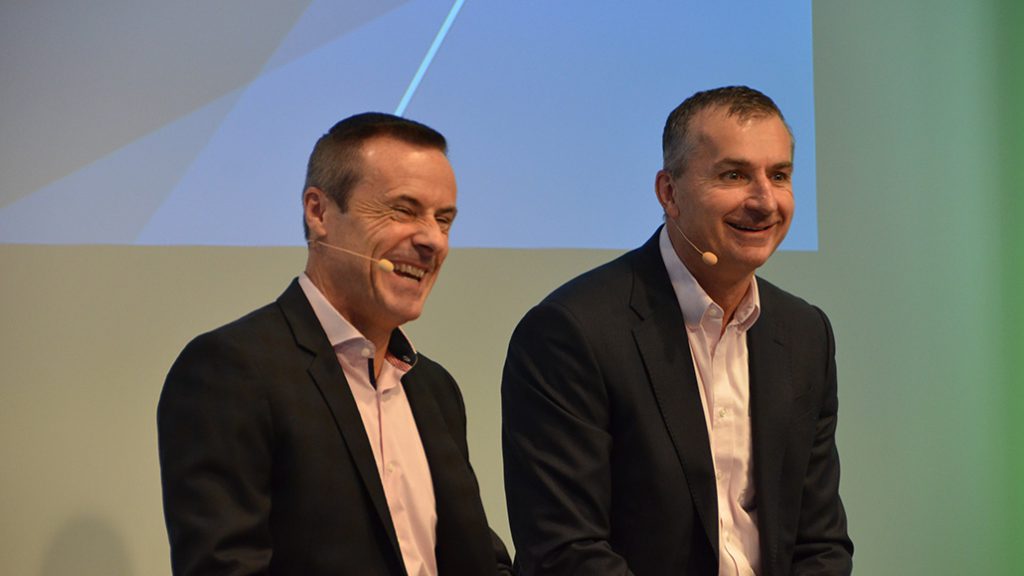 CLIMATE CHANGE, AND its effect on farming, troubles many producers and others in the agri-food system. Individuals can make management decisions so their own farms are more environmentally friendly, but sometimes there's a feeling of helplessness across the sector, given the magnitude of the problem and the technology needed to address it. How do you manage locally for such global mega trends?
That's one of the challenges being tackled by Bayer. As a result of acquiring Monsanto for a staggering US$63 billion over two years of protracted negotiations — which included divesting some of its assets to satisfy anti-trust regulators, Bayer has become a major market player in seeds, traits, and crop protection.
Over its 150-year history, Bayer has grown to be one of the top five in global crop science. The Monsanto deal gives the Germany-based company a new profile, as well as higher expectations from growers.
Bayer finalized the roll out of the deal through the summer, while simultaneously honing its vision for the future. A very public pronouncement of the new vision took place in September, only three weeks after the merger was complete, at the company's third annual Future of Farming outlook conference.
There, at the company's world headquarters in Monheim, Germany, and at the University of Wageningen just across the Dutch border, a breadth of stakeholders, including Bayer top brass, explained their perspectives on how to make food production more sustainable.
LOOKING TO THE FUTURE
All eyes were on Liam Condon, president of the company's Crop Science Division, and Canadian-born Bob Reiter, new head of research and development, as they co-launched the event. The mantra they introduced, which was heard repeatedly for the next three days, was how the company is determined to help shape the future
of agriculture.
Condon cited changing climate, limited natural resources, and a growing population as key challenges on which some of Bayer's 6,000 scientists are focussed on. He was firm in his resolve that agriculture is, what he called, a "crucial part of the solution" to address the big challenges.
Bayer Products
Product Class
Name
Fungicide:
Folicur® EW, Proline®, Propulse®, Prosaro® XTR, Stratego® PRO
Herbicide:
Buctril M, Converge® XT, Infinity®, Luxxur™, Option® Liquid, Pardner®, Puma® Advance, Sencor®, Vios™ G3
Insecticide:
Concept®, Movento®
Other:
Ammonium Sulphate, Ethrel®, Finish, Fluency Agent Advanced
Seed Treatment:
Allegiance, EverGol® Energy, Raxil® PRO, Stress Shield®, Trilex® EverGol®
Acquired:
Bayer's recent acquisition of Monsanto includes the full portfolio of their trait business, DEKALB soybean, corn, and canola seed business, Acceleron seed treatments and BioAg, Roundup herbicides, and Climate FieldView.
Products divested to BASF

Some of the key divestments to BASF in Canada include the InVigor® hybrid canola seed and LibertyLink® trait business, Centurion®, Select® and Ignite® herbicide businesses, wheat, juncea, soybean, and vegetable seed & trait businesses and Digital Farming.

Seed treatments ILeVO™ and Poncho® were divested to BASF, however, Bayer will continue to distribute these products to their customers until further notice.
Reiter alluded to strength in numbers. "We now have thousands of employees dedicated to research and development around the world with market-leading expertise in breeding, biology, chemistry, and data science," he said. "I know their combined creativity, collaborative spirit, and passion for discovery will help drive tailored solutions for farmers while also driving our business. Breakthrough innovation always happens at the intersection of various scientific disciplines."
A tailored solution is just what producers need. For example, increasingly warm temperatures are pushing the northern limits for crops like soybeans and corn. That change has been embraced by producers in western Canada, and offers promise to those in fertile areas in Ontario that need just a few more heat units for short-season varieties to succeed. Reiter says plant-breeding teams have made steady progress developing new varieties, focusing on yield and consistency.
On the flip side, climate change leaves farmers in traditional corn-soy regions in Ontario wondering where new varieties will come from, to help them handle more heat and more drought. In this case, Bayer's near-term solution is found south of the border, in some of the established varieties grown in warmer states such as Michigan, Wisconsin, and Ohio.
Al Driver, CEO of Bayer Crop Science Canada, says options like this are available thanks to the Monsanto acquisition and its strong crop and seed portfolio.
"As Ontario heats up, germplasm will be available from the Midwest, through the new company," he says. "Our corn seed production is already done in Michigan and Ohio. New varieties from there can be brought to Ontario."
Driver believes more new options will emanate from the company's commitment to research and development. Ten per cent of its global turnover is dedicated to research and development. That amounts to $2 billion annually just on crop science.
DIGITAL TOOLS
Besides the new varieties, it's the new approaches to growing those varieties that were among the features that made Monsanto attractive to Bayer. These include digital tools that are driving transformation in agriculture.
"Digital tools have shaped many industries and we are just scratching the surface on what it means for agriculture," says CEO Condon. "Through the power of new digital tools and data analytics we can help increase farmer productivity and sustainability."
Practically, that means further expanding Climate FieldView, the digital agriculture platform that's already servicing on 50 million acres in Canada, the U.S., Brazil, and most lately, Europe. Bayer recently introduced Climate FieldView to Europe, promoting the technology's ability to let farmers collect and visualize field data, analyze and evaluate crop performance, and manage their field variability through customized fertility and seeding plans to optimize crop productivity.
A smallholder version of Climate FieldView is also being piloted now in India, with additional expansion plans in the future for Asia, Africa, and South America.
On the horizon, further Bayer innovation includes a foliar and soil-applied insecticide for rice, corn, and horticulture crops, and second-generation insect-protected soybeans (a next generation of Intacta RR2 PROTM).
Says Canadian operations leader Driver: "The future of agriculture is sustainable and environmentally friendly, with high-yielding crops. The ability to innovate is crucial, and we have the critical mass to do it." •