International Plowing Match
NORTHERN CONNECTIONS
THE INTERNATIONAL PLOWING MATCH (IPM) was held in Verner (West Nipissing) in September. As a sponsor of the VIP Plowing match and VIP tent, Grain Farmers of Ontario directors and staff were in a unique position to connect with Ontario MPPs.
VIP EVENTS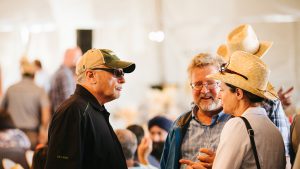 About 200 people attended the VIP festivities, including politicians from all provincial parties and local IPM executive committee members. Markus Haerle, chair of Grain Farmers of Ontario, welcomed the guests to the lunch and thanked the MPPs for attending the IPM and for offering their support to Ontario agriculture. Haerle highlighted the significant contribution grain farmers make to the provincial economy.
During the lunch, directors and staff were able to speak one-on-one with politicians about some of the current issues affecting grain farmers, such as the difficulties with this crop season and the need for government support at all levels to improve financial support programs.
During the VIP plowing, the executive members of Grain Farmers of Ontario's Board of Directors coached the party leaders. Haerle also coached federal NDP leader Jagmeet Singh when he took a turn plowing after arriving unexpectedly at the match.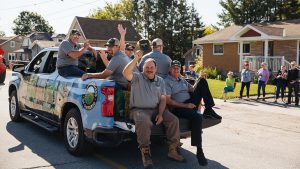 The directors, who also participated in the opening day parade, included Chuck Amyot (District 15 – Northern Ontario), Markus Haerle (District 14 – Prescott, Russell, Stormont, Dundas, Glengarry), Lloyd Crowe (District 13 – Prince Edward, Lennox, Addington, Frontenac, Lanark, Leeds, Grenville, Renfrew, Ottawa), Jeff Harrison (District 12 – Durham, Northumberland, Kawartha, Peterborough, Hastings), Keith Black (District 8 – Huron), Emery Huszka (District 3 – Lambton), Mark Huston (District 2 – Kent), Brendan Byrne (District 1 – Essex).
EDUCATION
Grain Farmers of Ontario also brought the Growing Connections trailer to the IPM to highlight the numerous products made from Ontario grains and set up a Tech Park to showcase modern grain farming equipment. Thousands of children toured our exhibits that were set up as part of the Hydro One Education Centre. One of the most eye-opening parts of the trailer was the wall of grains which showcases food and household items made from grains. Numerous questions were answered about the items on display, especially the many products that utilize corn or soybeans. A cover crop display was also featured which showed how plant roots help keep nutrients and water in the fields during water movement. New trivia games allowed visitors to learn more about grain farming in Ontario.
Grain Farmers of Ontario thanks Green Tractors Earlton for the tractor and fertilizer spreader, and MCK Temiskaming Shores for the tractor, fertilizer spreader, and Great Plains seeder that were displayed in the Tech Park.
The 2020 IPM will be held in Lindsay (Kawartha Lakes). •