Looking back
10 YEARS OF RESEARCH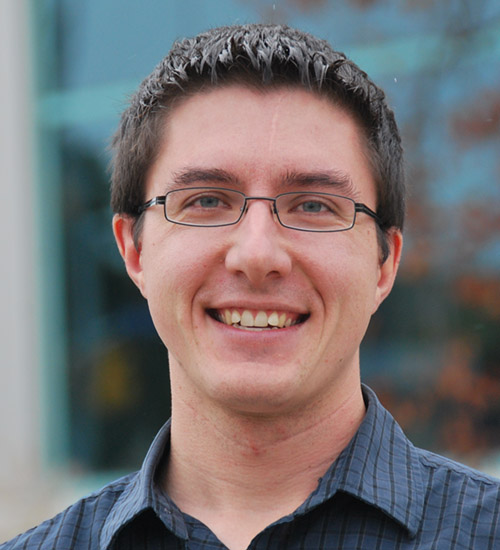 In recognition of Grain Farmers of Ontario's 10th anniversary, Ontario Grain Farmer is talking to staff about the impact that the organization has had. This month we sat down with Dr. Josh Cowan, manager of research and innovation at Grain Farmers of Ontario, to look back at the Grain Farmers of Ontario research program over the past 10 years.
(ONTARIO GRAIN FARMER) WHY DO YOU THINK THE FORMATION OF GRAIN FARMERS OF ONTARIO 10 YEARS AGO WAS IMPORTANT FROM THE PERSPECTIVE OF RESEARCH
(J.C.) One of the big opportunities when you bring together multiple crop organizations is that you get the chance to look at research from a cropping system perspective — focusing on more of a whole farm level rather than just an individual crop, because everything is grown on the same piece of land. It gives us a chance to look at all five of the crops now — barley, corn, oats, soybeans, and wheat — and figure out what the biggest challenges are that we need to solve and collectively provide results to our farmer-members. And when it comes to communicating research results, we have the opportunity to really talk about a cropping system for farmers rather than having separate publications for each crop.
DID THE FORMATION OF GRAIN FARMERS OF ONTARIO HELP ENGAGE WITH PARTNERS AND FUNDERS TO LEVERAGE INVESTMENT IN RESEARCH?
Yes, especially at the government level. They are trying to encourage value chain collaborations, to bring organizations together with one voice. It's allowed us, in our engagement with the Canadian Field Crop Research Alliance, to work with some other similar organizations, especially in eastern Canada where they were already multi-crop focused, to develop a national research package that cover the whole spectrum a lot easier — it was a bit of a unique model in Agriculture and Agri-Food Canada's eyes — and has worked well from a collaboration standpoint.
WHAT DO YOU THINK ARE THE BIGGEST SUCCESSES OF THE GRAIN FARMERS OF ONTARIO RESEARCH PROGRAM OVER THE PAST 10 YEARS?
One of the big areas has been around weed management on farm. There have been a lot of very applied results coming out on how to handle problem weeds as well as herbicide resistant ones. The SMART trials looked at combinations of intensive inputs to identify what could bring the production of corn, soybeans, and wheat to the next level, and what wasn't worth the extra investment. There have also been long-term cropping system trials to help farmers understand how cropping systems affect the productivity, economics, and soils of a farm. From an environmental perspective, the phosphorus research results help us understand how to balance crop productivity and runoff risks. In terms of plant breeding, we have a lot of plant varieties through public breeding programs that continue to be developed, especially in small cereals and food grade soybeans. And lastly, there has been a lot of ongoing plant disease research to determine effective integrative strategies to deal with disease. During the 2018 season we launched an additional suite of projects around DON testing and sampling for DON and fungicide application methods and efficacy, which are generating results that are going to be valuable going forward.
WHERE DO YOU SEE RESEARCH HEADING IN THE NEXT 10 YEARS, AND WHAT ROLE WILL GRAIN FARMERS OF ONTARIO PLAY?
I think a dominant focus going forward will be looking at the long-term mitigation of risk, to understand how cropping systems affect the long-term productivity and environmental risks of a farm. This includes looking at resistance management from a weeds, insects and disease standpoint, thinking about the current challenges but also long-term — for example, when you have a lack of efficacy of a certain product arising, how can we reduce the overall risk to a farmer through other best management practices integrated into the farming system. It also includes better understanding soil health — understanding what is happening in the soil to determine whether the things you are changing in your production system are improving, maintaining, or causing issues long term, and quantifying the extent of those changes to a farm's sustainability. We're still just scratching the surface in our understanding of the biological component of soil health, so there remains a lot for us to learn and leverage for Ontario's farmers.
What's important to remember, though, is that no one project is likely to yield a complete recommendation on its own; for Grain Farmers of Ontario, our role is to determine what the research gaps are and to figure out what suite of projects we need to fill those gaps so that we can provide information to the farmer that will benefit them.
Hear more from Josh Cowan about 10 years of Research in this episode of the GrainTALK podcast. •