Weed management research
WHAT'S NEW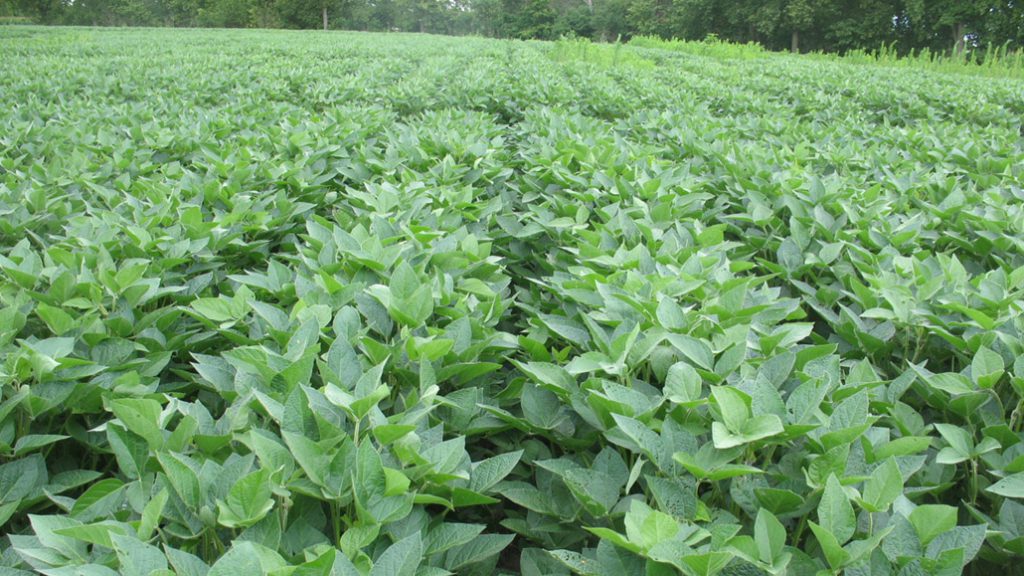 AS HERBICIDE-RESISTANT weeds continue their spread across the province, researchers continue to look for new management strategies. Grain Farmers of Ontario is a funder of several weed management research projects. While not all have reached completion, researchers are able to offer management recommendations for glyphosate-resistant Canada fleabane and waterhemp. They've also provided an update on Group 1-resistant large crabgrass, found for the first time in soybeans in Ontario in 2018.
GLYPHOSATE-RESISTANT CANADA FLEABANE
When it comes to glyphosate-resistant weeds, there's no question that Canada fleabane is most concerning. Spanning from Essex County in the south to Glengarry County in the east, it is the most widespread of all the glyphosate-resistant weeds in Ontario. As Dr. Peter Sikkema, professor of field crop weed management at the University of Guelph's Ridgetown Campus, says, it is the issue of the day.
Glyphosate-resistant Canada fleabane was first confirmed in the province of Ontario from seed collected in 2010. Field experiments to look for viable solutions to control the problematic weed were first conducted in 2011. Sikkema and his team have been working on this project for the last nine growing seasons.
Corn — For corn, research shows that the most effective preplant herbicides for the control of glyphosate-resistant Canada fleabane is Integrity (92 per cent), and Callisto in combination with atrazine (91 per cent). In terms of control post-emergence, the most effective herbicides are dicamba (96 per cent), and Shieldex in combination with atrazine (98 per cent). Distinct (91 per cent), Marksman (92 per cent), and Pardner in combination with atrazine (93 per cent) are also quite effective, says Sikkema.
In terms of controlling glyphosate-resistant Canada fleabane in Enlist corn, preplant herbicides Primextra, Converge, Primextra in combination with Broadstrike, Integrity, and Dual in combination with Broadstrike and Lontrel provided anywhere from 50 to 97 per cent control.
However, in a two-pass program where a preplant herbicide was followed by Enlist Duo applied post-emergence, control increased to 99 and 100 per cent.
"Our results would conclude that you can control glyphosate-resistant Canada fleabane very well in Enlist corn, but you do have to use a two-pass program," says Sikkema.
Soybeans — In terms of controlling glyphosate-resistant Canada fleabane in soybeans, Sikkema's data shows that the saflufenacil-based herbicides, such as Eragon, Integrity or Optill, provide greater than 90 per cent control.
While those numbers look encouraging, high variability increases uncertainty. For example, the exact same combination of herbicides that provides more than 90 percent control in 54 per cent of experiments provides less than 50 percent control in 19 per cent of the experiments.
"How do you provide advice to growers when your best herbicide provides such variable control?" asks Sikkema.
This variability led the researchers to try three-way tank mixes, which provided much more effective and consistent control. The addition of 2,4-D to Roundup and Eragon, for example, increased control from 84 to 92 per cent. The addition of metribuzin increased control to 97 percent.
"That's what I will be recommending in Roundup Ready and Identity Preserved soybeans in Ontario," says Sikkema.
In terms of post-emergence, control is disappointing, falling below 51 per cent (Roundup and FirstRate).
"We have no herbicides in Ontario that will remove glyphosate-resistant Canada fleabane in Roundup Ready or Identity Preserved (IP) soybeans after the soybean has emerged," says Sikkema.
"There is an exception to that and that is if you are growing Enlist or Xtend soybeans," he added. "But in Roundup Ready and IP soybeans it has to be controlled before the soybean emerges because we cannot remove it once the soybeans are up."
Dicamba provides pretty good control in Roundup Ready Xtend soybeans, control is between 80 and 94 per cent depending on rate.
"Based on the work we've done in Ontario, if you are growing Xtend soybeans, I recommend that you go with the high rate on the label because you need to have well over 90 per cent control to be commercially acceptable," says Sikkema.
In their experiments Sikkema and his team also tested two-way tank mixes, one with metribuzin and one with Eragon. "If you want to improve the consistency of control in Xtend soybean, the best thing to add to dicamba is Eragon," Sikkema concludes.
Wheat — For the longest time, the best option to control glyphosate-resistant Canada Fleabane in winter wheat was Infinity, which offers 93 per cent control. In the last couple of years, however, two additional herbicides have been introduced to the market, and both offer excellent control: Pixxaro plus MCPA provides 95 percent control, and Lontrel provides 96 per cent control.
"Now we have three different options that Ontario farmers can use to manage glyphosate-resistant Canada fleabane in winter wheat," said Sikkema.
Funding for this research was provided by the Grain Farmers of Ontario, BASF, Bayer, Corteva, FMC, Nufarm, Syngenta and Valent.
PROMISING NEW MANAGEMENT STRATEGIES
In a second Canada fleabane project, University of Guelph Department of Plant Agriculture researcher Dr. Francois Tardif and his team investigated combining cereal rye as a cover crop with herbicides and tillage to provide control from the glyphosate-resistant weed.
The two-year project involved field trials near Delhi where researchers evaluated tillage at different depths in combination with different herbicides and with or without cover crops. University of Guelph grad student Ted Vanhie says results are promising, as some treatments provide effective management of Canada fleabane. Researchers were able to show that a natural chemical from rye, called benzoxazinone acid, impacts germination of Canada fleabane seeds. On its own, the rye cover crop was able to reduce the number of seeds that emerged by 30 per cent in 2018 and 40 per cent in 2019.
Furthermore, they found that rye biomass decreased Canada fleabane populations by 80 and 98 per cent in comparison to the control field between the two seasons.
Shallow tillage decreased the biomass of Canada fleabane by 95 per cent in the first season and 65 per cent the second season.
Herbicide treatments showed that only Banvel II in 2018, and Eragon and 2,4-D in 2019, provided over 90 per cent visual control.
"We found that the combination of using a cover crop with tillage and herbicides will work and provide good control," said Tardif.
In fact, when the cereal rye cover crop was combined with one other management tactic (herbicides or tillage), visual control of Canada fleabane exceeded 95 per cent in several cases.
What makes the results of these trials so promising is that they not only provide new management strategies to control Canada fleabane, but they give growers choices in terms of finding a solution that best fits their operation.
GLYPHOSATE-RESISTANT WATERHEMP
If Canada fleabane is the number-one weed management issue in the province, glyphosate-resistant waterhemp is no doubt the emerging issue.
Waterhemp's story is a growing one, as the weed's spread has been rapid. In 2014, it was found in just one field on Walpole Island near Wallaceburg. The following year, it was found in Kent and Essex, eventually spreading to Middlesex, Huron, Wentworth and Haldimand. And in 2019, it was found in Northumberland on the east side of Toronto.
"This weed has moved about 500 km in five growing seasons," says Sikkema, who says there's a good chance that it's also in additional counties in between.
To make matters more challenging, there is now multiple-resistance waterhemp in the province. On some farms, waterhemp is resistant to Group 2, 5, 9 and 14 herbicides.
"If you have resistance to those four herbicide groups, it reduces your herbicide options for managing it in corn and soybean by about 75 per cent in both crops" says Sikkema. "So farmers are down to 25 per cent of the weed management tools they had five years ago to manage this weed."
"Four-way resistant waterhemp occurs on some of the farms with waterhemp," Sikkema clarified. "It isn't on every farm."
Sikkema is surprised by how rapidly the biotype is moving across the province. He is equally as surprised by how rapidly it is evolving resistance to multiple herbicide modes of action.
Making the weed even more challenging is the fact that it emerges after the last tillage operation in the spring and continues emerging all the way until late October.
Corn — In corn, of the 14 preemergence herbicides tested on multiple-resistant waterhemp, nine provided less than 80 per cent control. Integrity, a tank mix of Converge and Atrazine, and a tank mix of Callisto and atrazine all provided 82 per cent control. Lumax provided 87 per cent control, and Acuron provided 91 per cent control.
"That's pretty encouraging for Ontario farmers," said Sikkema.
In corn post-emergence, of the 12 combinations tested, five herbicides provided more than 80 per cent control: dicamba (82 per cent); Armezon and atrazine (83 per cent); 2,4-D (85 per cent); Marksman (87 percent); and Callisto plus atrazine (92 per cent).
In two-pass weed control programs in corn, using a combination of Marksman, Primextra and Integrity applied preemergence, followed by Callisto and atrazine applied post-emergence provided 95 per cent control. In a two-pass program with Liberty post-emergence, control was 96–99 per cent.
"So I think we have some effective tools for managing this biotype in corn," says Sikkema.
Soybeans – For soybean growers, waterhemp control can be extremely challenging, causing an average yield loss of 43 per cent, and as much as 93 per cent yield loss in the most competitive environments.
Out of the 14 soil-applied herbicides tested, nearly half provided more than 80 per cent control: Boundary (81 per cent); Authority Supreme (83 per cent); Valtera (85 per cent); metribuzin (86 per cent); TriActor (86 per cent); and Fierce (92 per cent).
For post-emergent herbicides, Blazer and Reflex offered 86 and 89 per cent respectively. However, both are Group 14 herbicides, so they won't work on some farms, says Sikkema.
"If you're growing IP soybeans, and you have four-way multiple-resistant waterhemp, there are no effective postemergence herbicides," says Sikkema. "So that is a huge challenge for Ontario farmers if you have four-way resistance and you have escapes after the soybeans are out of the ground."
"I would never have predicted that it would evolve resistance to so many different modes of action so quickly," he added.
Looking at two-pass programs for Roundup Ready or IP soybeans, for those without Group 14 resistance, Blazer and Reflex do a good job of cleaning up escapes.
In Roundup Ready Xtend soybeans, control was 96 and 99 per cent with the two-pass program.
With Enlist soybeans, a two-pass program offers 99 per cent control. And Liberty Link offered 97–99 per cent in a two-pass program.
What's interesting is that the soil-applied Group 14s such as Valtera, Authority Supreme, and Fierce still work, while the post-emergence Group 14s do not, says Sikkema.
"Resistance is influenced by time of application," says Sikkema. "I think that's unique to the Group 14s."
GROUP 1-RESISTANT LARGE CRABGRASS RESEARCH BEGINS IN ONTARIO
Group 1-resistant large crabgrass, previously confirmed in carrot fields in Ontario, has now been confirmed for the first time in soybeans in Ontario. It was first found on a Huron County farm in 2018. Since that time, Sikkema and his team have conducted both greenhouse and field research. In addition, Dr. Martin Laforest of Agriculture and Agri-Food Canada did some genomic analysis and found that Group 1-resistant large crabgrass was due to gene amplification. This mechanism of resistance confers resistance to all Group 1 herbicides except for Select.
"This is interesting and not something you would have predicted," says Sikkema.
"I am an optimist," says Sikkema. "I do think we can manage these problems on Ontario farms. But it's increasingly important that farmers implement integrated weed management strategies right away."
"Herbicides are fantastic weed management tools, and we have to do everything we can — whether it's farmers, ag retailers, herbicide manufacturers or universities and OMAFRA — to ensure that we use those weed management tools properly so that future farmers will continue to benefit from this excellent technology that we have," he added. "When they're not used properly, the consequences can be devastating."
This project was funded by the Canadian Agricultural Partnership, a five-year federal-provincial-territorial initiative. •