Focusing on DON
MYCOTOXIN PREVENTION AND MANAGEMENT RESEARCH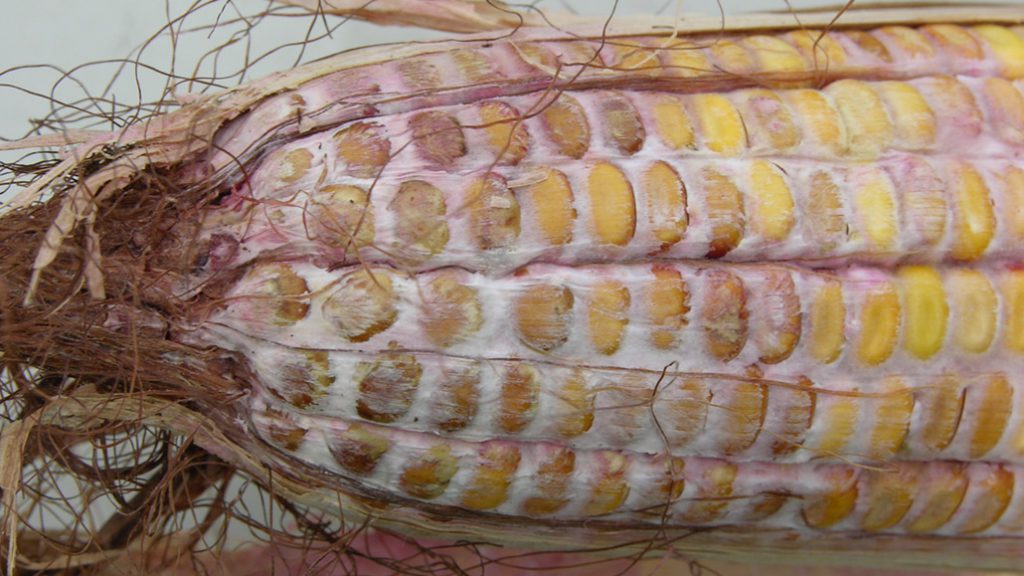 THE RELATIONSHIP BETWEEN mycotoxins and grain farmers is a toxic one, and it's driving Grain Farmers of Ontario to continue investing in management and prevention research. The following highlights three such projects.
WHAT YOU NEED TO KNOW

• Grain Farmers of Ontario continues to invest in research focusing on prevention of DON and management strategies.
• Dr. Manish Raizada is investigating the development of biological controls using microbial endophytes, a naturally-occurring bacteria isolated from ancient corn varieties and finger millet.
• Dr. Art Schaafsma and Dr. Dave Hooker have evaluated two new fungicide mixtures, Miravis Ace and Miravis Neo.
• A DON forecasting tool is being developed at the University of Guelph, Ridgetown Campus by Dr. Dave Hooker.
DEVELOPING BIOLOGICAL CONTROLS
Probiotics for Fusarium prevention and tougher plants (2015-2017) is a three-year project focused on developing effective biological controls against corn Gibberella ear rot or Fusarium head blight in wheat. The controls being tested were microbial endophytes (bacteria that live between plant cells) isolated from ancient corn varieties and finger millet (a very old African crop with natural Fusarium resistance).
These microbes are plentiful in the natural world, and often have mutually-beneficial relationships with host plants (some strains can, for example, enhance root growth and nitrogen absorption). Overall, the project goal was to develop an in-season spray or seed coating with these microbes, and determine whether such applications could prevent the establishment and spread of mycotoxins.
Dr. Manish Raizada, professor in the University of Guelph's Plant Agriculture department and head researcher for the project, says the ability of fungi to rapidly develop resistance to commonly-used fungicides continues to be a growing concern. Because probiotic microbes can evolve with the pathogen, though, the right endophyte could provide farmers with a more effective mycotoxin management tool.
Such a tool would also have greater longevity and could be applied with existing fungicides for more than one mode of action.
Positive results
Raizada and his colleagues screened approximately 200 microbial strains, five of which were isolated and used in greenhouse trials. Applying the endophytes via seed coating was less effective then direct foliar applications, but the results overall were startlingly positive.
"We had huge success here. It's the best Fusarium control in a study ever reported in corn," says Raizada.
Indeed, he says some endophyte strains almost totally eliminated the ear rot pathogen. The results for wheat were lower, but three of the tested strains still managed to reduce pathogen levels by 60 per cent.
Why some of the endophytes were so successful in suppressing fusarium and ear rot has to do with mobility. In particular, Raizada says they observed one strain (known as M6, derived from finger millet) respond to Fusarium infection by leaving the root system to coat the exterior of the plant. It also promoted root hair growth and extended to those surfaces into what he calls a "lasagna formation" (with root hairs being the "noodles" — endophytes the "sauce").
Both factors combined, says Raizada, create an ideal habitat within which the endophyte can capture and kill the pathogen.
"It's actually mobile… some of these microbes have little tails they use to seek and destroy pathogens," he says.
Future developments
Three additional field trials were conducted over the next two years. The results were not as positive as those achieved in the greenhouse setting — year to year variability in the corn crop itself was a problem, as was inherently low Fusarium pressure in the wheat plots — but Raizada reiterates these and other variability problems are typical of in-field microbial studies.
The most important revelation, he says, is the true effectiveness potential of these endophytes. With this knowledge, they are working with a company to develop inoculants for further field studies.
TESTING A NEW CLASS OF FUNGICIDES
The risk of fungicide resistance has also prompted Grain Farmers of Ontario to invest in trials of new chemistries. In a project entitled "Management of Fusarium graminearum in Corn and Wheat," Dr. Art Schaafsma and Dr. Dave Hooker, plant science professors at the University of Guelph's Ridgetown campus, recently concluded trials of two new Syngenta-brand fungicide mixtures — Miravis Neo for corn, and Miravis Ace for wheat.
Miravis Neo is a blend of three products, the newest component being Adepidyn. Schaafsma says Adepidyn is a "carboxamide" that inhibits enzymes crucial to the respiration process in fungi. This is then combined with a traditional triazole fungicide and rust inhibitor. Miravis Ace is a two-part combination of Adepidyn and a triazole.
Schaafsma says the company is positioning both new products as an alternative to straight triazole fungicides (e.g. Proline, Caramba, and other mycelial growth inhibitors), which are the current go-to control solutions.
"There are two ways of thinking," he says. "One is to combine it with other modes of action to manage resistance, and the other to increase the window of activity as well as the spectrum of disease control."
Performance results
After two seasons of testing in artificially inoculated and misted controlled plots, plus one season of in-field evaluations, Schaafsma and Hooker concluded both new fungicides are "as effective as Caramba, Proline, and Prosaro in managing Fusarium and DON mycotoxin contamination."
"Fungi are prone to developing resistance to fungicides when they are used repeatedly, and we were in a compromised position by only having fungicides of one class available. Now producers can alternate classes and reduce the potential for the development of resistance," says Schaafsma.
"Miravis Neo is as good as other fungicides on yield. It seems to be a little sharper on Fusarium control… but it's not a silver bullet," he says.
Schaafsma adds Miravis Ace brought a longer "stay green" period in wheat — though he and Hooker are not yet certain if this has more to do with better plant health or disease control. Additionally, he says they noticed significantly higher test weight and yields compared to the other Fusarium products currently being used, as well as a wider application window.
DEVELOPING A DON-FORECASTING TOOL
A DON-forecasting tool for Fusarium head blight in wheat (called DONcast) has existed since 2000 — but no such tool currently exists for corn. To remedy this, Grain Farmers of Ontario is again working in conjunction with Dr. Dave Hooker at the University of Guelph's Ridgetown Campus.
As described in the funding proposals, Hooker and his colleagues have set out to develop a prediction tool for DON that can forewarn those involved in corn production (including both organic and conventional stakeholders) of potentially high concentrations of DON pre-harvest. The tool should also assist growers in mitigation decisions such as whether applications of fungicide or biological agents are necessary.
The tool itself will be developed in part by researching corn hybrid traits and modern agronomic practices — all of which will be integrated into the prediction tool. Collaborations with researchers at Ohio State University are also expected in developing prediction models.
Overall, a DON forecasting tool will benefit everyone, including the feed industry, ethanol producers, corn growers, food processors, as well as Agricorp. With an estimated $200 million in losses throughout the corn value chain in 2018, the researchers say the inherent value of a forecasting tool should quickly become evident.
This project was funded by the Canadian Agricultural Partnership, a five-year federal-provincial-territorial initiative. •