Expanding the program
AN UPDATE ON 4R NUTRIENT STEWARDSHIP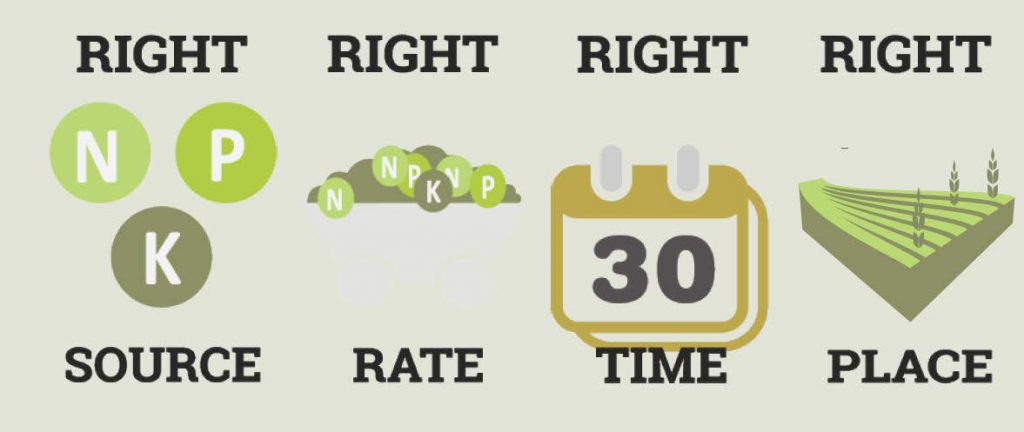 THE 4R NUTRIENT Stewardship Program, spearheaded by Fertilizer Canada, has made significant inroads in Ontario and across Canada.
4R is a framework for nutrient management which improves efficiency and increases crop yields and profitability while minimizing nutrient losses. The 4R program recognizes the need to use fertilizer from the right source, at the right rate, right time, and in the right place. However, the framework includes recognition that what is 'right' must take into account the fertilizer products and application technology that is available to farmers, and that choice of practices will need to balance economic, environmental, and social factors.
4R practices also take the environmental and agronomic differences that exist across Canada into account. Fertilizer Canada has developed three initial sets of guidance tables for various crops and cropping systems in three regions, including southern Ontario. These tables outline how to achieve basic, intermediate, and advanced performance levels. The described practices comply with existing regulations and are limited to nitrogen (N) and phosphorus (P).
According to Fertilizer Canada, manure use is not addressed at this time as "cropping systems where manure is regularly applied… have significantly different management requirements than systems managed with commercial fertilizer alone."
BENEFITS
Many farmers are motivated to use the principles of 4R because they want to be even better stewards of the environment, and because 4R helps them with their bottom line.
Fertilizer Canada estimates the financial benefits of following 4R in Canada to be up to $87 per acre. But in the future, following 4R may also become mandatory. While Fertilizer Canada president and CEO Garth Whyte notes that no grain or oilseed buyers are currently paying premiums for 4R participation, nor do any yet require it for their sustainable-sourcing programs, they are working with leaders of several programs to ensure 4R is incorporated as the standard for nutrient management. One example is the Canadian Roundtable for Sustainable Crops' Grains Code of Practice (voluntary at this time).
Currently, about 70 per cent of Canadian crop acres are already operating under the 4R principles. Fertilizer Canada has been tracking this since 2014, when it began gathering data for the 4R Designation Program, a collection of voluntary fertilizer use information from surveys of more than 3,000 Canadian farmers. Current data shows that in Ontario, 55 per cent of crop acres are under 4R principles. However, awareness of 4R needs to grow. Only 28 per cent of Ontario growers are aware they are using the 4R framework, and that is similar at the national level.
RETAILER CERTIFICATION
To build awareness and to help farmers implement 4R, Fertilizer Canada and its U.S. affiliates created the 4R Certification Program for retailers. So far, it is available in Ontario, P.E.I., Ohio, and New York. While many dealers across Canada already strongly promote 4R, Marty Vermey, senior agronomist at Grain Farmers of Ontario, notes that "farmers who are working with a 4R-certified retailer can be assured that 4R best management practices are adhered and supported."
To become 4R-certified, retailers must complete a third-party audit (by the Agri-Chemical Warehouse Standards Association) every two years. The audit evaluates the level of knowledge about 4R practices among the entire staff, and if nutrient-related recommendations are being given correctly by the firm's Certified Crop Advisors (CCAs) and other staff. Training sessions must all be documented.
About 13 retail facilities have been 4R certified in Ontario so far, and Whyte says that "with our funding partners, we provide retail locations with a free pre-audit, which provides them with a gap assessment to ensure they are as successful as possible during their full 4R audit."
FS Partners, headquartered in Guelph, started its 4R certification process in the fall of 2018 with a pre-audit at three of its agronomy locations (Drayton, Delhi, and Ayr), with the process complete by fall 2019.
"I'd say the audit process is both rigorous and fair," notes Nicole Penney, the firm's precision agriculture manager who holds her 4R Nutrient Management Specialty designation and also sits on both the Ontario 4R Science and Technology Committee and the Ontario CCA 4R exam committee. "It takes anywhere from half to a full day to get through the whole audit process, as there are 37 auditable standards, all of which needs to be supported with evidence. We are now working towards the certification of our remaining locations between this year and next."
Penney believes retailers who have achieved 4R certification demonstrate that they are trusted partners for farmers, "generating recommendations from science-based best management practices for sustainable nutrient management unique to each field, with the grower's best interests in mind."
SUPPORTING STEWARDSHIP
In Vermey's view, it is very positive for farmers to understand what is involved with the 4Rs as it is becoming the standard measure for best management practices related to crop production — and he also believes farmers who learn about it may be surprised they are already using the practices.
And in addition, he thinks that "being able to convey to the public that they are following the 4R principles on their farm will help farmers build public trust that agriculture is caring for our environment. Farmers need to be recognized for their role in implementing and directing 4R practices on their farms, as it is seen as a balance among economic, environmental, and social considerations."
When farmers are implementing 4R practices, says Vermey, "there can be a universal understanding that the agriculture industry is working to the betterment of the environment and society in general."
4R QUICK FACTS
Fertilizer Canada currently has formal agreements with Ontario and four other provinces (Saskatchewan, Manitoba, Quebec, and Prince Edward Island) to increase awareness and adoption of 4R
Alberta is expected to implement a formal program this year.
The Certified Crop Advisor (CCA) boards for Ontario and the Prairies both offer a 4R Nutrient Management Specialty (NMS) certification program. About a third of CCAs across North America are 4R NMS certified. Atlantic CCAs will offer the specialty designation next year.
Fertilizer Canada supports 4R research at numerous institutions across Canada; in Ontario, at the Universities of Guelph and Waterloo.
Fertilizer Canada hopes to have 4R included in all pertinent university undergraduate and college programs in future.