GrainTALK for April 2020
AN UPDATE ON GRAIN FARMERS OF ONTARIO NEWS AND EVENTS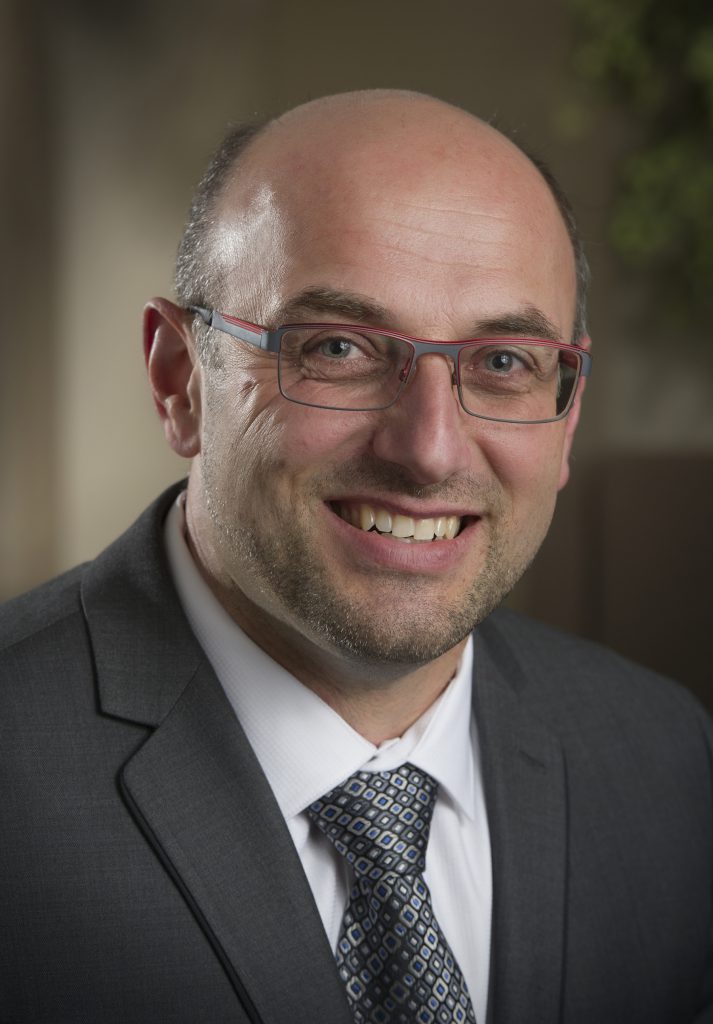 FROM THE CHAIR
A Q&A with Grain Farmers of Ontario chair, Markus Haerle.
Q. As we head into #Plant20 what are some of the issues that farmer-members need to be aware of?
A. It's important to remember what you can control and what you cannot control. The weather will always throw us for some loops, but we can survive and thrive even facing those obstacles.
As much as I can, I plan for some of the variables: what will I do in the case of excessive rain, or no rain, or a late frost. I like to work with experts and get guidance to put together a strategy that is workable to my business. I keep in mind what tools I have available — whether those are equipment or production tools and inputs — and work that information into the strategy to make it realistic. It's good to have plans for those contingencies.
But most importantly, when it gets tough, and there are always tough spots in our planting and harvesting, reach out — you are never alone, we are all in this together and I would like to hear from you. You can contact me or any of our Grain Farmers of Ontario directors or delegates at www.gfo.ca/about/districts. •
Do you have a question for our chair? Email GrainTALK@gfo.ca.
---
RESEARCH INVESTMENTS
Grain Farmers of Ontario has approved a $1.7 million investment in 17 new research projects in 2020, bringing our total number of projects to 62.
The newly funded projects will focus on wheat production, improving oat management for better productivity, nitrogen management in corn, the management of sudden death syndrome in soybeans, and providing decision support tools for farmers choosing corn and soybean planting strategies in a late spring planting season. To learn more about research supported by Grain Farmers of Ontario, search the Research Project Database available at www.gfo.ca.
ONTARIO GRAINS RESEARCHER FORUM
Grain Farmers of Ontario hosted a two-day Ontario Grains Researcher Forum at the end of February. Bringing together more than 70 participants from across the province, the purpose of the Forum was to identify gaps in key Grain Farmers of Ontario research priority areas, connect researchers from across diverse research disciplines and across various research institutions, encourage the development of effective collaborations, and brainstorm creative solutions to address the research gaps.
GRAINTALK PODCAST – 10TH ANNIVERSARY HIGHLIGHTS
As Grain Farmers of Ontario celebrates 10 years, we are highlighting the achievements of our organization with special interviews on the GrainTALK podcast. Each month, as we feature a different department in the Ontario Grain Farmer, hear more about the successes and challenges we have faced during the past 10 years, and what is in store for the future. And if you missed it — be sure to listen to the podcast with Barry Senft during which he discusses his decade as CEO of Grain Farmers of Ontario.
AALP CELEBRATES CLASS 17 GRADUATION
On Sunday March 1, Class 17 of the Advanced Agriculture Leadership Program (AALP) celebrated their graduation. AALP is an 18-month experiential leadership program that builds leadership skills in agriculture industry professionals from across the province. The curriculum includes learning about agriculture across all commodities in various regions of Ontario, as well as leadership development through world-renowned leadership programs.
Each class travels internationally to understand the issues faced by farmers around the world and to better understand the impacts of those issues on Ontario farming. Class 17 included Brendan Byrne, District 1 (Essex) director and vice chair, and Brenda Miller-Sanford, manager of administration, from Grain Farmers of Ontario. Read about their international study tour to Spain in the June/July issue of the Ontario Grain Farmer.
WOMEN'S GRAIN SYMPOSIUM
Grain Farmers of Ontario will be holding its third Women's Grain Symposium this November. The event is an opportunity for our female farmer-members to focus on their unique challenges and opportunities within the grain industry. For more information, contact Mel Reekie, mreekie@gfo.ca.
PROVINCIAL PREMISES REGISTRY
Premises identification is the first step in establishing a traceability system that can lead to business advantages, including improved operational efficiencies and increased market access. Outbreaks, recalls, or other agri-food incidents can be time consuming and costly. With the Provincial Premises Registry (PPR), the government can notify you about incidents that may impact you and your operation quickly, minimizing the effect on your operation.
The Provincial Premises Registry is a record of individual parcels of land associated with agri-food activities. Governments can use the information to provide swift response to incidents that could impact agri-food businesses, such as weather disasters, animal or plant disease outbreaks, or contaminated food. Agricorp operates the registry on behalf of the Ontario Ministry of Agriculture, Food and Rural Affairs (OMAFRA).
The integrity of the PPR depends on accurate and current premises information. Registrants are encouraged to confirm or update their premises information annually. This creates a competitive market advantage for your product and helps protect your business in the event of an agri-food incident. Confirming your premises information at least every two years also keeps your premises ID active and eligible for government programs, such as Ontario's Risk Management Program.
To update your information or register a new premises, visit www.ontariopid.com or call Agricorp at 1-800-247-4999.
OPEN DIALOGUE WITH U.S. COUNTERPARTS
Grain Farmers of Ontario held meetings with our U.S. counterparts during the Commodity Classic at the end of February.
Discussions with the National Corn Growers Association, National Association of Wheat Growers, and the American Soybean Association were designed to continue the open dialogue we have established with U.S. farm organizations. The meetings covered the Canada-U.S.-Mexico Agreement and the importance of open trade markets; international cooperation on regulations; how different governments are implementing a carbon tax and what impact that has on farmers; and how we can collaborate on environmental issues.
Grain Farmers of Ontario also congratulated the ASA on their 100th anniversary.
Chair Markus Haerle, Vice chairs Brendan Byrne and Scott Persall, Executive member Jeff Harrison, CEO Barry Senft, and Vice President Crosby Devitt represented Grain Farmers of Ontario during the meetings.
MARKET COMMENTARY
by Philip Shaw
The coronavirus continues to impact grain markets. Grain futures prices have swooned in this environment. Despite that, the United States Department of Agriculture (USDA) in their February report increased soybean exports by 50 million bushels and pegged soybean ending stocks at 425 million bushels. At the same time, USDA decreased corn exports 50 million bushels pegging corn ending stocks to come in at 1.892 billion bushels. In late February, USDA pegged preliminary 2020 crop acres at 94 million for corn and 85 million for soybeans. 2020 – 2021 ending stocks for corn were pegged at 2.637 billion bushels and soybeans at 320 million bushels.
In Ontario, basis values for grain have actually appreciated despite lower futures prices as the Canadian dollar dipped below 75 cents U.S.