Looking back
10 YEARS OF MEMBER RELATIONS
In recognition of Grain Farmers of Ontario's 10th anniversary, Ontario Grain Farmer is talking to staff about the impact that the organization has made. This month we sat down with Mel Reekie, manager of member relations at Grain Farmers of Ontario, to look back at initiatives over the past 10 years.
THE FORMATION OF GRAIN FARMERS OF ONTARIO WAS FARMER-MEMBER DRIVEN. HOW HAS MEMBER RELATIONS CONTINUED TO FOSTER THIS STRONG RELATIONSHIP?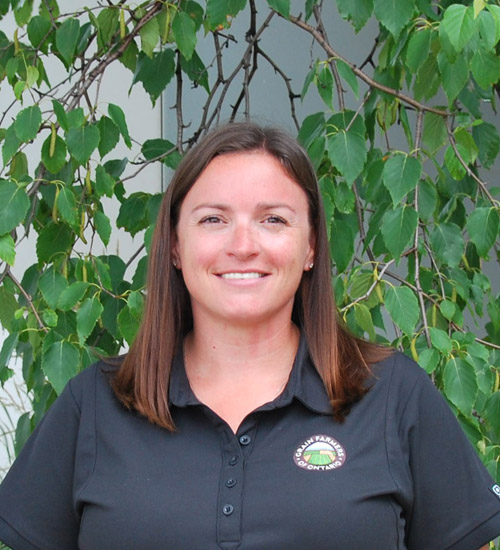 Since the formation of Grain Farmers of Ontario, our farmer-members have been at the core of everything we do. Their issues, concerns, and priorities are ours. Member Relations has focused on connecting with our farmer-members in order to make sure we hear and understand what is important to them. In addition to supporting District meeting and events, this also involves taking the time to meet with individual farm families, visit their farms, and get to know the unique challenges that exist in their region.
Our goal has been to create an informed and active farmer-member community. We have 28,000 farmer-members and whether they farm 200 acres or 2,000 acres, we want them to feel like they are represented and have a voice within our organization. We like to see as many people involved in our organization as possible and we encourage any farmer-member to reach out to us via phone or email, or to attend an event we will be at in order to connect with us.
WHAT HAVE BEEN THE KEY CONCERNS OR NEEDS OF FARMER-MEMBERS THAT MEMBER RELATIONS HAS ADDRESSED OVER THE PAST DECADE?
Every crop year has brought its own unique challenges — from changing government regulations, shifting market demands, to the weather. Grain farmers have faced drought, excessive rain, and emerging plant pests and diseases.
While we can't control nature, we can support our farmer-members by making sure they have financial support programs and access to the latest tools, inputs, and products to help get them through difficult times. Member Relations has supported the efforts of the other departments within Grain Farmers of Ontario, such as Government Relations, Research, and Market Development to bring field-level observations and the real stories of how policy development and new technologies make an impact on-farm.
The DON in corn crisis is one example of this. Member Relations fielded calls from farmer-members and helped relay their frustration and challenges into actionable items with tangible results such as government support, better testing protocols, and new markets for corn.
The provincial neonicotinoid regulations are another example. As an organization, Grain Farmers of Ontario did everything it could to advocate for our farmer-members. Some of our actions, such as rallying at Queen's Park and demonstrating at the constituency offices of MPPs, were only successful because of the support of our farmer-members.
Over the past 10 years we have also begun to see a shift in the demographics of our farmer-members as a younger generation of farmers has begun to work alongside and take over from those nearing retirement. Member Relations has emphasized engagement with young farmers and female farmers to ensure we remain a strong organization during this period of transition.
WHAT ARE SOME OF THE SUCCESSFUL PROGRAMS THAT MEMBER RELATIONS HAS DEVELOPED TO BENEFIT OUR FARMER-MEMBERS?
Grain Farmers of Ontario is an industry leader in member engagement. Our Grains in Action program has been used as a model by other agriculture groups across the country looking for ways to engage the next generation of leadership within their own organizations. Grains in Action is a four-day program which connects young farmers with the grain value chain and highlights the role Grain Farmers of Ontario plays along the way — from research, to the field, to the elevator, and processors. The program explores the need for advocacy and establishes Grain Farmers of Ontario as an organization that provides value to its farmer-members. The success of the program is measured in the number of program alumni who have gone on to become delegates and directors for our organization.
Another important program is our Women's Grain Symposium. This two-day program is an opportunity to support our female farmer-members and give them an opportunity to expand their business potential, utilize their networking skills, and discuss their unique challenges with others who can relate to their experience.
WHAT WILL BE THE ROLE OF MEMBER RELATIONS DURING THE NEXT 10 YEARS?
Our farmer-members will continue to be at the heart of everything we do. We will continue to focus on the programs that provide value, educate, and respond to the needs identified by our farmer-members. To remain relevant within the ever-changing grain industry, we have to be willing to adapt — whether that is bringing fresh ideas to the Grains in Action program, finding new ways to engage with farmer-members, or responding to unique challenges as they develop. Staying connected is important, and we welcome feedback from our farmer-members as we work together to maintain a strong industry and ensure a successful future for Ontario grain farms.
Hear more from Mel Reekie about 10 years of Member Relations in this episode of the GrainTALK podcast. •