Ontario's grain markets
UNDERSTANDING DOMESTIC AND GLOBAL MARKETS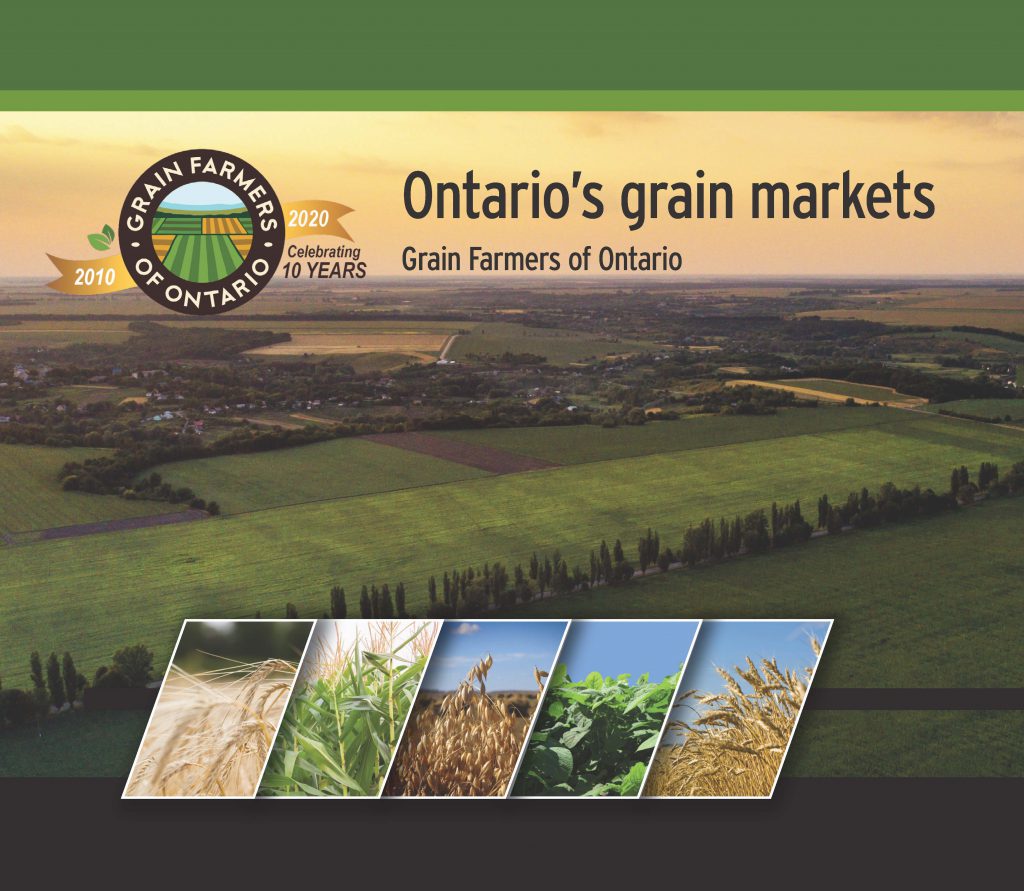 GRAIN FARMERS OF ONTARIO'S Market Development department works to create new markets and expand existing markets for Ontario grains and oilseeds. In order to do this successfully, it's important to understand their current uses and any market shifts that are occurring.
Grain Farmers of Ontario recently completed a new utilization study, in partnership with Synthesis Agri-Food Network, which updates the findings of an initial market analysis conducted three years ago.
"It is important for us to have a clear understanding of where our grain is going," says Nicole Mackellar, manager of Market Development for Grain Farmers of Ontario. "The 2016 report allowed us to set a baseline for Ontario's grain markets and the updated 2019 report allows us to identify areas of growth within existing markets and identify new opportunities for each of our crops. This helps us set and refine our priorities for market development initiatives."
GRAIN MARKETS STUDY
To complete the grain markets study, analysts at Synthesis Agri-Food Network relied on information from Statistics Canada, the Ontario Ministry of Agriculture, Food and Rural Affairs, and industry data (from groups such as the Canadian Oilseed Processors Association). However, these sources do not capture all the numbers needed to analyze some important market segments — including domestic grain usage and on-farm usage. To capture this information, interviews were conducted with grain traders and handlers, grain buyers and processors (from the ethanol, milling, and crushing sectors), the feed industry, and the seed industry.
A major complexity of the Ontario market is the wide range of transportation options that are used to export grain (truck, container, rail, and lake freighter). These different modes are not tracked consistently or accurately in government statistics or trade data sets.
The results are presented as a three-year average to avoid single year anomalies and provide a better overall picture of the markets for Ontario grains. Utilization numbers reflect grain production in Ontario but for some crops also include grains imported from other regions. For the purposes of the report, domestic use is only grain consumed in Ontario and total demand represents domestic use plus exports.
INCREASING USAGE
Combining barley, corn, oats, soybeans, and wheat usage together — 72% of grain is now used within Ontario and 28% is exported. However, while Ontario domestic grain usage has increased 477,000 tonnes per year since 2016, as a percentage of total demand our domestic use has decreased by two per cent. This is due to exports increasing at an even faster level, up 589,000 metric tonnes (+15%) per year during the same time period. As grain production of all crops has increased, so has our ability to ship more grains.
"Ontario grain farmers have a very diverse range of places to sell crops — both within Canada and to export markets," says Mackellar. "Similarly, within our domestic market, Ontario has processing capacity for a range of different food and industrial end-uses which provide opportunities for grain farmers."
Animal feed is the largest individual market in terms of actual grain consumption for combined Ontario grains and is up 500,000 metric tonnes (9%) since the last report. Ontario livestock producers have a wide choice of feed grains including corn and wheat as well as by-products of milling and crushing. By-products from industrial grain usage, such as dried distillers' grains (DDGs) and soy meal, go into the feed market and are an economically significant secondary market for Ontario grain farmers.
Exports have been increasing as Ontario farmers produce more grain, up 9% since the 2016 report. Corn and wheat have both seen their exports increase significantly in that time period. On average, 13% of Ontario's corn crop is now exported, up from 7% in 2016.
ONGOING ANALYSIS
As consumer trends evolve and grain production continues to increase, updating our understanding of the markets will help Grain Farmers of Ontario adapt to any future changes within specific markets.
We also believe that it is important to share this information with our farmer-members so they have a better understanding of the opportunities that exist. A booklet, Ontario's Grain Markets, has been produced to share the results of the utilization study and has been distributed with the June/ July issue of the Ontario Grain Farmer magazine. The booklet will also be shared with industry and government. The online flipbook version is available here.
Justin Shepherd is the market development coordinator for Grain Farmers of Ontario. •