Different scales of autonomy
ROBOTIC AGRICULTURE EQUIPMENT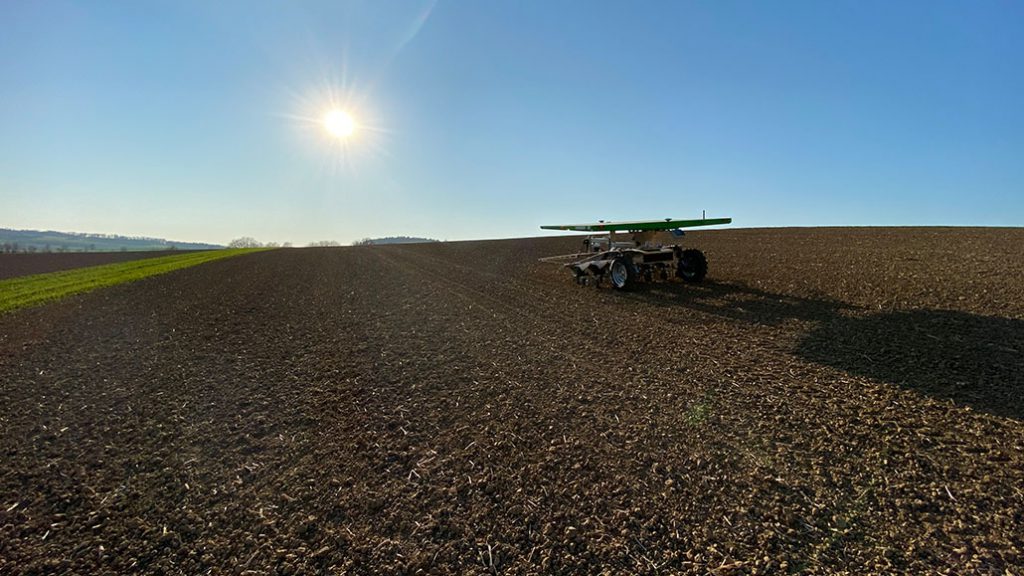 LARGE ROBOTS MIGHT look flashy, but farmers and ag-service providers are finding value in autonomous equipment on smaller and medium scales.
Where investments in autonomy are made, however, is determined by the job. Here are a few examples of how autonomous technologies are being employed around the globe.
WHAT YOU NEED TO KNOW

• Some European vegetable growers have found medium-sized autonomous equipment useful for weeding and seeding.
• For some grain farmers in the American Midwest, smaller autonomous technologies have been a valuable soybean planting tool.
• Interest in even smaller (what's often called "swarm") style robots is also growing.
• Labour shortages have been a major driver in the demand for autonomous technology.
MECHANICAL WEED CONTROL
Some European vegetable growers have found medium-sized autonomous equipment useful for weeding and seeding. The FD20 robot, from Danish robotics company FarmDROID, is one example.
The FD20 is a solar-powered unit which can work in fields up to 50 acres (20 hectares) in size. It only covers between one-half and one kilometre per hour, though it can operate for 24 hours at a time. It is also designed to be left in the field rather than moved between areas — though the latter is possible.
During a virtual robotics event hosted by several European agricultural companies and organizations this past summer, René Jørgensen, FarmDROID's chief executive officer, said the FD20 has proven popular with farmers in need of accurate, reliable, and less time-consuming methods of mechanically maintaining crop quality. This includes those supplying the organic sector, as well as the wider farm community as the European Union strives to significantly reduce overall herbicide use in the coming years.
Between 50 and 60 FD20s are currently in use on Danish and German farms.
"That's the whole concept, to free the farmers from manual weeding […] If you don't need to move it, you can just leave it there," Jørgensen says.
The FD20 retails for about €65,000 (around $100,000 Canadian). That not inexpensive price tag is one of the reasons Jørgensen says FarmDROID designed the robot to seed crops as well as actively reduce weed pressures, though he reiterated the cost and size of the machine still makes more sense for farms at or above 24 acres (10 hectares).
SOYBEAN SEEDING
For some grain farmers in the American Midwest, smaller autonomous technologies have been a valuable soybean planting tool.
Illinois-based farm-service company Sabanto Inc. has been offering a planting service using a fleet of four 60-horsepower Kubota 5660 tractors retrofitted with a separate autonomous guidance system. Once transported to the field, tractor operators map a boundary, create operation maps, and download them to each unit. Once the work starts, further communication with each machine is done via cellular signals and localized Wi-Fi.
Craig Rupp, chief executive officer for Sabanto, says the tractors currently pull planters set for five-row, 20-inch (50 centimeter) soybeans.
"We're starting with soybeans because farmers are less specific about it compared to corn. It could do other crops like corn and cotton, but this is where we're starting," Rupp says. "We remotely supervise it, but lately it's just set and forget. It follows the path and we monitor the performance."
2020 was the second year of operation for his company's autonomous planting service, but the first to employ the comparatively small Kubota 5660s — a tractor which generally seems undersized for the vast expanses of Nebraska, Minnesota, Kansas, and Iowa. The autonomous guidance system was previously mounted in a 225-horsepower tractor pulling an 18-row planter, but that setup was less cost-effective overall and brought more compaction risk.
"We started small, but could certainly scale in horsepower and size. That's part of the software work," says Rupp.
Overall, he stresses perpetual labour shortages have been a major driver in the demand. Indeed, one of the main reasons his company invested in the service.
"A lot of the qualified labourers are working elsewhere, and the farmers just can't find the personnel," Rupp says, adding there are parts of the country where some farmers are scaling-back operations as a result.
"Every farmer I talk to has labour issues."
VERSATILITY IN LITTLE JOBS
Interest in even smaller (what is often called "swarm") style robots is also growing. At Haggerty Creek Ltd., a farm, grain elevator, and ag-service provider in Lambton County, a RoamIO autonomous vehicle is being used to accomplish a range of time-consuming tasks.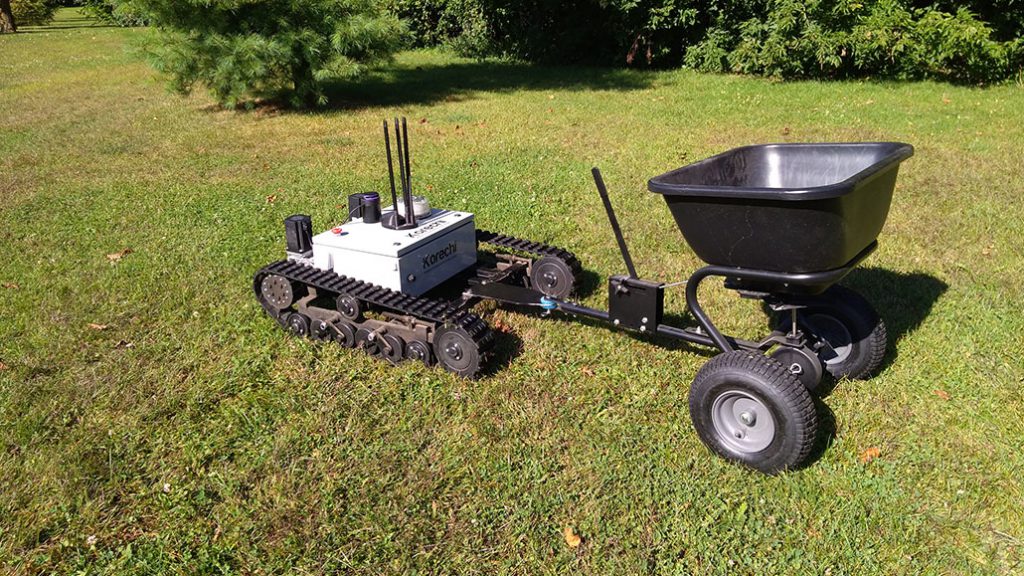 Resembling a large RC car in size, the RoamIO autonomous robot was developed by Ontario-based startup Korechi Innovations Inc. The unit has both LiDAR and Radar, and operates using Real Time Kinematic positioning. It is controlled via a tablet — though both the tablet and unit itself have their own internet signals — and runs at six kilometres per hour. It also has an eight-hour battery life, a carrying capacity of 300 kilograms, and an average weight distribution of three pounds (1.4 kilograms) per square inch when loaded with, for example, fertilizer.
"We wanted this robot because every year we have a range of small monotonous tasks that just don't get done," says Chuck Baresich, operations manager at Haggerty Creek. "My vision is RoamIO becomes a partner unit to our employees that can increase the productivity of existing staff."
Baresich says he was originally attracted to the technology because it was not built for a specific agronomic purpose, meaning it could be augmented with almost any appropriately-sized implement. Since first working with it in March 2020, the RoamIO has been used for clover seeding and soil sampling.
"Soil sampling is a tedious task and takes a while. It involves taking strategic core samples, as well as very consistent, slow driving to ensure the optical sensor works properly. Inconsistent speeds skew the data. Instead of doing 250 acres a day when we send someone to the field, we should now be able to do 400 or 500," says Baresich.
A larger model (five feet by 45 inches) was ordered later in the year. While it is still under construction as of this writing, Baresich believes both versions could also be used for crop scouting, fertilizer application, and weed control.
"We need to make sure those pathways along the field stay open […] A small sprayer tank and a six-foot swath is all you would need." •