Winter barley
OVERCOMING CHALLENGES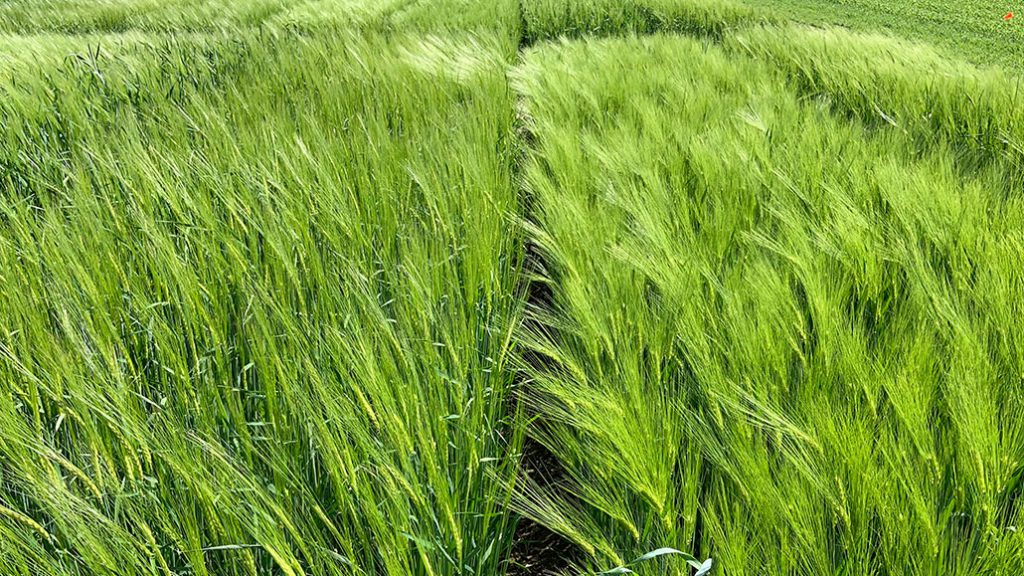 THERE HAS BEEN a renewed interest in winter barley for many reasons. Known for its early maturity compared to winter wheat, this crop provides an opportunity to double crop soybeans for those in longer season areas, provides coverage of the soil during winter months, is a great feed source for livestock rations and straw, helps spread the workload, and provides opportunity for manure management and cover crops. If grown to spec, winter barley can also be used for malt.
Historically, one of the biggest challenges with winter barley has been winter survival. That is why it is so important to get this crop seeded early. Targeting a seeding date at least seven to 10 days prior to your optimum winter wheat seeding date will improve the chances of winter survival. Fortunately, much of the winter barley seeded in the fall of 2020 was seeded in September into excellent soil conditions making it well prepared before going into winter. With spring just around the corner, it is a good time to begin thinking about how we are going to manage that crop once the snow melts.
MANAGEMENT
The first thing we want to do this spring is walk our fields. Similar to winter wheat, it is a good practice to get out and walk your winter barley fields after a week or two of warm weather when growth resumes. When walking fields, ensure you are assessing the health of the plants themselves to determine whether plants are actually going to survive or not. Be sure to walk the entire field and try not to focus solely on the poor spots in order to get a broader perspective of what is happening.
Like winter wheat, winter barley responds well to management. Winter barley should receive 80 – 100 lbs of nitrogen depending on soil type, crop rotation, and history of manure applications. If pushing higher rates of nitrogen, or if there is a history of manure, lodging may be a concern and split nitrogen applications, or a plant growth regulator may be required to manage lodging. Winter barley should also be scouted for leaf diseases such as powdery mildew and rusts throughout the growing season, and if required, a fungicide applied to manage disease.
YIELDS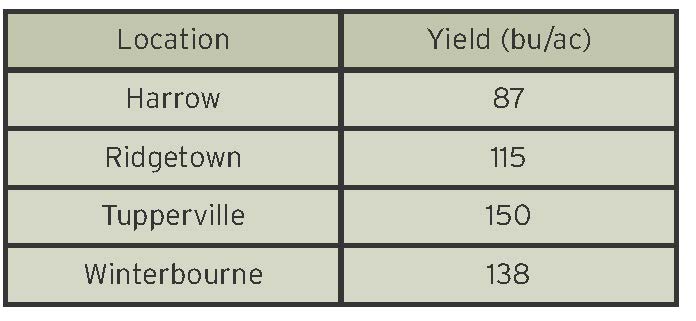 While farmers have reported winter barley yields of up to 150 bu/ac, yields will vary depending on location, soil type, seeding date, etc. Yield data from the winter barley registration trials planted in the fall of 2019 and harvested in 2020, ranged from an average of 87 bu/ac to 150 bu/ac (Table 1). The trials were set up at four locations: Harrow, Ridgetown, Tupperville, and Winterbourne. The trials looked at several winter barley lines from around the world to identify those that may be best suited for Ontario's growing conditions. The lines tested included a mix of 6-row and 2-row varieties with some having malt characteristics.
Some locations experienced snow in May (Figure 1) and lodging issues close to harvest demonstrating what these varieties can really do even under stressful conditions. These winter barley registration trials will continue in 2021 with the hopes of having some varieties registered in time for fall 2021 planting.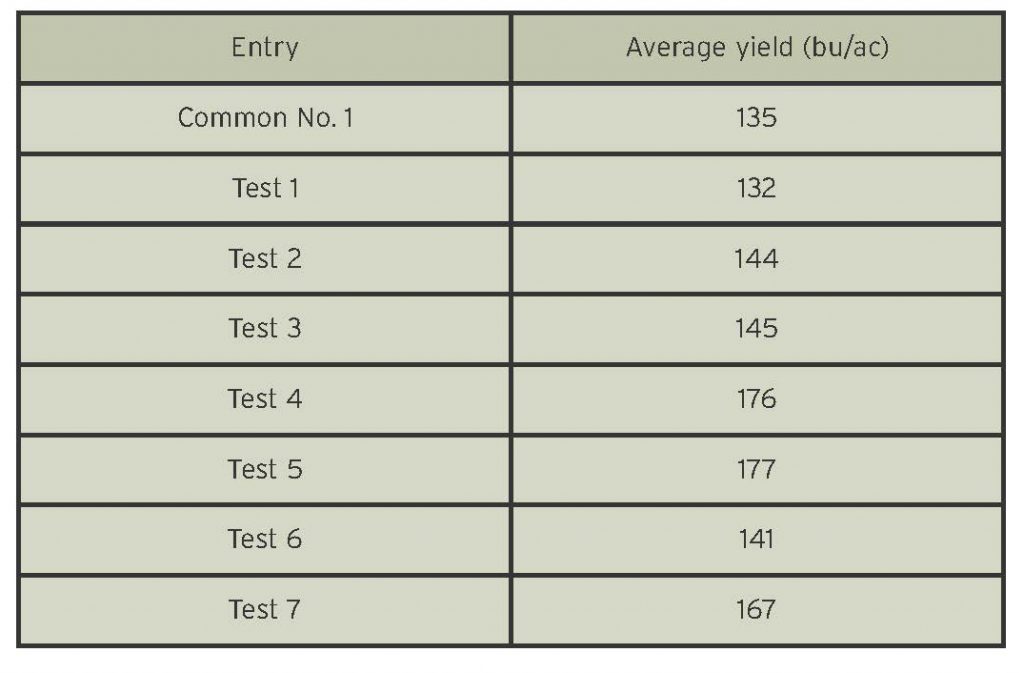 Another trial conducted at the Harrow Research station by Dr. Eric Page, Agriculture and Agri-Food Canada (AAFC) also found very promising results amongst the winter barley lines tested. Yields in this study ranged from 132 bu/ac up to 177 bu/ac with approximately 90 lbs of N applied per acre.
When it comes to harvesting winter barley, much of the same practices used for spring barley can be applied here. However, if you are growing for malt it is important to get that crop harvested in good time to ensure the highest quality standards can be met. For those farmers who are interested in double cropping soybeans after winter barley is harvested, the same practices that are used for planting soybeans after winter wheat can be followed.
While new genetics are quite promising, the market for winter barley can be a challenge. It is recommended that you know EXACTLY where your crop is going to go or how you are going to market it before you even plant it. Contacting your local elevator or seed dealer is a great starting point.
Joanna Follings is the cereals specialist with the Ontario Ministry of Agriculture, Food and Rural Affairs. •