Canada's crop protection market
MORE CHANGES EXPECTED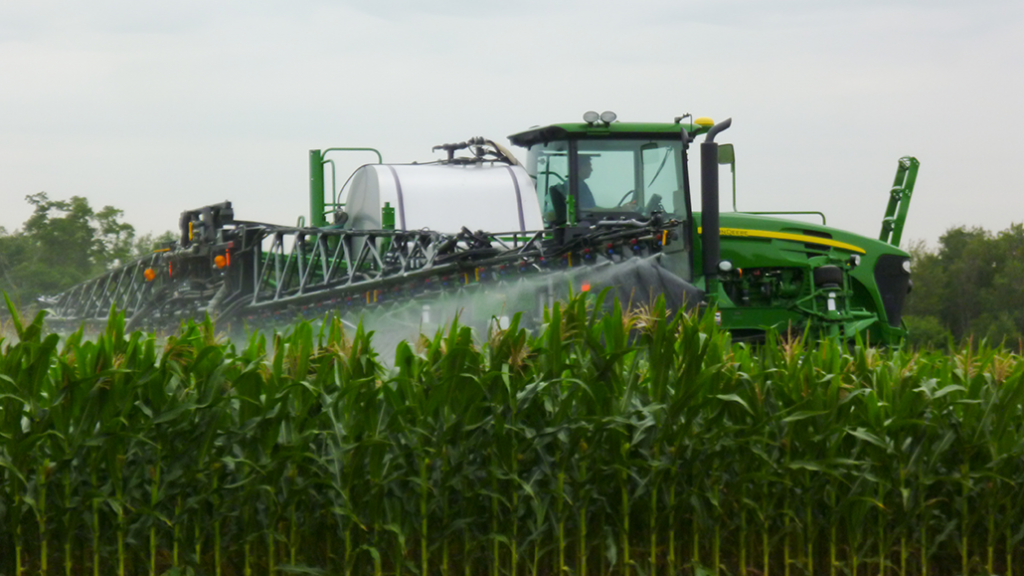 CHANGES TO THE Canadian crop protection market are still trending these days. Hot on the heels of recent company mergers and product acquisitions, industry experts are forecasting continued growth and a shift in the marketplace when it comes to new innovations, crop production pressures, and the overall marketplace.
CropLife Canada president and CEO, Pierre Petelle, says he has been watching a global marketplace shift, specifically a decline in product commercialization since the early 2000s, saying "approximately 70 new actives were under development in the market each year in the early 2000s. By 2010 that number had dropped to 30 per year and the downward trend continues."
Petelle points to the rising cost of commercialization as the real reason Canadian farmers are not seeing the number of new technology solutions they have been accustomed to. From the first stages of screening to final product launch, the investment required to develop a new active ingredient is around $300 million dollars and 11 years of work, with regulations accounting for the bulk of the rising costs.
"Increasing regulatory requirements are one of the main reasons we aren't seeing new technologies being developed. As the cost of commercialization continues to climb, we still need to make sure Canada has access to new solutions," says Petelle, explaining that one of CropLife Canada's roles is to ensure Canadian farmers have access to proven, safe, effective, and innovative technologies to maintain a competitive advantage in the global marketplace.
He points to the European Union market, saying, "their regulatory hurdles are near impossible to meet, restricting growers' access to necessary crop protection solutions. We need to make sure that never happens here domestically."
That means the Canadian regulatory environment must remain nimble to allow innovative companies to bring products to our market. "We continue to work closely with our members, government, and the PMRA to ensure the best science is used for regulatory decisions," explains Petelle.
PMRA is the Pest Management Regulatory Agency – the Canadian government agency responsible for the regulation of pest control products within Health Canada.
MARKET CHANGES
Despite the decline in new active ingredients, Canada's crop protection market has seen a steady five per cent growth every year over the past decade.
Cornie Thiessen, general manager of Adama Canada, cites increasing weed resistance and the need for more diverse modes of action as one key demand driver for crop protection products.
"Evolving insect pressures and a modest shift in the regulatory environment away from biotech traits and seed treatments is also leading to an increase in fungicide sales," he says.
The customer is also changing too. As Canadian farm demographic shifts to the next generation, the end customer for fungicides, herbicides, and insecticides looks different. Thiessen is seeing a subtle shift in product purchasing, noting younger customers are educated, practical, and more willing to try new approaches to manage problem diseases, pests and weeds.
"Sustainability is at the core of crop protection and agronomic decisions being made by Canadian farmers," he says. "In general, we're seeing a shift to a more diversified and complex market that is less reliant on a 'one solution for all' approach."
Recent changes in the supply side have seen the consolidation of larger crop protection companies and a shift in focus for larger companies as they reduce product options and concentrate on seed and traits. The rising cost of new product development and changes in regulatory restrictions on actives such as chlorpyrifos, have redistricted and eliminated some options for farmers, creating a need for new solutions.
Retailers are addressing these changes through their own company consolidations and investments over the past decade to improve facilities and provide highly trained agronomic staff to help farmers looking for new solutions.
"While Canada only accounts for four per cent of the global crop protection market, we're fortunate our country is still an attractive environment from a regulatory and business development perspective," says Petelle, pointing out Canadian farmers are accessing new technologies as quickly as our largest competitors, the U.S. and South America.
While Canadian farmers have access to a solid offering of crop protection products today, many products are expected to come off-patent and enter the generic market in the near future. "Adama conducted a global survey in 2018 where we identified more than 90 actives coming off-patent in the next decade," confirms Thiessen.
These changes mean farmers will have more decisions to make when it comes to choosing where they buy their products from. The expected product changes also offer plenty of opportunities to enhance these products to meet the needs of the next generation of crop protection.
Thiessen says Adama is already working on improvements to formulations and innovating existing molecules on the market to meet the needs of farmers.
"Canadian farmers are still looking for products that provide cold weather performance and improved consistency of their ROI," says Thiessen.
MEETING FARMER NEEDS
"As product availability and grower needs change, so do the roles of our crop protection suppliers," says Petelle. "We continue to rely on companies that invest in R&D to feed the solutions pipeline with new innovations, while looking to generic companies to continue to support and provide necessary actives and products."
Albert Tenuta, field crop pathologist with the Ontario Ministry of Agriculture, Food and Rural Affairs, agrees, saying he expects not only to see new crop protection products and uses become available in the coming decade, but also anticipates more awareness of the disease risks and yield losses (in dollars) associated.
"Improving our ability to identify diseases will also allow growers to select more appropriate fungicides," explains Tenuta.
As research continues and the industry develops a better understanding of crop diseases, a targeted approach to the development of products and application methods could improve fungicide effectiveness.
"We could see better timing, targeting the appropriate growth or pathogen stage and an improved understanding of how to get the best coverage, like applying a product directly where it is most needed – a soybean flower, wheat head, or corn silk," says Tenuta.
Increased pest and disease pressures are expected to drive additional changes in how crop protection products are applied and used in rotation.
Thiessen also predicts "a bit of a renaissance" in the market as growth will be driven by new demands for biofuels mandates and plant-based proteins, and an emphasis on managing resistant weeds.
"Grower solutions will be increasingly localized as farmers rely more on retailers and agronomists for information on herbicide groups and multi-year rotation strategies," he explains.
A NEW SOLUTIONS APPROACH
Thiessen believes Adama Canada is uniquely positioned to provide innovative solutions while increasing farmer options for products and solutions.
"There's still a place in the market for traditional products and as we fill that need, we are also listening to grower feedback about how these products, or the purchasing process can be improved," he says.
Adama's success stems from the 'Listen, Learn, Deliver' model and Thiessen is leading this approach in Canada. Taking a cue from Canadian farmers, his team has been focused on improving formulations and innovating mixtures to enhance product effectiveness and improve resistance management tools. As a company, Adama has access to more than 270 actives. "We don't have to start by finding problems to fit our solutions, our success is asking growers what problems they have. Then we tailor a solution using our extensive library of actives," explains Thiessen.
The company's unique approach is a reflection of the shifting industry. Adama has a global presence, and while the company has been active in Western Canada for the past 15 years, they are expanding to meet the needs of eastern Canadian farmers. The timing was right for Adama to begin carving out a position in Canada's marketplace. As crop protection suppliers were consolidating, Adama established themselves as a customer-centric, solutions-based company.
"Growers have appreciated having a choice and have been surprised by our capacity for innovation and willingness to support smaller or regionalized markets," says Thiessen, explaining the company's plans are to continue to support farmers and full-service retailers as they scale up business in Canada.
ENSURING ACCESS
"As we look ahead at our ability to compete on the global market and maintain industry growth, we need to ensure the Canadian regulatory environment enables innovation and investment in the crop protection market," says Petelle. "It's our job to make sure the regulations do not impede growers' access to safe and necessary solutions."
Petelle also reminds farmers that, as the pipeline of innovations continues to shrink and disease, insect, and weed resistance pressures increase, everyone is responsible for ensuring the solutions we have available today can preserve their effectiveness.
"Work with your agronomist to make sure you are using each product properly to maintain its effectiveness. We need to keep them working for as long as possible in an effort to manage increasing pressures on crop production," he says.
That is one of the reasons CropLife Canada has spearheaded the Manage Resistance Now campaign (manageresistancenow.ca), offering resources to farmers and the industry to proactively manage herbicide, insecticide, and fungicide resistance.
"We're always going to need new crop protection products – for both broad-spectrum and niche products," says Tenuta. "But our industry also needs to find a way to limit the resistance to these products as they become available. Field crop growers in Ontario haven't really dealt with fungicide resistance yet, but the issue is developing in the U.S. and elsewhere."
He reminds farmers that managing resistance starts with education, awareness, and access to the appropriate 'tools' to reduce resistance development.
The good news is, that despite changing production pressures and a reduction in the innovation pipeline, Canadian farmers have access to all the tools they need to succeed.
"Our regulatory environment supports the attraction of new actives and innovative solutions, keeping Canadian growers on par with the same access as our global competitors," says Petelle. "R&D will always continue to come through with new possibilities and Canadian growers will have more choice than ever before when it comes to active ingredients and solutions. Canada's crop protection market might be small compared to the global scale, but our regulatory environment is nimble and we have all the right management tools." l