Getting ready for winter wheat
THINGS TO CONSIDER BEFORE PLANTING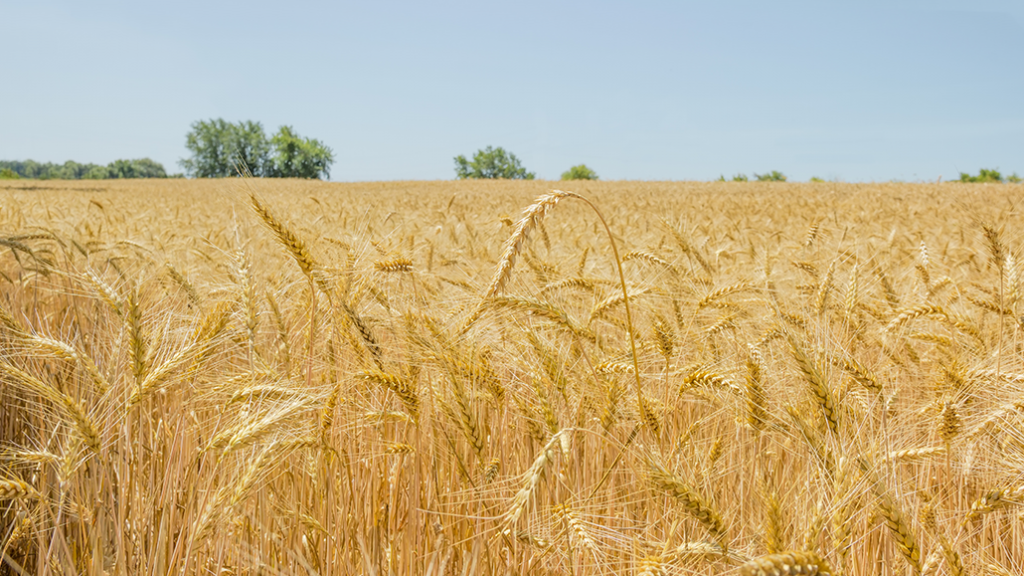 FALL HARVEST AND the wheat planting season is approaching. But before seeding the humble winter cereal, taking time to be prepared helps ensure a healthier, more profitable crop.
In practice, doing so means looking at equipment early, getting the right variety, and making sure the production strategies match your overarching farm goals.
EARLY PLANNING
Wheat planted into evenly spread residue has a significantly better chance of achieving even emergence, says Joanna Follings, cereals specialist with the Ontario Ministry of Agriculture, Food and Rural Affairs (OMAFRA). For this reason, she encourages farmers to start thinking about wheat production by ensuring the rear of the combine is working properly prior to soybean harvest.
With harvest underway, striving for the optimum seeding window is critical. For the far southwest, that time can reach into late October. Further north and east, farmers should aim for mid to late September. Doing so ensures more growing degree days in the fall, resulting in more pre-winter tillers and better root development.
"Those fall tillers will give us more yield than tillers in the spring," says Follings. "We can get away with later planting in an open fall, but if it turns wet and cold it can be challenging to give that crop the ability to get started before winter."
John Seliga, a Pioneer agronomist based in the southwest, adds OMAFRA's optimum planting date map is a simple but very valuable reference tool.
"You can hurt yourself by planting too early too," he says. "Putting your wheat in the ground too early exposes you to potentially too many plants, tillers, diseases, which can have an impact as you transition into spring."
EARLY FERTILIZER AND WEED CONTROL
Starter fertilizer at planting — particularly phosphorus — also supports more vigorous foliar and root development, improving uniformity and survivability even on higher fertility soils. Additionally, Follings says in-field observations indicate fall-applied fertilizer can, thanks to root growth promotion, enable plants to more effectively access nutrients during adverse weather conditions which might otherwise affect uptake.
Weed control is another challenge which, while often considered in spring, could be strategically addressed in the fall.
"This spring, the cold period limited our opportunity to apply herbicides," says Follings. Winter annuals such as chickweed were thus better able to establish themselves, making for much larger weeds by the time sprayers were able to roll.
"If these are issues, consider fall weed control. You don't have to worry about those applications in the spring and can focus instead on fertility."
ACT FAST
Seeding rates must also be adjusted to planting date. For early plantings, Follings recommends 1.4 to 1.6 million seeds per acre. 200,000 seeds should be added to the equation for each week delay, with 2.2. million seeds being the per acre top-out rate.
"The later we plant, the less likely we are to have an abundance of tillers. The higher rate will help compensate for that. It's also worth considering a higher seeding rate on heavier soils."
When hitting the ground, wheat seeds should be placed between one and 1.25 inches deep. If equipment-induced variation is a concern, opting for a slightly deeper placement (e.g. 1.5 inches) is preferrable to going shallow and risking higher winterkill.
PICK A WINNER
Selecting the right genetics is another consideration, though one which depends on both management style and on-farm requirements. A variety which grows a bit taller, for example, might be preferred if planting into silage stubble or if more straw is desirable. Higher protein levels for those growing hard red varieties, as well as overall disease resistance, are also factors. Follings says farmers can use the "Head to Head" module available through the Ontario Cereal Crops Committee's website to compare varieties.
"Not everything is necessarily about yield… it's really about looking at some of those other components as well," she says. "If you're looking at varieties you've never grown before, don't feel the need to put it on every acre. Try it somewhere first and see how it goes."
Regarding straw, Seliga says even shorter varieties still produce considerable volumes. Indeed, he reiterates the importance of shorter varieties to high yields at year end. Tolerance to pathogens like fusarium head blight are also widespread thanks to a long-standing, industry-wide focus on the issue — though the level of tolerance between germplasms does vary. He adds modern management techniques, though, are as important as good genetics in achieving high yields.
Like Follings, Seliga believes looking at the data is crucial.
"As important as it is to say the data came from my local region, there's a lot of strength in having more years of data The more data you can use in the decision making the more likely you are to select varieties which will perform regardless of what Mother Nature will throw at you."
VALUE
Long the black sheep of standard corn-soybean rotations, Follings believes more growers are again realizing the value of winter wheat economically — including the yield benefits it provides subsequent crops — and as an agent of soil health improvement. Indeed, both her own observations and increasing wheat acreage suggest Ontario farmers are abandoning the notion of "poverty grass," and managing the crop just like higher value commodities.
"We still need to get three million acres though. We have three million acres of soybeans," she says.
"I really do think there are decisions we can make in the fall to set up for success. It just takes that little extra time. Get the drill out before the beans come off…I think there are some things we can do to prep ahead of time so you're more likely to be successful versus, just throwing wheat in as an afterthought."
DISEASE TOLERANCE AND WINTER HARDINESS
The University of Guelph's Dr. Helen Booker on her first year with Grain Farmers of Ontario's professorship in wheat breeding.
The 2020 field season proceeded fairly normally for Booker and her research colleagues, despite a challenging pandemic year.
While offering the Grain Crops course in the Plant Agriculture department for the first time (virtually), Booker says she and fellow researchers have investigated and made initial proposals for a variety of projects. This includes the evaluation of winter hardiness metrics in winter wheat and barley cultivars, as well as fusarium head blight resistance of wheat cultivars currently housed at Plant Gene Resource Canada — an agency within Agriculture and Agri-Food Canada with a mandate to protect and enhance the genetic diversity of Canadian crops.
Research into fusarium resistance is particularly important.
"There's been a lot of progress over the last decade. Most varieties are moderately resistant now," she says, adding the general shift in recent years from soft white to soft red varieties is also a factor in better resistance to the disease. Still, there is room for improvement.
"One thing going for us is the resistant genes are not limited to any one market class so they can be moved to different classes."
Looking forward, Booker is excited to continue her involvement in a variety of committees and research collaborations.
"We have a publication in press on a novel resistance response to yellow rust that's coming out… and nearing the final stages of preparation of a manuscript on the discovery of a novel fusarium head blight resistance mechanism in wheat." •