Growing a network
2022 ASA CORTEVA YOUNG LEADER PROGRAM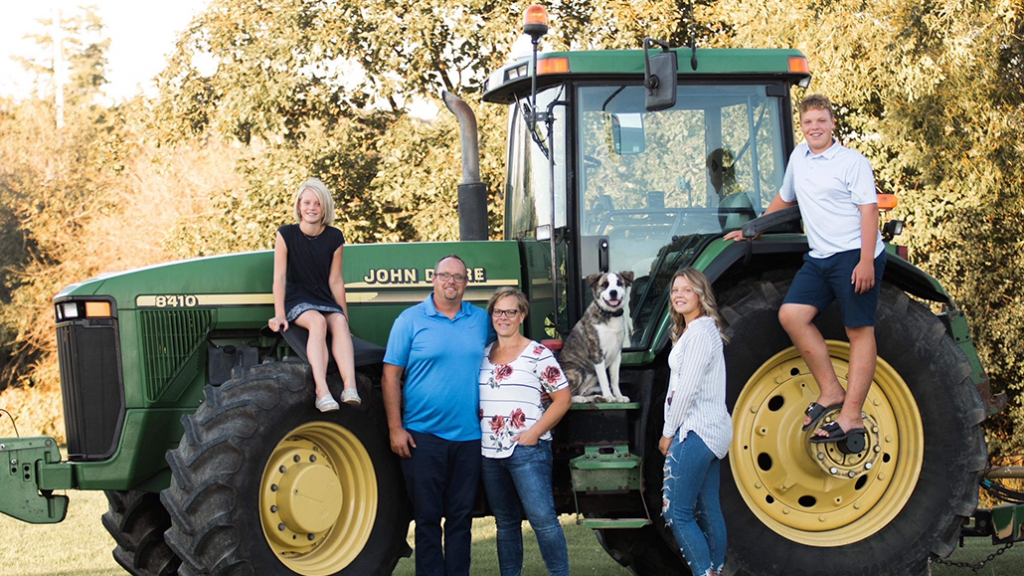 FAITH AND FAMILY have shaped Kevin Vander Spek's perspective on life and farming.
"It humbles you when you grab a seed and put it in a planter and into the ground, no matter what you do, no matter how much money you spend, you're ultimately not the reason that seed grows. Whether you believe in a higher being or Mother Nature, you need a lot of faith."
Vander Spek, a grain farmer in Cayuga, has been selected as the Ontario representative for the 2022 American Soybean Association (ASA) Young Leader Program sponsored by Corteva Agriscience.
The Young Leader program enhances participants' skills through leadership, communications, and issues-based training, and builds a strong peer network.
Grain Farmers of Ontario is a member of the ASA and selects one farmer or farming couple to participate in the program each year. COVID-19 prevented the attendance of an Ontario farmer last year. With the easing of travel restrictions, Vander Spek is looking forward to traveling to the Corteva Global Business Center in Johnson, Iowa for the first phase of the program at the end of November and to the Commodity Classic in New Orleans for phase two in March 2022.
FARM MANAGEMENT
Vander Spek farms about 800 acres, about half of which are planted to soybeans. He says soybeans are the crop best suited to the hard clay ground common in Haldimand County, but he has a strict rotation of corn, soybeans, wheat, and alfalfa because it provides improved soil health and higher soybean yields.
Being a sole operator, Vander Spek is keen to add to his farm management skills to help make his future business plans a reality — he attended Dordt University in Sioux Centre Iowa and the Advanced Farm Management course. Vander Spek already has his own elevator and hopes to one day become involved in the seed or crop care industry.
Some of Vander Spek's forward thinking has come out of necessity. Nine years ago, he was pulling a corn header when he was hit by a transport truck that ran a stop sign. The accident left him with limited mobility, changed his viewpoint on some things in life, but did not diminish his desire to farm. The elevator, along with a new on-farm shop, were built to allow him to work at his own pace and be more self-sufficient.
Diversification is also his way of securing a profitable future that will allow his children to work with him on the farm if they choose. Vander Spek and his wife, Adriana, have three children, Makayla, 15, Jacob, 13, and Natalie, 10.
"In the past couple of years, higher crop prices and higher land prices have lost me a good chunk of rented land. My goals are to boost fertility on owned land to maintain a higher revenue stream for my operation."
Another goal is to be completely self sufficient on machinery.
"Owning my own sprayer allows me to be on top of insect management, whenever needed, at the right time. This seems to be a hurdle for growers in my area," says Vander Spek. "I only rely on custom wheat planting, but I have established a reliable relationship with an operator who has never left me hanging and even puts my crop ahead of his."
Vander Spek also knows when asking for help is better than trying to do everything himself. "I have a great agronomist. His scouting and recommendations allow me to be more focused on keeping myself in the tractor seat or wrenching broken things."
SOYBEAN INDUSTRY
The ASA Young Leader program provides farmers with insights into the soybean industry and provides them with a North American and international perspective on markets. Vander Spek says being close to the Port of Hamilton makes his marketing fairly easy and the increased on-farm storage allows him to capitalize on the long-game of soybean pricing. But he is interested to learn if others have had more success with the IP market and what production practices they are utilizing on-farm to increase their yields, particularly with biologicals.
"Sitting on the Grain Farmers of Ontario marketing committee has opened my eyes for the need for heightened awareness in foreign markets. We also need to develop local markets that weather the storms of trade impacts as well," says Vander Spek, who has served as a delegate or alternate for District 6 (Haldimand, Brant, Hamilton, Niagara) for the past four years. He has an interest in continuing his involvement with our organization and taking on more of a leadership role in the future.
You can follow updates from the 2022 Young Leader class on Twitter @ASA_Soybeans and follow Vander Spek @bainsbrookacres. •