Plant growth regulators
REDUCE LODGING IN INTENSIVELY MANAGED WHEAT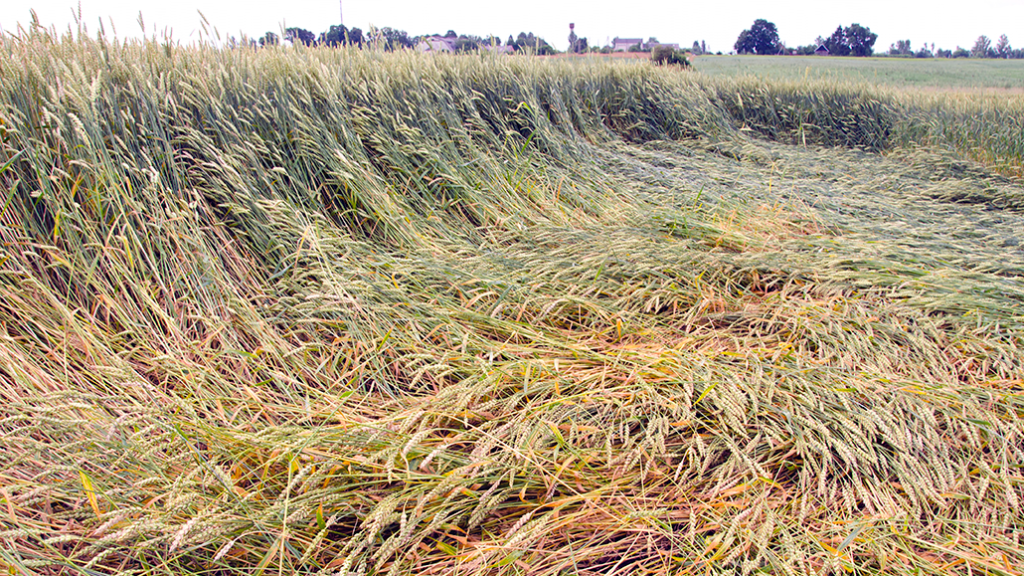 PLANT GROWTH REGULATOR (PGR) use on intensively managed wheat has become an avidly discussed topic over the past few years; and during many conversations, there are more questions than answers.
Dr. Dave Hooker, University of Guelph, Joanna Follings, Ontario Ministry of Agriculture, Food and Rural Affairs, Dr. Joshua Nasielski, University of Guelph, and Peter Johnson, Real Agriculture, have set out to answer the questions of developing effective strategies for managing lodging risk in cereals, and to determine the fit of PGRs within this approach — using combinations of cultivars, nitrogen (N) rates, N timings (one vs. split), and N sources, with and without a PGR.
The three-year project began in 2021. Initial results look promising to give farmers a better understanding of when and how to use PGRs.
PGRs have been around for a long time and are widely used in other countries. In the past, for Ontario farmers, PGRs were available, but small windows of application limited the uptake.
When minimum residue limits were set for a new PGR in 2018, that is when PGRs really gained momentum. By 2020, there was a large interest in PGRs, especially amongst farmers who intensively manage wheat and those who have livestock who have dealt with lodging for a long time. 2021 saw many doing strip trials in their fields, which is a great way to learn and adds to the pool of information, along with this new research that is headed by a very knowledgeable group of Ontario scientists.
When speaking with some of the key collaborators on the PGR project, Follings shared that "farmers need to look at what the problem is that they are trying to solve. It's a decision-making process the grower needs to go through on whether or not they need a PGR."
QUESTIONS
Some questions Follings says that farmers need to ask are: What is the lodging risk? Along with, is it a farm that has high amounts of manure applied? Was it early planted, with lots of growth from a great fall season? What is the soil type, topsoil depth, and is the farmer pushing nitrogen (N) and sulphur (S) rates and at what timing? Is the nitrogen applied in one application or is it split applied? What variety is planted? Even the PGR application timing needs to be considered.
It is important to look at some of the contributing factors that increase lodging risk a little more.
For Follings, there were some huge varietal responses seen, the most she has seen in her career to date.
"Some varieties, it was clear that they should have a PGR, some others may not see an advantage," she notes.
What is really interesting to Johnson is that the research team, "learned so much this year by the interaction of different varieties to weather conditions — genetics by environment."
In general, if the farmer is selecting a variety with a low lodging score and doing a split application of N, in most cases the wheat can be managed, have good yields, and not need a PGR.
When looking at nitrogen, Follings notes the rate and application method impacted lodging. The risk for lodging is, of course, much lower when lower rates of N are used. But if pushing N rates, the application timing can have an impact. If the field is receiving N all at once, even with a PGR, lodging can still be seen. Ideally, a split application system should be used.
EARLY RESULTS
In this first year of research, there was quite a variation in yield response. Some fields saw no response if the field lodged or didn't, but in some instances, there was some significant response, probably due to when the timing of lodging occurred. Some fields lodged later in the grain fill period while others lodged earlier in grain fill period, with some fields lodging just after pollination.
In scenarios where PGRs were used, the wheat was able to get further through the grain fill period before it lodged. Over the three-year trial more information will be gained.
There is also a quality advantage. "This past year, we saw lots of rainfall during the grain fill period, causing increased sprouting and in some cases fusarium- so if you can reduce lodging it is for good disease and sprouting management as well," says Follings.
If a farmer is really thinking about using a PGR, they need to consider that, "it means more management; as it's another pass across the field. As we start using PGRs, farmers need to think more strategically about their trips across the field," Follings says. "Consider fall weed control to help you manage those trips across the field. In the spring of 2021, it was cold so weed control got pushed later into the season. This then created challenges with trying to figure out multi tank mixes while avoiding crop injury. If farmers can get weeds controlled in the fall, they can then focus instead on proper PGR and fungicide timing in the spring."
PGR timing might be something to consider as well. The research team observed a greater shortening of the crop when a PGR was applied at early stages of the application windows. When the PGRs were applied around flag leaf, the same amount of shortening was not observed.
"PGRs are a great tool in the toolbox, but they do not need to be used every year or in every situation," says Follings. A great way to see how a PGR will work on an operation is to do a strip trial, on each unique farm and with the different varieties that may be grown to get a feel for them.
Looking forward to the next two years of research, the research team hopes to have the best possible predictive tools for when a farmer should consider a PGR. Looking past this project, there may be a need to look at PGR rates on varieties and in certain situations.
"It is amazing how much we learned despite how much we thought we knew", says Johnson.
This research was funded by Grain Farmers of Ontario. This project was funded by the Canadian Agriculture Partnership, a five-year federal-provincial-territorial initiative. l
For more information on PGRs in general, view the Ontario Grain Farmer article from March 2021 https://ontariograinfarmer.ca/2021/03/01/plant-growth-regulators/. •