Sudden Death Syndrome
EXPANDING VARIETY OPTIONS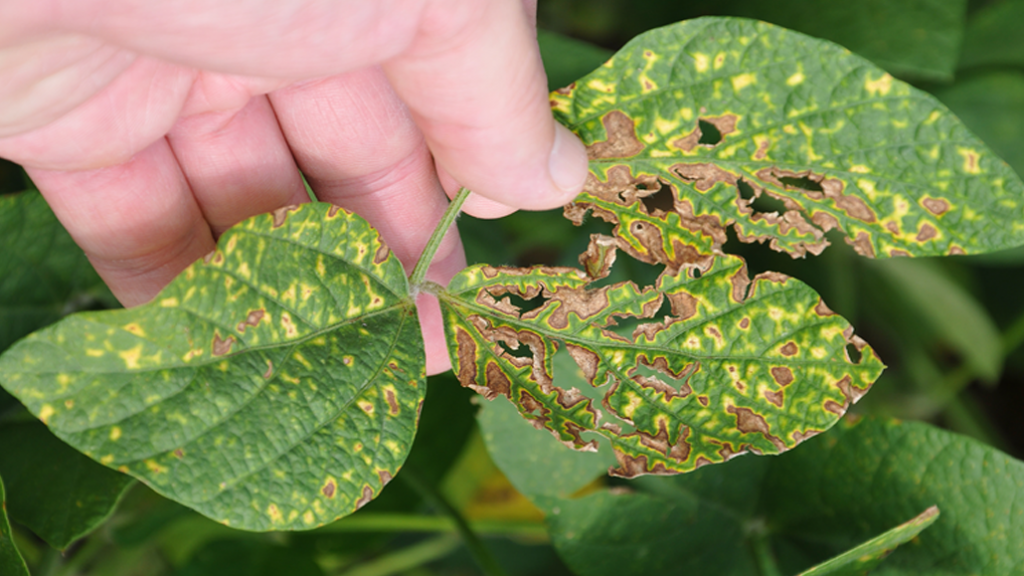 SUDDEN DEATH SYNDROME (SDS) is set to follow the progress of Soybean Cyst Nematode (SCN), becoming a severe and consistent problem for Ontario soybean farmers in the coming decade. Researchers at the University of Guelph and the Ontario Ministry of Agriculture, Food and Rural Affairs (OMAFRA) are trying to get ahead of the problem by adding more SDS-resistant genes to the province's pool of soybean germplasm.
GENETIC RESISTANCE LACKING
SDS is considered the second most devastating soybean pathogen in southwestern Ontario. The yield-robbing disease also continues to spread across the province, with the most effective means of control coming from SDS-resistant cultivars.
Selection for varieties with SDS resistance is the best strategy to minimize field infection and yield losses. Variety selection can be enhanced with the use of seed treatments currently available to reduce early season infection and boost plant health.
As happened with SCN, however, the few genes responsible for resistance can lose effectiveness over time. This puts breeders, seed companies, and farmers in a precarious position.
"We now realize SDS is what soybean cyst nematode was 10 years ago. It will be a problem in new zones," says Dr. Milad Eskandari, an associate professor and plant breeder with the university.
To date, Eskandari says breeding programs for food grade soybeans have not focused on SDS resistance, largely because it was not considered a looming problem. Now, he and fellow plant agriculture professor Dr. Istvan Rajcan are working with OMAFRA and AAFC colleagues to find other resistance genes within varieties suited for Ontario. Those genes will subsequently be introducing into the province's germplasm bank and existing SCN-resistant varieties.
SDS SYMPTOMS AND IDENTIFICATION
As described in a Field Crop News article by Albert Tenuta, OMAFRA field crops plant pathologist, SDS is a root rot disease caused by an aggressive strain of the common soil-borne fungal pathogen Fusarium solani. Infection frequently occurs during the first six weeks after emergence, with symptoms generally developing at the mid-pod reproductive stage. The presence of soybean cyst nematode can make SDS worse, since the nematodes create wounds by which the fungus can infect the plant more easily.
"SDS is most visible when the soybean crop enters the reproductive stages of development, because most of the resources of the plant begin to shift from vegetative growth to producing and filling pods," says Tenuta.
"When this shift in resources occurs, the plant's natural defense mechanisms are reduced, especially under stressed conditions, allowing the disease-causing organism an opportunity to begin the infection process."
SDS is characterized by yellow speckling or spotting between leaf veins, both of which become larger as the disease progresses. In severe cases, the entire area between the veins becomes brown and dry, eventually falling out. Veins are all that remain, having stayed green the entire time. Premature defoliation and death are subsequent characteristics
Cutting the root and the stem, says Tenuta, will expose a light brown or gray discolouration of the cortex tissue in the tap root and the stem. This will extend from the roots up through the stem.
"Although the leaf symptoms may resemble brown stem rot, in SDS infected plants the pith of the stem remains white whereas brown stem rot infected plants have a brown and disintegrated pith."
RAPID, INEXPENSIVE GENE IDENTIFICATION
2021 was the inaugural year of the SDS resistance project. Thus far, a variety of genes were identified and incorporated into plant populations for indoor testing. These test populations — currently relocated to Costa Rica to avoid the difficulties of growing in the Canadian winter — will be field-tested in Ontario in 2022 to ensure their suitability for local conditions.
"If we can do something that reduces the threat eight or more years from now, it's worth it," says Eskandari. "We don't do any variety selection before the fifth generation…The data is great for discriminating tolerant genes, but we need to evaluate the errors while making sure it makes a good yielding, high quality crop."
Alongside introducing SDS resistance genes into new Ontario-adapted food-grade cultivars and germplasm, a second aim involves the development of molecular genetic-based toolkits.
Intended for future breeding programs, such toolkits will speed up the process of developing new varieties by giving researchers a starting place — a sort of best-management-practice suite of genetic options — rather than forcing them to begin searching anew. This method will also make the process considerably cheaper.
"The development of Ontario-adapted commercial soybean cultivars that are resistant to SDS and SCN will provide Ontario's soybean growers with new tools to fight against the most yield-limiting soybean pests in the region, and increase production," says Eskandari.
The project was funded in part by the Ontario Agri-Food Innovation Alliance, a collaboration between the government of Ontario and the University of Guelph. •