Early and late season planting
RESEARCHING FOR RECOMMENDATIONS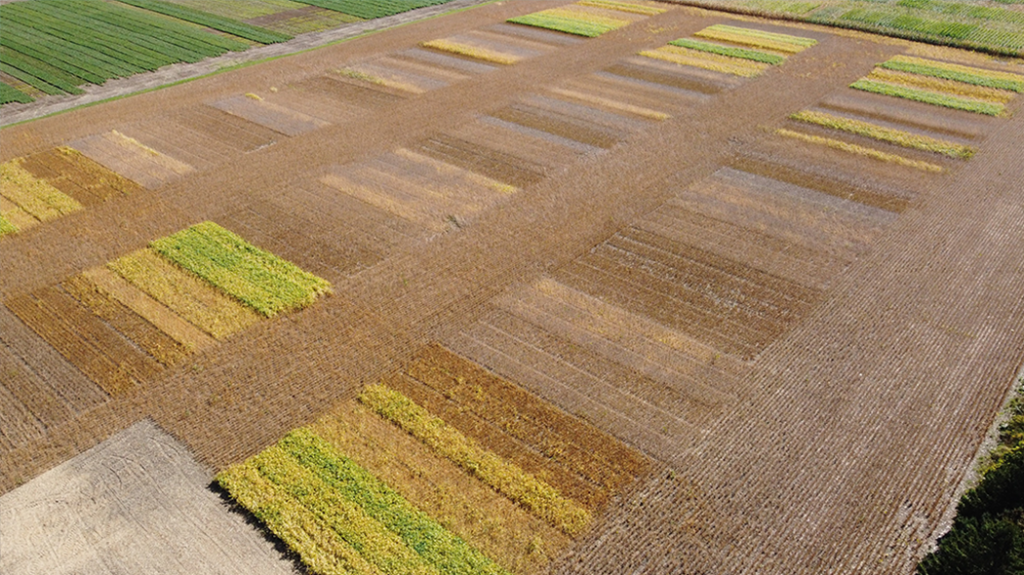 EVERY PLANTING SEASON is slightly different. Sometimes you can get into the fields in early April, and sometimes it is well into June before it is 'go' time.
The very late planting dates for 2019 made Ontario government crop specialists and University of Guelph researchers take particular notice. Knowing that seed corn and soybean variety maturity is linked with expected planting dates, they thought there may be opportunities to choose seeds that perform better if they are planted really early or really late.
"We needed more information to make the best hybrid corn and soybean variety decisions based on the weather that's presented to us every year," says Dr. David Hooker, associate professor in the university's Department of Plant Agriculture. Currently, this kind of data is only available from the U.S.
Hooker and his colleagues, as well as Ontario Ministry of Agriculture, Food and Rural Affairs (OMAFRA) crop specialists Horst Bohner and Ben Rosser, are conducting two experiments in three major corn and soybean growing regions — Ridgetown, Bornholm (in Perth County), and Winchester.
EASTERN ONTARIO
While many research trials are conducted in the Ridgetown and Perth County areas as well as in the Elora area, experiments for this project are also being conducted in Winchester to obtain eastern Ontario data.
"Dr. Joshua Nasielski is relatively new to the department of plant agriculture, and he's doing a fantastic job, along with his research technicians, of bringing more research into eastern and northern Ontario regions to fill the knowledge gaps for those areas," Hooker says.
Nasielski is an assistant professor in the Department of Plant Agriculture at the University of Guelph.
In one experiment, the effects of different planting dates on Crop Heat Unit (CHU) maturity ratings and seeding rates on yield will be measured, along with other parameters.
There are three planting dates for corn and soybeans: an ultra early planting date, a normal planting date and an ultra late planting date. For each of those planting dates, there are a number of varieties with highly varied maturity dates.
Hooker says that the objective for this part of the project is to provide recommendations to farmers about whether they should, for example, in a planting season that can't begin until mid-June, switch to an earlier maturing hybrid.
"The seed companies welcome customer requests to take back seed and replace it with an earlier or later maturing variety," he says.
The researchers are even musing about whether, in some cases, it would be better to plant soybeans before corn.
"This project is designed to test that question — how important are soybean planting dates compared to corn?" Hooker asks.
INCREASED YIELD, BETTER PROFITS
Making the right decision could make a big difference in yield. In an example written up in the project proposal, a five per cent corn yield improvement on 150,000 acres (10 per cent of Ontario acreage) for early planted corn would result in $6 million for Ontario corn farmers at $5 per bushel. Similarly, a five per cent soybean yield improvement on 200,000 acres (10 per cent of Ontario acreage) of early-planted soybean would also result in $6 million for soybean farmers.
Hooker also emphasizes the crucial role that OMAFRA corn specialist Ben Rosser and soybean specialist Horst Bohner are playing in addressing the knowledge gaps, identifying priorities, and carrying out the planting date experiments.
In a second experiment, optimal soybean seeding rates across relative maturities will be identified at the earliest and latest planting date.
"Soybean seed is very expensive, so if we can tweak that or optimize the maturity dates, that will bode well for the farmers economically," Hooker says.
An economic analysis of the data will also be generated. The project started in 2021 and will run until December 2023.
The project is funded in part by the Ontario Ministry of Agriculture, Food and Rural Affairs. •