GrainTALK for February 2023
AN UPDATE ON GRAIN FARMERS OF ONTARIO NEWS AND EVENTS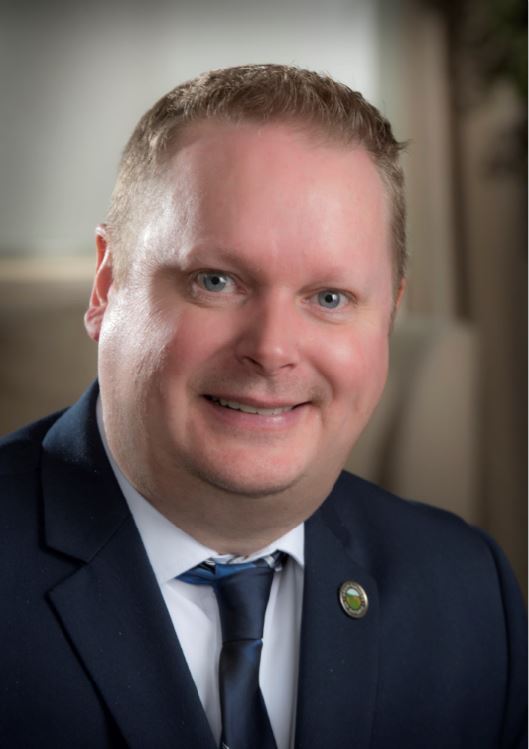 FROM THE CHAIR
What do you hope 2023 will bring for grain farmers in Ontario and the organization?

We started the year off well with our commitment to, and investment in, research and field crop expertise through our gift to the University of Guelph for a field crop professorship. Continuing on that, I know that this organization provides excellence for our farmer-members that is unmatched in the industry. I hope that 2023 brings with it continued excellence that opens doors to new markets for our grains, that sees the federal government recognize the importance and value of supporting farmers through carbon tax and tariff removal for food production, and that the public sees the benefits of how we farm and acknowledges farmers as the experts in food production.

But, most importantly, I hope that 2023 brings our farmer-members success, health, happiness, and resilience in tough times should they come. Be safe and well and all the best this year. •
---
TALK TODAY PROGRAM
Grain Farmers of Ontario has joined with the OHL and Syngenta Canada, who will serve as presenting sponsors of the Canadian Mental Health Association (CMHA), Ontario Division's Talk Today program, now entering its ninth season. Talk Today provides mental health support to players and raises awareness about mental health and suicide throughout the League's communities.
Mental wellness is a priority area of focus for Grain Farmers of Ontario as we look to help Ontario grain farmers struggling with mental health issues and remove any stigma still associated with talking about mental health or seeking help.
This Talk Today program from the OHL and CMHA helps to start much-needed conversations and educate people about mental health issues. February is Talk Today month in the OHL, with game day presentations, educational activities, and social media campaigns held League-wide aimed at reducing the stigma associated with mental health and addiction.
Grain Farmers of Ontario's public outreach campaign, Good in Every Grain, will be activating onsite at the arena concourses at eleven OHL games across Ontario this month. These activations will be able to continue the Talk Today conversations on mental wellness and help raise awareness of the unique challenges Ontario grain farmers face and the potential mental health issues they face producing grains.
For more information, please visit www.gfo.ca/event/ or contact Rachel Telford at rtelford@gfo.ca or 226 979-5581. •
WINTER FARM SHOWS
Grain Farmers of Ontario will be exhibiting at the following farm shows:
• East Central Farm Show in Lindsay March 1 – 2,
• London Farm Show March 8 – 10,
• Ottawa Valley Farm Show March 14 – 16.
Farmer-members are encouraged to stop by our booth to meet with staff and discuss any issues of concern ahead of the 2023 planting season. •

FARMERS NEED FERTILIZER: REPORT
In December, Grain Farmers of Ontario released a new report by Josh Linville of StoneX: "Farmers Need Fertilizer," which represents a robust study of fertilizer and the circumstances and trends that have led to the current negative environment for farmers and the Canadian food system.
The Farmers Need Fertilizer report outlines the complexity of global fertilizer supply, demand, and price and shows how Canada's fertilizer tariffs impact farmers in Ontario. It also explores the investments required to address the fertilizer supply in Canada in the longer term.
"The results of the report echo what we have been saying. 'Farmers Need Fertilizer' shows that the best short-term solution for food security is for the Canadian government to remove the burden of tariffs on imported fertilizer," says Brendan Byrne, chair of Grain Farmers of Ontario. "The report also explores the magnitude of the investment required to implement other solutions to address Canada's fertilizer supply."
The report is available at www.gfo.ca/government-relations/fertilizer-report/. •
BEST OF CAMA
Grain Farmers of Ontario was honoured to receive a Canadian Agri-Marketers Alliance (CAMA) Best of CAMA award in the Crisis Communication, Issues Management, or Government Relations category for our 2022 Fertilizer Response. The awards submission highlighted our government lobbying activities, media outreach, and farmer-member communications.
The Ontario Grain Farmer magazine received a Certificate of Merit in the Best Magazine Category.
The awards were presented at the Best of CAMA ceremony on November 3, 2022 in Niagara Falls. •
WOMEN'S GRAIN SYMPOSIUM
Sixty women from across the grain and oilseed industry — including farmer-members, agronomists, and industry representatives — joined Grain Farmers of Ontario staff for the annual Women's Grain Symposium on November 28 and 29 in Guelph.
The event featured guest speakers on grain marketing, mental wellness, farm transition, leadership, personal development, entrepreneurship, and more. Grain Farmers of Ontario extends our thanks to industry sponsors, including SeCan, FCC, Spirits Canada, Syngenta, BASF, Greenfield Global, Peavey Mart, RBC, and P&H Milling, for their support of the event.
The Women's Grain Symposium is held annually to offer women farmer-members and grain industry representatives the opportunity to network, collaborate, and learn from one another and to encourage more women to get involved in leadership roles within Grain Farmers of Ontario. Thank you to Grain Farmers of Ontario delegates Kristen Carberry from District 11 (Dufferin, Simcoe, Halton, Peel, York), Margaret Vincent from District 8 (Huron), Julie Maw from District 3 (Lambton), Kaye McLagan from District 9 (Perth), and Jennifer Doelman from District 13 (Prince Edward, Lennox, Addington, Frontenac, Lanark, Leeds, Grenville, Renfrew, Ottawa) for participating on a panel discussion about their leadership as delegates. •
CEREALS CANADA NEW CROP MISSION
Dana Dickerson, manager of market development and Brendan Byrne, chair, travelled to Mexico and Colombia in December to participate in the Cereals Canada New Crop Mission. They were joined by Paolo Santangelo, operations manager of SGS Canada — Crop Science, as part of the Grain Farmers of Ontario – SGS Laboratories joint venture that conducts quality testing of Ontario wheat. They met with millers, industry, and government officials to promote Ontario's soft red winter wheat and grow existing and build new customer relationships. •
GRAIN FARMING 101
In November, Laura Ferrier, Grain Farmers of Ontario agronomist, and Josh Boerson, director for District 8 (Perth), hosted an Ontario Grain Farming 101 video viewing and pizza night at the University of Guelph.
More than 30 attendees watched the Ontario Grain Farming 101 videos and had the opportunity to ask Josh questions about his farm and topics of interest. Attendees included undergraduate and graduate students and faculty representing a wide variety of areas of study, including agriculture, microbiology, zoology, biochemistry, and water resource engineering.
Grain Farming 101 is an online video series that shares on-farm information and experiences and explores topics and themes around grain farming. •
MARKET COMMENTARY
by Philip Shaw
Farmers across the great North American corn belt are changing gears with the turn of the calendar year. As of this writing, the final numbers on the 2022 U.S. growing season are not yet available but were announced January 12, 2023. In the December United States Department of Agriculture (USDA) report, corn yield was maintained at 13.930 billion bushels on a yield of 172.3 bushels per acre. The soybean yield was maintained at 4.346 billion bushels on a yield of 50.2 bushels per acre.
In Ontario, the final yields for corn came in at 166 bushels per acre and soybeans at 48 bushels per acre. With such a dry season in many parts of the province, that is surprising. The Canadian dollar continues to add stimulus to Ontario grain prices fluttering near $0.74 – 0.75 U.S. •