Sustainable Canadian Soy program
DRIVING VALUE FOR ONTARIO FARMERS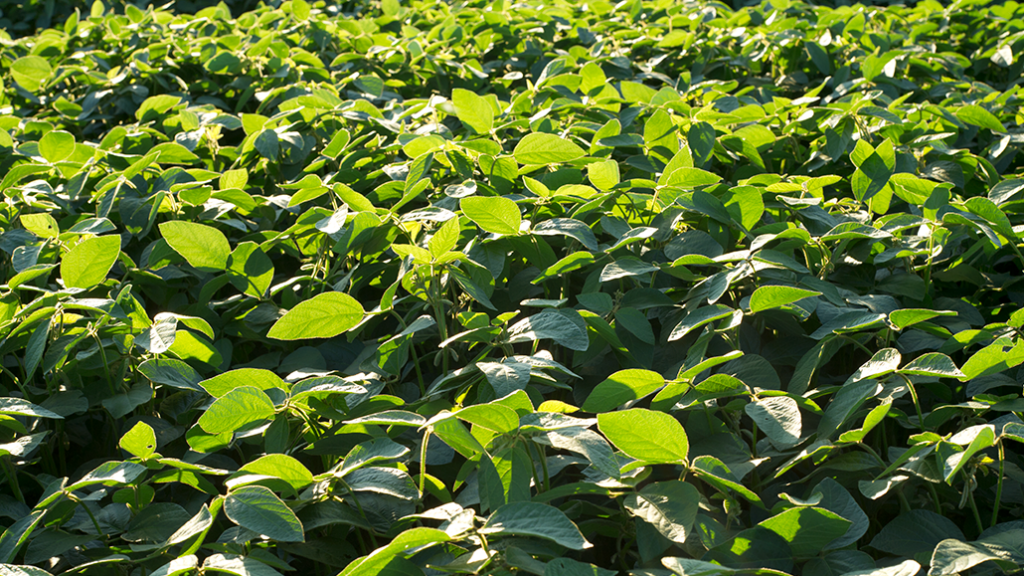 PROVIDING HIGH-VALUE soybeans for premium markets has put Canada on the map for quality soybeans. Ontario's soy industry has been a leader in building Canada's reputation for Identity Preserved (IP) and food-grade soybeans, consistently meeting and exceeding customer needs.
But the market continues to evolve, and the industry is preparing for the next step to keep pace with the competition and maintain market access through a new Sustainable Canadian Soy program.
Launched in March 2023, the Sustainable Canadian Soy program results from extensive industry consultations to meet customer needs for verified sustainable soybeans.
"We have heard our customers and are excited to launch a program that keeps pace with their demands for verified sustainable soy," says Soy Canada executive director Brian Innes. "It's an opportunity for our entire industry to maintain access to discerning markets and for our growers to see how they score against international sustainability criteria."
WHY NOW?
"A documented sustainability program is the cost of admission to sell to our current international soybean markets," explains Matt Renkema, grain business manager with Sevita International. "Our competitors are already providing this, and without our own program, our customers are left to make assumptions. For some customers, we need to be able to show how we're following sustainable production practices."
Customers buying food-grade, IP soybeans for the Japanese and European Union markets are currently driving the need for a verified supply of sustainably produced soybeans. At this time, the new program is aimed at growers, grain handlers, and exporters of food-grade and IP soybeans.
The need to verify production practices is not a new concept. Led by Soy Canada, extensive industry consultations to develop the program began in earnest in 2021 with board discussions, member meetings, and one-on-one conversations. The entire Canadian soybean value chain was consulted throughout the process, including grower associations like Grain Farmers of Ontario and other grain associations like Pulse Canada. In addition, focused consultations with 25 different organizations, including member and non-member grain handlers and processors, were conducted.
WHAT DOES SUSTAINABILITY MEAN?
The Sustainable Canadian Soy program is a market-driven whole-farm program that will enable the Canadian soybean industry to compete with international competitors, like the U.S. and South America.
The program is the industry's collective response to meet customer needs while generating economic opportunities along the soy value chain and encouraging increased adoption of sustainable farming practices in Canada. "Most farmers are already implementing sustainable practices like cover cropping, minimum tillage, and nutrient management, so why not document these activities to support market opportunities?" asks Scott Persall, Grain Farmers of Ontario director for District 5 (Elgin, Norfolk), who sits on the Soy Canada Board and is member of the sustainability program development working group. "More market opportunities mean more value for our soybeans and more stability when market conditions change."
A variety of sustainability program options were evaluated throughout the program development and consultation process before Soy Canada working group members, along with the organization's board of directors, decided to implement a verified sustainable Farm Sustainability Assessment (FSA) system in mid-2022.
Persall explains that the group reviewed options, including the Canadian Roundtable on Sustainable Crops Code of Practice, International Sustainability and Carbon Certification program used for EU biofuels, and even considered creating their own Canadian soy program. The final decision to offer the globally recognized FSA aligns with Sustainable Canadian Soy priorities and recognizes Canadian federal and provincial legislation.
The foundations of the new Sustainable Canadian Soy program include land use efficiency, climate-smart farming, soil health, water stewardship, biodiversity, and habitat.
Innes notes that while there is a need to develop a sustainability program to meet soy market needs today, every step of the program development process considered that Canadian farmers and exporters handle multiple crops. "We've been guided by implementing a program that meets our customer needs but also reflects that our farmers grow soybeans as part of a sustainable rotation. It's important that we work together as an industry to implement a system that is as streamlined and involves collaboration wherever possible," says Innes.
HOW IT WORKS
The Sustainable Canadian Soy program is voluntary for any grower, grain handler, and exporter interested in meeting this market need.
Founded in 2002, the Sustainable Agriculture Initiative Platform (SAI Platform) developed the FSA as a harmonized and flexible sustainable sourcing model for buyers to understand the sustainability performance of their supply chains based on farm-level data.
FSA powers the new Canadian program, providing a whole farm sustainability assessment incorporating economic and financial viability, social responsibility and environmental protection. For Canadian soy customers, the FSA will provide access to a third-party verified sustainable supply backed by a globally recognized system.
"It's a system that will demonstrate how Sustainable Canadian Soy is comparable or better than other origins," explains Persall. "This assurance process also enables users of Canadian soybeans to make sustainability claims with confidence, including food packaging."
FSA also has benchmarks for many international programs, including the U.S. Soy Sustainability Assurance Protocol (SSAP). The U.S. program is equivalent to FSA silver, a benchmarking level Soy Canada anticipates Canadian growers will achieve through the new program.
Starting with the 2023 soybean crop, Ontario IP and food-grade soybean growers interested in participating in the program can sign up with their exporter or grain handler. Program participation requires completing a questionnaire that looks at all aspects of the sustainability of a farm operation. A small number of growers will also be required to participate in an assessment by a third party each year, a process managed by their exporter or grain handler.
"The Sustainable Canadian Soy program will drive value for the soybean industry," predicts Innes. "This program is designed to minimize the additional documentation workload while maintaining access to markets that recognize the quality of Canadian soybeans, open new opportunities, and ultimately, get the most that we can for our soybeans."
To learn more about the Sustainable Canadian Soy program, visit www.soycanada.ca/sustainability. •