On a mission
PROMOTING ONTARIO GRAINS AND OILSEEDS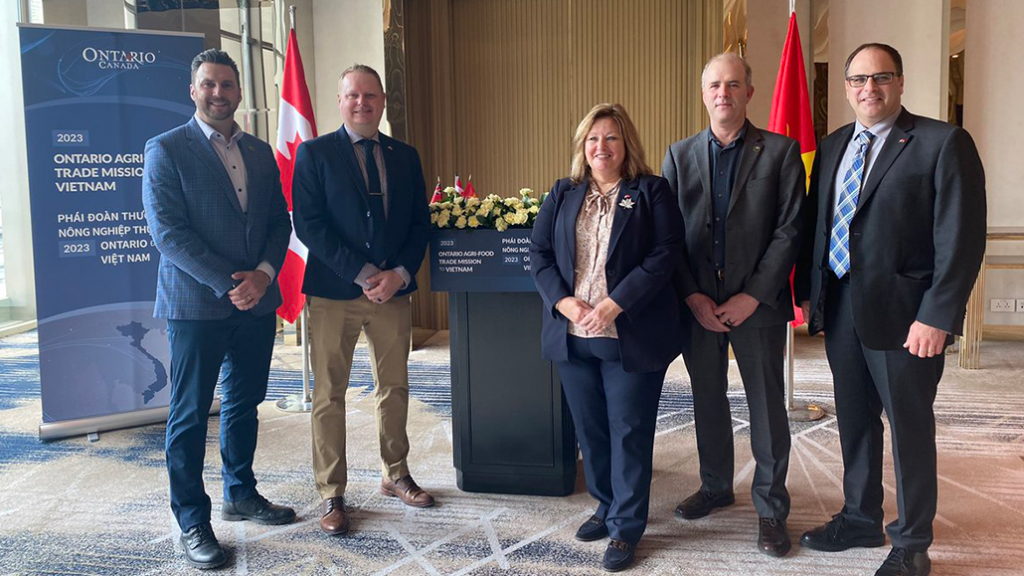 WHILE TRAVELLING IN Southeast Asia in February 2023, Grain Farmers of Ontario's CEO, Crosby Devitt, says he was amazed at how often he saw the Canadian maple leaf displayed prominently on food packaging and in grocery stores.
"It really drove home how valued Canadian products and the crops that Ontario farmers grow are in that region," he says.
Devitt, along with Grain Farmers of Ontario chair Brendan Byrne, was visiting Japan and Vietnam as part of a Government of Ontario delegation led by Minister Lisa Thompson of the Ontario Ministry of Agriculture, Food and Rural Affairs. Concurrently, Grain Farmers of Ontario vice president, Paul Hoekstra and District 5 (Elgin, Norfolk) Director Scott Persall took part in a Soy Canada mission, which then continued on to Malaysia.
That delegation, consisting of 26 Soy Canada members, met with more than 220 current and potential customers in the Indo-Pacific Region, heard firsthand the quality specifications international customers are looking for when purchasing soybeans, visited manufacturing facilities to see how Canadian soybeans are processed, and shared how the latest developments in the Canadian soybean industry provide value for our customers.
"There's nothing like being face-to-face to share and understand how we deliver value for our customers," says Brian Innes, executive director with Soy Canada. "The enthusiasm we saw this year shows the value of our market development investment and how we can grow the value of our industry in the future."
A COMMITMENT TO QUALITY
Asia is a key market for Ontario-grown soybeans, and that demand continues to grow. According to Soy Canada's market development manager, Nicole MacKellar, the demand for food grade soybeans is projected to grow 5.6 per cent in Asia over the next three years, and the demand is expected to outpace supply.
Soy Canada says that the Japanese market shows a preference for Canadian soybeans, prized for their high quality and protein levels.
That's the message that Byrne took home from the trade missions.
"One of the really positive aspects was hearing how well respected our farmers and farms are in other regions," he says. "And that high quality was synonymous with Ontario grain."
MEXICO AND COLUMBIA
Byrne also traveled to Mexico and Colombia in December 2022, along with Grain Farmers of Ontario's manager of market development and sustainability, Dana Dickerson, as part of Cereals Canada's New Wheat Crop Latin America Mission. The mission was part of a broader Cereals Canada program that visits 15 countries across Latin America, Asia, Europe and Africa to present the 2022 New Wheat Crop Report to global customers of Canadian wheat. These missions were the first to be held in-person in two years (due to the Covid-19 pandemic) and served as important touchpoints to re-engage relationships with milling customers. "People were happy to welcome us back and have the opportunity to ask questions face to face," says Dean Dias, Cereals Canada's CEO. "Over the past two years, our team has done an excellent job presenting the information to our customers in an online-only format but one of our great strengths is building relationships. That's what makes these in-person Trade and Technical sessions so important."
On the Mexico and Colombia mission, Byrne and Dickerson were supported by SGS Canada's milling and baking specialist from the Grain Farmers of Ontario and SGS joint venture, the Grains Analytical Testing Lab (GATL). This lab conducts annual quality testing of Ontario wheat and provides reports on milling and baking performance that help customers understand the functionality of the crop. During the mission, they met with millers, industry, and government officials to promote Ontario's soft red winter wheat and grow existing and build new customer relationships.
"The missions give us an opportunity to showcase the quality of the Ontario wheat crop," says Dickerson. "With the partnership with SGS Canada and the GATL, and the technical bulletins that we produce, we can show international customers that Ontario farmers can supply them with the quality wheat that meets their needs."
IN-BOUND MISSIONS
While it is important to visit customers in their countries, nothing quite compares to hosting them in the province to showcase how grains and oilseeds are grown, transported, and processed. In June 2023, Grain Farmers of Ontario welcomed Grupo Trimex, Mexico's largest flour miller, as part of a Cereals Canada in-bound trade mission. Mexico is the second-largest export market for Ontario milling wheat (after the U.S.), and demand continues to grow.
In August, Cereals Canada brought another delegation of millers to Ontario, this time from various mills across Africa. This group included a number of millers from Nigeria, Ontario's fourth largest market for Ontario wheat exports. Grain Farmers of Ontario produced a tailored program for each visiting delegation, starting with an in-depth overview of Ontario wheat production, quality and trade. The delegations also toured an export terminal and flour mill in the port of Hamilton and visited the farm of Jeff Barlow, director for District 6 (Brant, Haldimand, Hamilton, Niagara). Grain Farmers of Ontario also arranged for Grupo Trimex to meet with Minister Thompson who spoke to them about the strengths of Ontario agriculture and Ontario's ambitions to grow trade with Mexico.
"Both delegations told us they would be returning to their home countries as champions of Ontario wheat," says Josh Boersen, director for District 9 (Perth) and Grain Farmers of Ontario's representative on the Cereals Canada board. "They were extremely impressed with the effort and industry collaboration that goes into producing a quality crop, from farm to port." •