2024 Nuffield Scholarships
STUDYING INTERNATIONAL CROP RESEARCH PROGRAMS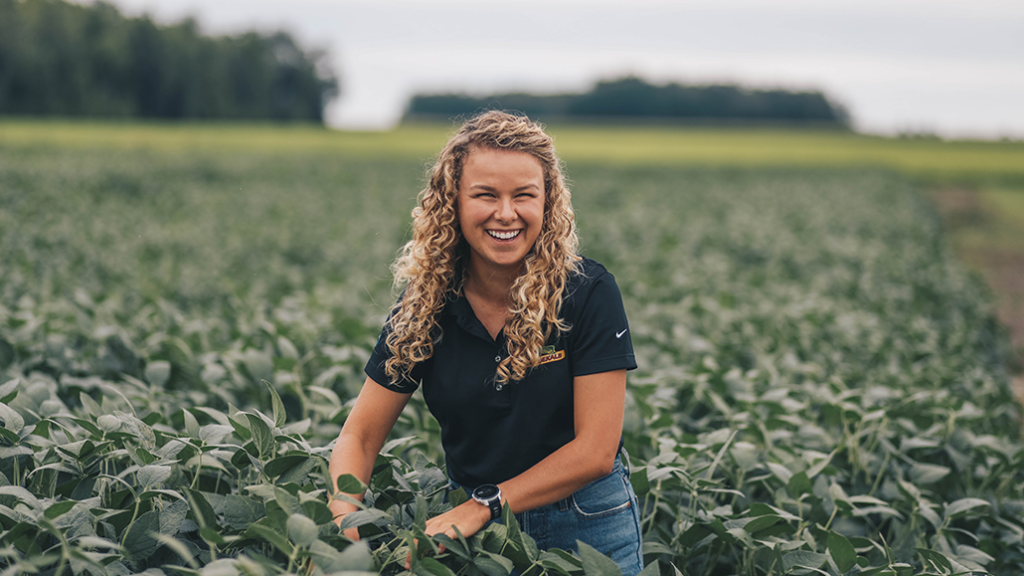 FOR MORE THAN 60 years, Nuffield Canada Scholars have been travelling the globe, learning from international colleagues in the agriculture industry about topics ranging from Zero Tillage (Art Westlund, 1979) to Risk Management Strategies (Amy Cronin, 2021).
Lauren Benoit, a market development agronomist for Bayer and Grain Farmers of Ontario delegate in District 8 (Huron), has been awarded the 2024 Grain Farmers of Ontario Nuffield Scholarship. Benoit, who has an M.Sc. in weed science from the University of Guelph and is a Certified Crop Advisor, will study international research programs and investment with the goal of developing better working relationships within the sector, improving research processes that engage all industry stakeholders, and creating a more attractive environment for private research investment at the provincial and national level.
THE NUFFIELD EXPERIENCE
Aimed at mid-career professionals, the Nuffield Scholarship allows individuals to take a deep dive into a relevant agricultural topic of interest, bringing together information and expertise gathered from an intensive cross-cultural and international experience that includes travel, networking, and learning. After completing their scholarship, Nuffield Scholars are highly sought after as speakers at agricultural events, meetings, and knowledge-sharing events.
Nuffield Canada is part of a larger Nuffield International community, which includes Scholars from Australia, Ireland, France, Netherlands, New Zealand, the United Kingdom, and Zimbabwe. Established in 1942 by Lord Nuffield, William Morris, a British businessman, car maker, and philanthropist, the object of the Nuffield Foundation was focused on agriculture advancement, with Scholars travelling to the U.K. for six months of study.
Since 1950, Nuffield Canada has awarded 107 scholarships, with a further six scholarships announced in 2023. The international Nuffield alumni community now stands at more than 1700 Scholars.
Scholarship recipients come from a vast background in Canadian agriculture, including livestock production, grain or vegetable production, forestry, and horticulture. They may have a variety of roles within the industry, including farm owners, managers, employees, administrators, or civil servants.
Scholars are expected to travel internationally for a minimum of 10 weeks over two years, including participation in the Contemporary Scholars Conference, dubbed a "blast-off for new Nuffield Scholars from around the world," where they gather to spend eight days exploring agriculture in the host country, learning more about themselves and each other, and engaging with leaders in agriculture who reinforce experiential learning.
Many Scholars will opt to participate in a Global Focus Program (GFP) — a group of eight to 10 Scholars who spend six weeks travelling together. The groups have the opportunity to closely examine agriculture in up to seven countries, literally making their way around the world as agricultural explorers. For many participants, the GFP broadens their horizons, cements friendships, and lets them understand other cultures and countries on a deeper level.
Upon completion of their study, Nuffield Scholars prepare a final report presented at the Nuffield Canada annual general meeting to Nuffield Canada board members, alumni, and supporters. Reports are available to read online at www.nuffield.ca.
Blake Vince, a grain farmer from Merlin, Ontario and a 2013 Scholar, remarks that participating in the Nuffield Scholarship program was a life-changing experience. Vince is currently the chair of Nuffield Canada.
"I've luckily been afforded multiple opportunities to be invited as a speaker at an international level," says Vince, whose research topic Conserving Farmland with Cover Crops and Biodiversity, is a top-of-agenda topic for farmers in Canada and around the world.
It is important, he says, for the information and expertise that Scholars gain on their travels to be widely shared with audiences back home and abroad.
"We don't want our Scholars to take what they glean on their travel and be proprietary — it's supposed to be shared widely for the benefit of everyone," he says.
2024 GRAIN FARMERS OF ONTARIO SCHOLAR
Travelling internationally is not new for Benoit — before joining Bayer Crop Science, she worked for BASF, including as a field biologist coordinating a 56-trial field research program in Australia.
So, the opportunity to travel, learn more about international agriculture and study the impact of research investments globally made the Nuffield Scholar program a perfect fit.
"I learned about the Nuffield Scholarships in university," says Benoit. "I heard Leona Watson (a Nuffield Scholar) speak about her experience. I've also had some close friends and colleagues go through the program. Everyone I know who has done it, has had great things to say about it."
Career-wise, three years into her job at Bayer, it seemed like the right time to apply. Benoit says Bayer has been incredibly supportive of her participation in the program.
She is eager to get started on her project, with plans to start by having conversations with industry colleagues here in Canada starting in December. Her international travel will kick off in March at the Contemporary Scholars Program in Brazil.
"I hoping to take a little extra time around that to visit some of Bayer's research facilities down there," says Benoit.
Returning to Australia is at the top of her travel agenda, where she'd like to connect with scientists at the Commonwealth Scientific and Industrial Research Organization, Australia's national science agency and innovation organization. She'd also like to visit cereals and grain breeding facilities in Mexico and developing countries to see if there are any synergies and programs that she can learn from. From there, she will organize her travel based on her project priorities and the schedule of the GFP. Benoit acknowledges, though, that it will be difficult to narrow down where she will travel.
"There are more places that I'd like to visit than I'm reasonably able to," she says.
NUFFIELD SCHOLARS
In 2016, the Grain Farmers of Ontario's Nuffield Scholarship was launched. In addition to Benoit, four scholarships have been awarded.
2016: Tony Balkwill
Developing soil type maps into management zones
2017: Nicole MacKellar
Brand commodities that are further processed into ingredients
2019: Mark Brock
Farmer-to-farmer collaborations
2020: Amy Cronin
Risk management strategies
Crosby Devitt, Grain Farmers of Ontario CEO, was a Nuffield Scholar in 2012. Devitt studied the Future of Grain Research Partnerships.
The historical list of all Canadian Nuffield Scholars, with links to their respective research papers, can be found at www.nuffield.ca/scholars-reports. •