FIND OUT WHAT'S NEW IN THE WORLD OF RESEARCH
Researching across borders to fight mycotoxin
Rebecca Hannam
Researchers are joining others from around the world to learn more about mycotoxin reduction in field crops such as wheat. 
Drs. Lily Tamburic-Ilincic, Art Schaafsma and Victor Limay-Rios from the University of Guelph Ridgetown Campus have recently teamed up with plant agriculture specialists from across the United States, Europe and Canada in a research initiative called MycoRed.
This international project, coordinated by Italian researchers, is bent on reducing toxic fungi in food and feed chains harmful to humans and animals. 
The Ridgetown researchers are focusing their studies on wheat resistance and fungicide use. 
"It's beneficial for us to share ideas with other researchers and keep up to date with international projects," says Tamburic-Ilincic. 
The University of Guelph's involvement in MycoRed is supported by current projects in the Department of Plant Agriculture.  •

Breeding soy for better taste
Rebecca Hannam
Taste – be it good or bad – is arguably the most significant factor influencing consumer buying patterns. Finding a way to reduce the distinguishable bean-like taste in soy products is the focus of an ongoing research initiative at the University of Guelph. 
"In Ontario, we have soybean varieties that are bred and grown specifically for soy milk," says Dr. Peter Pauls, Department of Plant Agriculture. "But the reality is that the soy milk sold has additional flavouring to mask the 'beany' taste. There is some resistance to the product, so we are trying to improve the original flavour."
Previous research by Dr. Gary Ablett from the Ridgetown campus and Dr. Vaino Poysa from Agriculture and Agri-Food Canada incorporated low linolenic and lipoxygenase null traits into Ontario soybean lines to reduce the fatty acid oxidization associated with the beany flavour. The low linolenic and lipoxygenase null lines are lines low in the oil and protein enzymes linked to flavour. 
Pauls' group combined varieties low in these components and was successful in improving the flavour. They've now identified molecular markers for genes that control the traits of interest. 
Low linolenic acid soybean lines are on the market and have been licensed to private seed companies. Researchers plan to continue experimenting with low linolenic and lipoxygenase null lines to develop commercially acceptable lines with improved taste •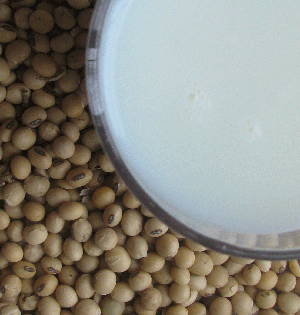 Research Roundup is provided by members of SPARK (Students Promoting Awareness of Research Knowledge) at the University of Guelph's Office of Research.  For more information, contact a SPARK writer at 519-824-4120, ext. 52667.