THE CANADIAN INTERNATIONAL GRAINS INSTITUTE HAS SEEN GREAT GROWTH
offering programs and technical support to domestic producers and customers of Canadian grains since 1972, the Canadian International Grains Institute (CIGI) has recently opened its doors and expanded its reach. In the last decade CIGI's activities have evolved into new and innovative territory, including research projects with organizations in Ontario.
"We are excited about how CIGI has been growing over the past several years from mainly providing programs and support for customers of wheat and barley around the world to more extensive involvement in applied research, technical marketing and product support, and technical training for a variety of Canadian field crops," says Earl Geddes, CIGI Executive Director.
CIGI has conducted courses, workshops, technical exchanges and offshore seminars lasting from one day to a few weeks for more than 30,000 participants from 114 countries, he says, adding that recently members of Grain Farmers of Ontario (GFO) attended a program for domestic producers.  Traditionally CIGI programs have been by invitation but in recent years more open enrolment courses have been offered as well as technical exchanges, usually for a particular customer company, in which participants work with technical staff on specific issues.
"In recent years CIGI's pilot facilities have expanded to broaden CIGI's capability to develop and implement technology intensive programs and applied research," says Geddes. "We have developed a new vision for CIGI that has the organization specializing in offering continuous advances in Canadian field crop products to the world."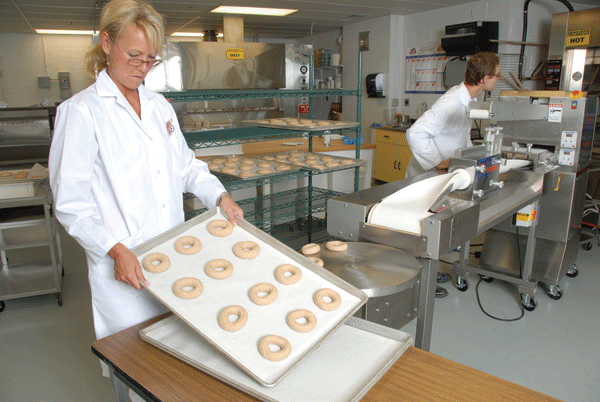 Above: Industrial-scale equipment mechanizes the dividing and forming of dough pieces for the production of bagels, a newer end product for CIGI.
expanding its reach
In 2007 CIGI added a portable biodiesel production facility, housed in a trailer which has travelled to communities and agricultural events across Canada, including several in Ontario.  The facility  has been used for courses helping producers to learn how to process their own biodiesel out of various oilseeds such as soybeans. 
In the same year CIGI also received $1 million in funding from government and industry for major equipment upgrades to its facilities. This has allowed CIGI to expand its capability for investigative work in areas such as healthy snack foods and breakfast cereals using a variety of field crops, as well as for producing feed pellets for aquaculture.
Although CIGI has conducted applied research with Western Canadian wheat varieties for many years, in 2008 it added Ontario wheat to its research activities. Michael Reimer was hired on as an Ontario Wheat Technologist and he concentrates his research on quality and functionality. "One important activity that we started is the annual Ontario Wheat Quality Survey carried out during harvest which provides marketers with timely information on the quality of the new crop," says Reimer.
Some of Reimer's work includes contact with millers and bakers in the Middle East, a relationship Grain Farmers of Ontario has been pursuing on behalf of wheat exporters. "Out of this effort has come the two-year Ontario Wheat Arabic Bread project where CIGI is focusing research on the use of Canada Eastern Soft Red Winter wheat in the processing of traditional Arabic flatbreads."
Dr. Tony Tweed, Head of Baking Technology at CIGI, explains that in the Middle East millers will often blend flour from Canadian wheat with flours from other countries to create new flours with the quality characteristics required by their customers. 
However, the millers do not usually use eastern Canadian wheat. "We are hoping that our work will produce results where sound technical information is available so that these millers will consider eastern Canadian wheat as a viable option for their blends."
alternative ingredients, improving nutrition
CIGI has also been involved in research activity with pulses and food barley using their flours in North American food products. "Food companies look for ways to differentiate their products and have indicated interest in alternative ingredients that can improve both nutrition and functionality," says Dr. Linda Malcolmson, Lead Research Scientist, Special Crops, Oilseeds and Pulses.
A pilot and laboratory scale pulse processing facility was added in 2005 which allows for work with peas, beans, chickpeas and lentils. In the last year a pulse project has been ongoing involving the incorporation of pulse flours into various conventional food products such as pasta, tortillas and snack foods.
CIGI also undertook a project in partnership with the Food Processing Development Centre (FPDC) and commercial partners to develop products from food barley, says Malcolmson. More than 20 companies in Canada, the US and UK were involved including millers, food ingredient suppliers, and manufacturers of baked products, breakfast cereals, doughnuts, pizza crusts, and meat products. Whole grain barley flour was incorporated successfully into numerous bakery and extruded food products, nutrition bars and meat products at both CIGI and the FPDC. Information on the products developed is available at www.canadianfoodbarley.ca
In addition to pulses and food barley, CIGI has been working with other commodities in food products such as flax and most recently, canaryseed and there is little sign that opportunities for new challenges will slow down.
"CIGI has seen many changes with more projects that support a wider range of crops and end-use products," says Geddes. "We only see ourselves continuing to expand this activity in support of Canadian field crops." •