Cool tools increase efficiency
FARM BETTER AND DIVERSIFY WITH IMPROVED EQUIPMENT
without the right tools, even a simple job becomes more difficult. To make the job of farming easier, equipment manufacturers are offering technology that can not only improve management efficiency, but help gain access to new markets.
Leading up to this year's growing season, many equipment manufacturers are boasting new technologies that aim to enhance farm management. Tim Lang, a customer support manager for John Deere, says one of the most exciting features his company is offering is a telematics system. He says the JD Link system will be available on any new large tractor, combine and sprayer straight from the factory this year. It reports equipment movements with the help of GPS, monitors performance activities, and can produce diagnostic trouble codes that farmers can instantly email to the local dealer for replacement parts. Lang says the idea is to help prevent issues from becoming major problems and manage farm fleets that have outgrown one sole equipment operator.
"You can't be calling your guys up all the time to find out how things are going," said Lang. "They'd never get any work done."
Lang says a farmer can set up the system to notify him when a piece of equipment has arrived at a specific destination, the pattern it travelled, and when it arrived back home. This becomes an added safety feature in the event a tractor is ever stolen. He says it also records performance data that can help pinpoint inefficiencies that could save farmers money. Many farmers have been surprised at exactly how much time machinery is used, he says, and how easily they can avoid unnecessary cost and depreciation.
"When you look at the first tractors we sent out, we found 80% of the time is spent at idle," said Lang. "It takes time to get set up but we want guys to use this information."
At AGCO Corporation, they are also pursuing technologies that prescribe to the same 'knowledge is power' philosophy. Stephen Gorsuch, director of national accounts at AGCO Corporation, says they have been modifying harvest equipment for improved residue handling so farmers can pursue other field crop incomes beyond grain sales. They now offer large square and round balers that can collect corn stover suitable for cattle feed, livestock bedding, and cellulosic ethanol. They have now constructed a specialized baler that collects cobs and residue directly behind the combine, in a one pass system that keeps bales cleaner. Gorsuch says this technology needs to be used carefully but, in the right situation, could offer farmers considerable value.
PHOTO: ONE-PASS BALER SYSTEM FOR CORN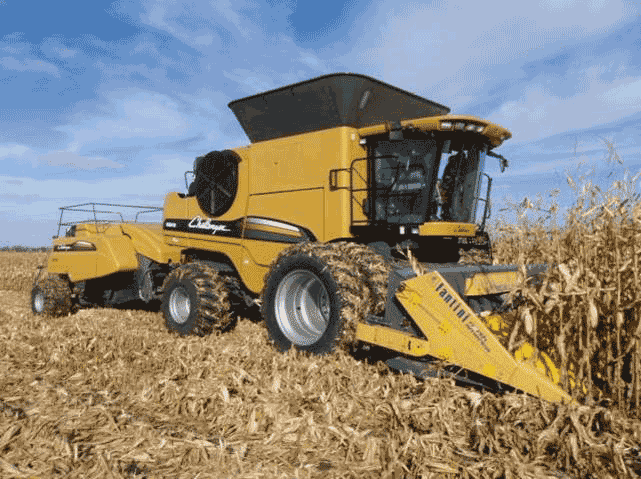 "I'm not an agronomist and I think it is vital for you to evaluate the agronomic value of your crop residue before you start going down this road," said Gorsuch, "but as a grain farmer, I would want to understand what this is worth to me."
Gorsuch says he is very excited about the role this equipment could play in helping farmers access the bioenergy market. In the United States, he says AGCO is already working with two companies that are basing their business models solely on harvesting and handling crop residues in the mid-west at harvest. They are also working with researchers that are studying switchgrass and miscanthus production, aiming to improve their traditional forage harvest equipment so it can handle these high volume crops. Harvesting material other than grain (MOG) can be slower, especially with two machines, and tougher on equipment. But Gorsuch says he sees this as a great opportunity for farmers, and he isn't alone.
"We are working with big partners like BP, [British Petroleum], in biomass research," said Gorsuch. "In order for bioenergy to work, there needs to be an infrastructure in place."
Tim Haig, Chair of the Canadian Renewable Fuels Association (CRFA), says there is lots of support for biofuels from farm equipment and engine manufacturers. His organization works to promote the use of renewable fuels for transportation, including within the agricultural industry. Haig says manufacturers have been preparing farm equipment engines for biodiesel blends up to 20% since the early '70s. But despite all their efforts, unfortunately, there is still very little opportunity for Ontario farmers to participate in biofuel production at this time.
"It's a David and Goliath story… and we're so small they call us Davey," said Haig. "We need help gaining market access."
Haig is currently working to raise consumer awareness and is liaising with the provincial government to bring a distillate mandate to Ontario that he thinks will help. The mandates have been successful in other provinces such as Alberta, Saskatchewan, and Manitoba, with another in progress in British Columbia. All of these provinces also have ethanol mandates similar to Ontario's, and since these fuels operate in different classes of vehicle, the mandates act as compliments to one another. Haig says that if this could be accomplished, there would soon be a real opportunity for farmers to get involved in biofuel production.
"Getting a 2% mandate in Ontario would mean 150 million litres [of biodiesel] would be produced," said Haig. "It would bring good, green collar Ontario jobs. Especially to rural economies." •