POST-SECONDARY OPTIONS AT THE UNIVERSITY OF GUELPH
when you're a teenager, planning for the future can seem overwhelming; and farm teens have an even tougher decision than most. Deciding what path to take with their education often involves a decision on whether or not they will return to farming, or even the agricultural industry, after graduation.
agriculture
Paul Dietrich knew he wanted to be a farmer, but he also wanted to pursue higher education. He looked for a university program that took a more applied, hands-on approach and decided to go to the University of Guelph's Ridgetown Campus for his two-year associate's diploma in agriculture.
PHOTO: PAUL DIETRICH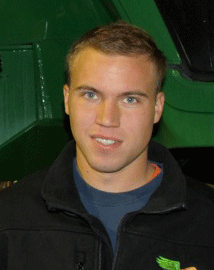 Students in the program work with professors who are closely connected with the local agricultural community. Courses cover production issues, such as weed management and soil health, as well as applied farm business practices. 
"It's great from the production side of things," says Dietrich, who now works his family's 1,500 acre cash crop farm near Lucan, Ontario. "But it's also been great to learn communications and computers, so now I can manage billing records, crop budgets and rental agreements." 
Dietrich also plans to take a strategic leadership course through Western University, and is hoping to become a better-rounded farmer by learning more effective networking and problem  solving skills.
"I want to expand my horizons, keep pushing and hopefully be able to apply what I'm learning to benefit my operation," he says.
environmental toxicology
Sarah Harrigan, a recent University of Guelph graduate, grew up on a 40 acre cash crop operation in Oxford County, where they also raised a small number of cattle and pigs.
As much as she enjoyed the farming lifestyle and wanted to remain active in agriculture, Harrigan wasn't entirely sure if she wanted it to be the focus of her university studies. A strong interest in science and the environment led her to environmental toxicology in the Bachelor of Science program.
In environmental toxicology, students learn about what effects chemical products – such as pesticides, industrial chemicals or consumer products – can have on human and animal health, as well as the health of the environment.
After graduating in 2010, Harrigan found work within the agricultural industry as a crop research assistant for Bayer CropScience and BASF, helping to study best management practices, fertilizer application rates and pest control strategies.
"I think studying environmental toxicology really opened my eyes to best management practices through agriculture," she says. "It gave me a great appreciation for protecting and conserving the environment."
PHOTO: SARAH HARRIGAN

Harrigan is now at Wessuc Inc., a bio-solids management company, working as a land application coordinator. She analyzes sewage bio-solids being spread on different fields to ensure that farmers are reaping the greatest possible benefits but also keeping tabs on the surrounding environment. 
However, a return to the farm is in the cards for Harrigan – she's now engaged to a dairy farmer. She believes her upcoming marriage and her job at Wessuc will give her the best of both worlds – a career in agriculture and a farm to plant her roots.
AG?Business
The University of Guelph is also home to the internationally-renowned Ontario Agricultural College (OAC), a popular destination for many farm teens from all backgrounds seeking out a university education.
Lucas Meyer comes from a 600 acre cash crop farm outside of Caledonia, Ontario. However, cash cropping is a relatively new development for Meyer's family, having originally been a cow-calf operation with about 100 head.
Meyer is in his fourth year in Guelph's OAC program, studying agricultural business. For the first two years, the program covered many of the business basics – such as micro and macroeconomics, finance and accounting. As he progressed into his third and fourth years, Meyer says the courses have become more tailored towards preparing him for a career within the agri-food industry. Students learn the ins and outs of how food markets work and behave, farm business management and marketing strategies. 
PHOTO: LUCAS MEYER

For new students to get the most out of their university experience, Meyers says it's important to take the time to get involved in agricultural groups and build connections with fellow OAC students.
"University is great for what you can get taught and how to apply it, but it's also really about what you make of it," he says. "Unless you make the effort to involve yourself and meet people, you're not going to get that added bonus of building relationships with people who have contacts within the industry."
Once he graduates, Meyer plans to seek out work as a sales representative with a crop company such as Bayer or Cargill. Eventually, he'd also like to manage a smaller 100 acre cash crop operation on the side. 
animal science
Like Meyer, Emily den Haan, is also a fourth-year OAC student. She is currently pursuing a degree in animal and poultry science, with a minor in vocal music.
PHOTO: EMILY DEN HAAN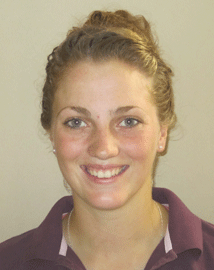 While that may seem like a quirky combination, den Haan says that learning to be a successful farmer isn't strictly about what program you take. Rather, she strongly believes that whatever one chooses to study in university can be applied back to the farm. 
"I see a huge benefit in going to school for agriculture if that's what you want to do afterwards. Though some people might think, 'well, I'll just learn that on the farm'," says den Haan. "That may be true, but you're only learning what works for your own farm and you're not going to be looking out for all the different opportunities to be learning from others and gaining experience."
Den Haan hails from three generations of dairy farmers. Her family currently operates Sheldon Creek Dairy, a small 50 cow operation located near Alliston, Ontario. Both of den Haan's parents are OAC alumni, and her two older brothers went to Guelph and Ridgetown for the agriculture diploma program.
Within the animal and poultry science program, students cover a vast array of subjects involving production animals – from genetics and breeding, to the latest animal nutrition and housing practices.
Now in her fourth and final year at Guelph, den Haan is looking for a job within the agricultural industry after graduation, having gotten her first major taste this past summer working as an agronomy sales intern at Pioneer
Hi-Bred. 
Within the next five to 10 years, den Haan plans to take over the dairy farm from her parents, where she would put her animal science background to use working towards their cows' ongoing health, wellness and production. 
For the time being, den Haan plans to make the most of her time at university. The secret behind that, she says, is for new students to take the plunge, get involved in agricultural groups or clubs and treat each of these experiences as an opportunity to grow and learn.
"Education is so much beyond the classroom – you're learning from others, gaining new perspectives, learning how to communicate with others and learning how to make mistakes." •