CELEBRATING THE HOLIDAYS AS A FARM FAMILY
christmas is the holiday for traditions. Growing up, our family had a number of them – like leaving milk and cookies out for Santa, hanging stockings and attending church on Christmas Eve.  But as the seventh generation on our family farm, my sisters and brother and I knew that we also had traditions that were different from other families.
Most of our school friends shared stories of waking their parents up at six in the morning on Christmas Day in anticipation of unwrapping presents, they would travel to far away ski resorts over the holiday break and enjoy overnight visits with family in other cities.
We were different. We knew that presents couldn't be opened until Dad came in from the barn. And, oh the torture of looking at all those gifts under the tree, silently willing Dad to hurry! What we were too young to understand at the time was, unlike other families who were also celebrating Christmas, our family was one of the less than one percent of Canadian families who are farmers. We knew that we couldn't complain, because Dad would remind us each year that there are no holidays on the farm, a farmer was responsible for feeding his animals 365 days a year. And that phrase would be repeated countless times in the following days – because, while our school friends were enjoying their holiday travels, my siblings and I were working in the barn alongside Dad completing the 'to-do' list he would make each year in anticipation of our time off.
Despite the additional workload, we always had a wonderful holiday enjoying the company of family, indulging in treats and exchanging gifts. And as I grew older, I began to realize that although our traditions were different than most, they were just as special.
The older we got, the more we realized that if we pitched in to help feed the animals and lend a hand with Christmas morning chores we could open our presents faster. And surprisingly, it wasn't a chore at all. Waking before dawn was always the hardest part, but as soon as we stepped outside into the crisp morning air and saw the lights from the neighbour's barns we knew we weren't alone. And somewhere out there, I knew there were kids waiting at the window, watching for their parents to hurry in from the barn so they could open their Christmas gifts too. Our barn was always warm and inviting on that festive morning. Dad would whistle and sing Christmas carols while we followed behind wishing the animals a 'Merry Christmas'.
Christmas is a special time for any age, and I eventually developed a greater appreciation for our farm family traditions. I no longer compared our holidays with friends – we may not have travelled far or visited vacation resorts – but we did manage to enjoy tobogganing on sunny afternoons, trips to the local skating arena and baking Christmas cookies.
Christmas traditions aren't complete without food, something all farm families are proud to produce. Preparing for Christmas dinner seemed like so much work growing up, but it was so much more rewarding, because almost everything on our table was grown, raised, harvested and prepared on our own farm. I even contributed the Christmas turkey from my small entrepreneurial flock for a few years.
I still look around the table today in wonder and think that, though we may be considered a minority in Canada for making our livelihood from farming, the majority of Canadians would be envious to know that we enjoy a meal that wasn't just produced within 100 miles – it was produced within our view from the kitchen window.
Today, more than ever, I am able to appreciate our farm family Christmas traditions. I didn't always understand why our family was so different from others when I was younger, but I was aware they were special. And as I raise my own young family and start our own Christmas traditions, I will remind our children that there are no holidays on the farm – we are a farm family that cares for our animals 365 days a year, just like our ancestors did before us on the same land some 180 years ago. 
PHOTO: From left to right: Edward Wallace, Joe Dowzer, Georgina Wallace, Sarah Wallace-Taylor, Andrew Taylor, Jeanine Moyer, Brandon Moyer (being held), Brian Moyer, Lucan Moyer (in front), Janice Wallace, Allan Wallace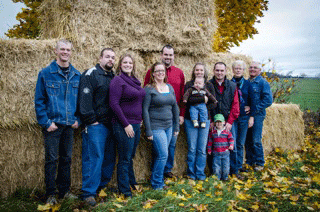 Jeanine Moyer is the seventh generation to live on her family farm in Elora, ON. She grew up on a mixed farm with beef, hogs and field crops and currently lives in Fergus with her husband and two young sons. •