NEWS BITES THAT MATTER
BASF registers new herbicide for glyphosate-tolerant soybeans
Growers looking to maximize yields in their glyphosate-tolerant soybeans now have a new herbicide in their arsenal. BASF Canada has announced that the Pest Management Regulatory Agency (PMRA) has registered OPTILL™ herbicide on soybeans for the 2013 season.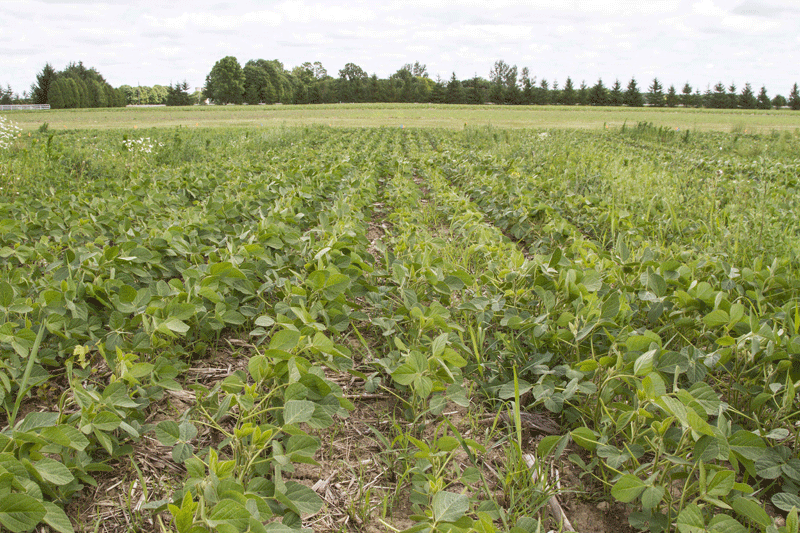 OPTILL is a pre-plant soybean herbicide that offers a fast burndown and superior residual weed control of grass and broadleaf weeds. Pre-registration trial results for OPTILL show a yield increase of two to three bushels per acre compared to using glyphosate alone.
"OPTILL allows growers to achieve their maximum yield, regardless of whether they're running vertical tillage or no-till operations – it's a great fit," says Joel Johnson, Brand Manager – Herbicides at BASF Canada. "It provides a clean start, with greater control of dandelions and grassy weeds from planting through to early crop development. Even in situations with heavy crop residue, it provides good residual activity."
Tank-mixed with glyphosate, OPTILL is a premix dry formulation of KIXOR® and imazethapyr (Group 14 and Group 2) that uses multiple modes of action to control a broad spectrum of weeds in glyphosate-tolerant soybeans. When applied pre-plant, OPTILL is part of a two-pass program that provides a fast and complete burndown with early season residual control of later germinating weeds for four to six weeks. "The fast burndown and residual activity allows growers to have clean fields at the start of the season, and keep them clean all season long," says Johnson. •
New PriorityTM herbicide provides burndown flexibility
MANA Canada has announced the registration of Priority™, a broadleaf herbicide containing the active ingredient florasulam. When mixed with glyphosate, Priority™ provides the same active ingredients and proven weed control as PrePass™.
"Priority is a unique product in the marketplace. Rather than co-packing florasulam with glyphosate, MANA Canada decided to package florasulam as a stand-alone product. This gives customers the ability to tank mix Priority with their preferred brand of glyphosate," explains Andrew Mann, General Manager with MANA Canada. "Priority is a great example of how MANA Canada is working to bring choice and simplicity to the Canadian marketplace."
Priority mixed with glyphosate controls a wide range of hard-to-kill broadleaf and grassy weeds. When used in combination with glyphosate, Priority may be applied pre-seed or post-harvest prior to seeding wheat (spring, winter and durum), barley and oats. Priority is also registered for use with glyphosate in chemfallow.
"Florasulam plus glyphosate is a proven tank-mix that uses two modes of action to control hard-to-kill weeds that glyphosate alone does not control," says Phil Somerville, New Product Development Manager with MANA Canada. "Bringing Priority to market allows farmers to use their preferred brand of glyphosate without compromising weed control." •